2009, Cricket World Trophy
OWs vs Old Grovians (Woodhouse Grove, Bradford)
Cricket World Trophy, 7 June 2009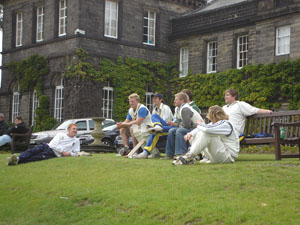 We were fortunate to play given the overall weather situation that week-end.
10 of us assembled and a start was made at 11.10am. 50 overs were agreed by the Captains.
The pitch was a little damp on top but rock hard underneath and we expected some movement early on.
Anthony Wilkinson won the toss and elected to bowl first. This decision proved a good one as OWs soon had OGs reeling at 24-4 after 10 overs, in spite of two dropped catches! Excellent bowling by Alastair Wilkinson and Charlie Leonard closing with figures of 10overs, 1 maiden, 42 runs and 3 wickets and 10-0-44-1 respectively. 2 fine catches were taken behind during this spell by Adam Streeter (debut) and two more later on.
Anthony Wilkinson followed on with a tight early spell, overall figures 7-1-28-1wkt, accompanied by Chris Kroeger who also bowled well 10-0-45-2wkts.
However OGs Captain played a patient innings and together with his partner, who was rather more fortunate with some of his shot selection, put on 120 for the next wicket. Anyway, Anthony Wilkinson kept control, rotated the available bowling resources and OGs finished on 215 all out after 47.2overs.
Also bowled: Alistair Mather 2-25 off 5.2 overs and Thom Grimes 1-20 off 5 overs.
OWA started steadily with the score reaching 58-2 off 18 overs by tea. A reasonable platform had been established on what was a good wicket, albeit unpredictable. Progress was picked up by Ant Wilkinson (35) and Adam Streeter (32) in a partnership of 60 off 10 overs and some fine hitting by Ali Wilkinson (not out 16) got us back to a run a ball, but we had lost too many wickets and fell short by 46 runs in the end.
A great place to play the game. We look forward to going back to Bradford with a different result next time and many thanks to our hosts for their warm and generous hospitality.
Team: A. Wilkinson (Captain), J. Collins, R Rigby, A.N Crockert, T. Grimes, A. Wilkinson, C. Leonard, A. Streeter (Wkt), C Kroeger, A. Mather.