Letters Home
Life as a Boarder at Warwick School 1946–54
Several years ago, Godfrey Shiner (WS 1946-54) handed Warwick School the most extraordinary archive – all the circulars sent from school to home, all the play and concert programmes that he had performed in and, most importantly, all the letters that he (compulsorily) wrote home. Godfrey's mother had filed all Godfrey's letters and stored them in her attic.
In June 2022, he revisited school, to donate the letters, his straw boater and his father Philip's text books (after 95 years!). He gave us his permission to quote from the huge cache of nearly 200 letters, which give an unparalleled pupil view of life at Warwick School (and the Junior School) just after the Second World War.
Godfrey's spelling has been preserved in the excerpts below, as has his very sparing use of the question mark…
Nine members of the wider Shiner family attended Warwick School between 1917 and 1993. Godfrey's father was Philip Shiner, a water treatment engineer who served terms both as OWA Chairman and President – see The Old Warwickian magazine of Summer 2020. The Shiner family in question lived in Solihull Road, Shirley, just under 16 miles from school. Despite this proximity, Godfrey and his two brothers, Roy and Colin, all boarded between 1944 and 1956.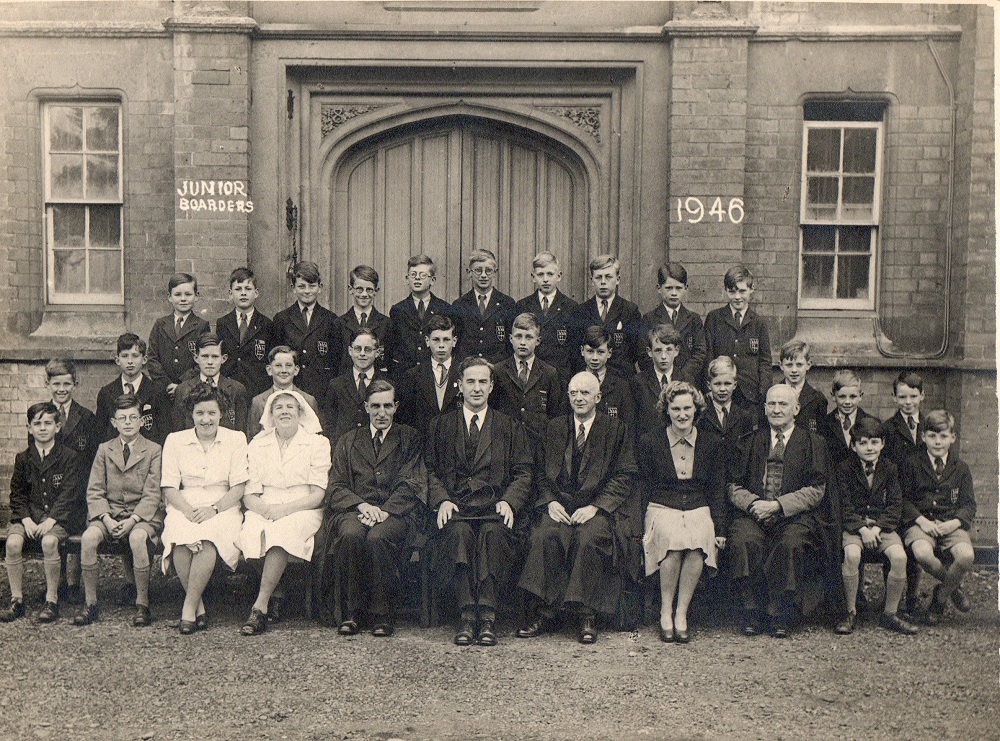 The young Godfrey incessantly asked for things to be sent from home – things that he had forgotten, acquisitions like new Dinky toys – and especially food. Each and every one of his letters starts with the greeting: "Dear Mother and Father, I hope you are well." In the very first, dated January 12th 1946, when Godfrey was aged eight-and-a-half and had been at the school for one day, and in form IIb with Miss Winterburn, he goes on: The key of my tuck box is broken so I pretend to lock it. Will you give me one of those lockers like the one on bunnys hut, and will you send a screwdriver and a padlock and screws. I am having a good time. We are going to play football on Tesuday [sic] and Thursday. We have baths on Mondays Wednesday and Friday. I have nerly finsh all my food so will you send me some more tuck. With love from Godfrey
A couple of weeks later, perhaps inevitably: I am ill in the sick room. When will you send me my fountain pen. Will you send me my tool set. (28/1/46). Godfrey soon recovered: Will you send me my stamp album and some stamp hinges. If you see any dinky toys for sale will you buy some for me… I have nothing else to say so good bye. Love from Godfrey. (9/2/46). Illness is never far away in a boarding school: Will you send me some money because I haven't any… Nearly all the Junior House is ill. (16/3/46). The next excerpt brings to light post-war austerity: Will you send my Ration book to Miss Man. Will you send me piles of tuck. Could you bring my golf stick. (14/4/46). Godfrey's parents weren't fast enough, for he wrote just a few days later: When will you send me some tuck and my Golf stick… I know how to bowl now but I haven't played cricket yet. (19/5/46). Godfrey's ninth birthday is approaching: In form I came 6th. The people I am having to my party is Allen, Higgins, Buxton, West, Thomas R, Arund, Macbeth, Colin and me. That's nine. (13/7/46).
In the new school year, Godfrey is in form IIa, with Mrs Fisher: I have got four new Dinky toys. I came 12th in form. (5/10/46). A month later there is some potentially alarming news: I came fourth in form order with a good. We had a lot of fireworks. In the morning we found a lot of fireworks that were not used. I have still some fireworks in my tuck box. Will you send me some tuck. (9/11/46). Promotion came in the New Year: I am form monitor in our form. They are lots of new dinky toys about could you try and get some. (18/1/47). A second letter was written on the same day: Will you send me my roller skates and some jam I like. I came 2nd in form. I can skate backwards now. (18/1/47). Godfrey now excels: I came 1st in form order and sixth in the last form order. Will you write to Mr Cullis and ask him if Colin and I can come home for half term. Will you please send me some tuck. I have a Dinky toy Buick and Puckard now. (8/2/47). Food, as always, is central to a boarder's life: I have still got my Weetabix about 9 left. I forgot to give you the marmalade but I will give it to you at end of term and have some beans and chips ready for when we come home. (23/3/47). It is at this time that Godfrey seems to have joined the ill-fated Scout Troup at the school: I will get my proficiency badges when I get my first star. Will you by me a skipping rope for cubs. I am collecting sugar for you in case you are short of sugar. I have pasted quite a lot of things for my first star. (14/6/47).
On the third anniversary of D-Day, 6th June 1947, Field Marshall Montgomery inspected the Corps, and was guest of honour at Speech Day – awarding the school an extra holiday, which Godfrey now discusses: On Monty's holiday we are allowed to go home like a free Sunday and will you phone Mr Cullis if I can come home for free Sunday and Monty's holiday. I can swim half a length now and dive a bit. (28/6/47).
The new school year sees 10-year-old Godfrey, now in form SIIa with Mr Marshall, being given some responsibilities: I am 2nd head of Junior house and I give out the letters for Matron. I have got lots of conkers could you send me some string and a bora [sic] for my conkers. (25/9/47). There is now a hint of his future academic prowess, too: I came top in maths every test. (27/9/47). Leisure pursuits are still important, though: At school some of us have strarted a Meccano club and every week end we will have one of the form-rooms to have a track lay-out and some roads for dinkys and trains. (5/10/47). The War, as I am sure Monty reminded the boys, was not long finished, and the next letter mentions an extraordinary episode: The other day the german prisoners blew up some tree stumps and thier was a big explosion. Could you send me my torch because I need it. (12/10/47). The big event of late 1947 - 20th November - now looms: On Princess Elizabeth's Wedding day we are allowed to go home on Wednesday Afternoon after school and stay the night at home if you can't fetch us we will come home by train will you ask Mr Cullis if we can come home. (9/11/47).
A reminder of what boys used to put on their hair: Could you send me my slippers and Brylcream? (13/1/48). It would seem as if Godfrey succeeded in getting fees remission, and was still taking a keen interest in Scouting: We are taking the free place in March. Please will you come to the Scout film show? Feb 7th at 7.0. (24/1.48). Godfrey, aged 10-and-a-half, now seems to notice the opposite sex, as well as not being able to count to four: I am in three things in the sports 100 yds, three legged and wheelbarrow and egg and spoon. There is a smashing girl sleeping in John's room and is a friend of Miss Wilford. (6/3/48). He is, of course, forever hungry, too: Could you bring the food for dorm feast next Saturday. I want four bottles of pop and some other grub. (14/3/48). Educational outings were always enjoyed: I went to the standard works at coventry yesterday and sat in a Standard vanguard. I had two records made of my voice. Try and get some new dinkys. I went through the furgason tractor works and it was jolly good. (11/6/48).
In September 1948 Godfrey, aged 11, moved into Senior House, and was placed in form LIVc with Mr Hunter: Could you come on Sunday for the dedication of the cub flag at morning chapel. We haven't played rugger yet but we will be playing on Tuesdays and Fridays. Could you send me some brown paper to cover my books. (19/9/48). Godfrey is thriving in the LIV, and also mentions momentous events which were unfolding in London: All the LIV forms had a exam last week and in all the results I came 13th in our form. Did you have a nice time in London. I have got a paper about the Princess' baby. Today the Mayor came some of us were in the choir including me and we had to sing a verse by ourselves. (21/11/48).
Unbeknown to Godfrey, the days of the Scout troop were rapidly drawing to an end in December 1948, with the summary dismissal of the Scoutmaster: Could you make me a camp-fire robe for the scout show. I will use my old Cub cap for my Camp Berry. (5/12/48). The usual winter ailments strike early in 1949, but they don't seem to have held Godfrey back: I don't feel too well. I got 14 out of 17 for a Latin Test the best I have ever got. I got full marks in a French Test yesterday and in English I got full marks. (18/2/49). Godfrey evidently enjoyed playing sports: I have played two games of criket so far but I haven't bowled or batted yet but I caught five people out. (1/5/49).
All of a sudden, Godfrey's letters become chatty in the summer of 1949. The fight mentioned is probably boxing coaching: Yesterday in a cricket match I got eleven runs. Miss Wilford let me go in the swimming yesterday to teach Roy to swim he can swim half a width. Yesterday I had another fight with Major Whitlam. A stand for the school telescope has been put on top of the main changing rooms. All the Upper fifths are allowed to were straw hats now and they look ever so funny. My ankle still hurts and I can't run properly. Trimble says I have probably chipped a bone. Nearly every Saturday morning I wreck my knee. Sid Cooper says he thinks the water is hard in the swimming baths because every time he does a belly flopper it hurts him. It is possible to buy penny blacks for 7s 6d now. A very rare negative tone creeps in a month later: I am always having those tummy troubles but I have it so many times I am not going to surgery. I am doing ever so badly in the exams I am quite near the bottom. I am not at all happy hear but I don't want to leave or be a day boy. Why didn't you come on Thursday evening because I was waiting for you. (17/7/49).
Godfrey continues at the start of the new school year, when he is in form UIVa with Mr Burton and aged just 12: Will you hurry up and send my roller skates it is urgent. Will you get me some brown paper to cover my school books send me some postage stamps. We had a fire practice last night they are a big nuisance. They always have it when I tired. During the fire practice one of the boys in our dorm slept walked. We couldn't wake up one of the boys so we had to tip his bed over to wake him up. I have finished all my tuck and I haven't even got a shilling left in ordinary money. (18/8/49). There's more – and the amateur films mentioned have survived: That torch you sent me the batteries were dud and I had to buy some new ones. Last night we went to see the films. The films of daddy was jolly good I saw myself roller-skating I looked jolly good. (16/10/49).
A week later, there was a dreadful accident in the chemistry laboratory, and Godfrey was very close to it. What he fails to mention is that his chemistry master, Rev. H. E. Cullis, was seriously injured: On Thursday afternoon in Chemistry we had an explosion it was about 6 inches away from me. It blew me on the floor and half deafened me. And I got sulphuric acid over my clothes and face. I got cut by glass. If I had not been wearing glasses I would probably lost my eyes. Yesterday our school fifteen beat the O.W. club. I got a S. for form report. The explosion was heard all over the Science block. (23/10/49). A fortnight later, Godfrey is ill once more: I am still in bed. I didn't get up on Saturday it's a big swizz. The fireworks have been cancelled until Monday because it was to wet so I might not miss them. The sun is shining and there is nothing wrong with and I can't get up. Its awfully boreing in Sick bay and I wish I was at home. I've got no books to read. Wish I was with you. (6/11/49).
The New Year sees iconic moments in twelve-and-a-half-year-old Godfrey's life: I am picking up alright in School. I am going to be confirmed this term. I can't sing in treble anymore only base. (22/1/50). Many letters home from 1950 do not seem to have survived, but there is an extraordinary one from March: Will you send me two shillings for the sunday papers as soon as possible. I came third in the chemistry exam. My other pair of shoes are getting to small for me but I think it will be alright until the end of term. I am glad I am not coming home today because it is Mothering Sunday. Could you send me that blue roll of string and a strong round stick for my kite. (19/3/50). The chatty tone continues in June: This morning for breakfast we had large slices of ham. Could you buy me some sun-glasses that you clip onto your glasses. Yesterday in a game of cricket I bowled 6 overs took 5 wickets and two maidens for 4 runs. Could you send me some 2½d stamps. Don't forget to come early next Sunday because it is a free Sunday. It is a pity Malcolm is going to live in Canada I think I will miss him. (11/6/50).
In the new school year of September 1950 Godfrey is in form LVa with Mr Adcock, and his first ever question mark appears: Has my badminton racquet come back yet? Do you think you could send me some money because I am very short. And could you get me some B.S.A. air rifle pellets. I am having my first music lesson on Tuesday but I have already started practicing. I think it would be a good idea if you sent me my old music books. We have started practising for the Opera and I am in the Chorus as a tenor. (1/10/50). Godfrey's parents are now about to make a significant purchase: I got some leaflets on the Ecko television and I think I know which set you are going to have. I have got a non-speaking part in the play as a soldier something like the part Colin had last time. (29/10/50). The play mentioned was Shakespeare's "Comedy of Errors", and Godfrey somehow got his parents tickets: All the tickets for every night for the play have been sold so you can consider yourself lucky to get some tickets. I got 11/20 for my Latin prep and 10/10 for a Latin test. I can't think of anything to say. But I'll be seeing you on Saturday night. (You'll be seeing me). (19/11/50). The year 1950 ends with yet another plea: You know what I would like for Christmas An ancient and modern hymn book with the music in. Next year we are going to do "Twelth Night". (28/11/50).
The compulsory nature of letter-writing sessions shines through early in the New Year: I can't think of anything to say. If you find my torch at home will you please send it to me. A boy at school is going to teach me how to play Bridge. We went to Holy Communion this morning I expect you were still in bed. (14/1/51). A couple of days later Godfrey makes an announcement: Will you let me have my Corps Boots as soon as possible because I'm in the Corps now (and some food). (16/1/51). After a period, yet again, in sick bay in January 1951 Godfrey bounces back: I played rugger for School House but we lost 6 3 jolly hard luck. We had a film show last the film was "This Happy Breed" I had seen it years ago. Don't forget to send some tuck. We are having some H. M. inspectors this week. I have got my corps uniform and the boots are jolly good. Did you have and Valentine cards I didn't? (18/2/51). A week later Godfrey reveals the name of the opera mentioned the previous October: What do you think of Birmingham City beating Manchester United? They are in the semi-finals now. Let me know how many seats you want for "Dido and Aneas". (25/2/51). Godfrey's parents might not have been too happy about his next announcement, but now we know the nature of his music lessons: Colin is bringing his tenor drum home at half-term and I am bringing my bugle. (6/4/51). The reason now becomes clear: On Mayors Sunday some time next month the school band are going up to Warwick for a band demonstration. (29/4/51).
P. N. G. Whitlam seems to have been a family friend: Yesterday the U14's beat Leamington College and I got 2 runs (I only faced 2 balls). If you want Colonel Whitlam to come home next sunday you better write a letter inviting him. (3/6/51). Godfrey is clearly enjoying his time in the Corps: Last Thursday it was field day and in the morning I did a few section attacks and I spent the afternoon riding on a tank. Next field day we are going on a route march to Chesterton. (8/7/51). He is also improving as a shot, but not, perhaps, in some of his academic subjects: The other day when I went shooting I got 113 points only 2 points off marksman. I have been told unofficialy that I am in School House shooting team. We have just had the end of year exams and I think I have done pretty awful. So far in results I came 25th with 36% in Latin, 21st with 38% in English and 7th with 67% in Physics. P.S. Got 50% in Art came 13th. (15/7/51). The school year ends on a happy note: On Wednesday school house won the shooting competition and I got the highest score in our team and the fourth highest score out of the whole lot. Yesterday I went shooting at Wedgenock. It was good fun using .303. In the morning I went on the stage at Stratford it was interesting then I went on the river. On Friday we went on a route march to Chesterton it was 7½ miles. I did not get any blisters but I have worn out your boots. Could you send me the others in the boot cupboard. We have packed up prep now and nearly every evening I go swimming. Colin was in a boat with four other prefects yesterday and they broke an oar. They looked very funny rowing with one oar. P.S. So far I have got an average of 56%. (22/7/51). In August Godfrey is on CCF camp at Rhyl: We have just had church parade and now we are just lying around sun-bathing. I am going into Rhyl to swim in the sea. A brass hat is coming round to inspect us tomorrow so we are blanchoing our equipment now. (5/8/51).
At the start of the new school year, 1951, Godfrey, aged 14, explains what form he is in: I am the head of the Junior Common Room Committee. I am playing in the UXIV rugger game. Our form is called the UV Remove. In our form nobody's taking GEC this year and we are going into the sixth next year. (19/9/51). In 2022 Godfrey explained that the Remove was an accelerated form for high-fliers, still with form-master Mr Adcock, "but I got caught out by an age-limit for taking O levels. Rather than mark time we took our O levels in the Lower Sixth. So we only took A level subjects (3) and 2 O levels, in my case English Language and French. In retrospect a big mistake by the School."
His shooting is improving: On Sunday I went shooting and scored 118 points. That's a marksman! Will you go into the army and navy stores in Birmingham before free Sunday to get some brass crossed-rifles. (8/10/51). Godfrey is still small for his age, and is at a disadvantage in rugby: Yesterday we played Henry VIII Coventry and we lost 14-3. They were much bigger than me. One of their blokes had been dropped from the 2XV. The ref was awful. They played rough and fould all the time so we decided to play rough and I ripped somebody's shirt and shorts. The pitch was less than 50 yards long. (21/10/51).
In the New Year, Godfrey is taking advantage of a photographic dark-room at the school: I am sorry I brought the family allowance book back with me but I hope you got it back alright. I have finished all my food already. We have been working hard already and had some awful preps. If you want any photographs printing just send the negatives to me. P.S. The prints cost money. (20/1/52). His enjoyment of sports continues: I have been awarded my Middle-Group House colours for rugger and cross-country. Thanks for the food. (17/2/52). Illness is never far away, however. This time it's tinea cruris, or jock itch: I have got ring-worm in the groin so that means I'll be off games for about 4 weeks. (22/2/52). Godfrey's love-affair with Dinkys is, perhaps, coming to an end, and he has some news to tell his parents about Mr Bishop: I have sold some Dinkys and got about 12/-. The headmaster is not recovering from his operation as fast as the doctors expected. (2/3/52). Godfrey's thoughts about his career are beginning to affect his school prospects (and this letter is written on official Warwick School note-paper): I have obtained an old Dartmouth exam paper and I think you have to take 6 or 7 subjects. I think I will be staying in the UVs next year because if I was in the sixth I would not be able to take enough subjects for the exam. (22/6/52). Next, Godfrey refers to the OC CCF by his nickname, and also his old housemaster, who is an acting chaplain: Peewit's bought some new B.S.A. rifles and they are jolly good, very accurate. I went to Communion this morning and Hector had lost his key and couldn't get to the wine so we had to drink some of his own wine. (6/7/52). At the start of the summer holidays Godfrey, now aged just 15, was on CCF camp at Castlemartin, Pembrokeshire, for which film still exists in the school archives: I have just been swimming in the sea at a cove near here it was jolly good. All day jets go flying over the camp very low and tanks etc. are firing shells so it is a screech and bang all day. Tomorrow night we are going to see a tank demonstration and in the evening we have got a "night op" and I am on the attack. (30/7/52). He then reports on his experiences, and it has to be said that pupil reminiscences about CCF camps are, for whatever reasons, extremely rare: Last night we went on a night "op" and it poured down like anything. We were in fields miles away from any buildings, or trees and we got soaked to the skin. We got to bed at 2 o'clock and had to get up at 5.30. This morning we walked all over the place and this afternoon we watched a platoon attack and they were using live rounds. Altogether we marched about 10 miles today. The only bad thing about the camp is that there is no drinking-water. A boy in our tent broke his ankle yesterday. (1/8/52).
Godfrey did enter the sixth form in September 1952, in form LSVI with Mr Charman: Its jolly expensive being in the sixth we have to buy exercise books. At the moment I am broke and I have to get an exercise-book for practical chemistry which costs 6/9. Do you think you could lend me the money. Have you got a white overall to spare because we have got to have a lab-coat. I am in the colts rugger team. Thanks for the food. (21/9/52). The usual autumn term illness strikes again: I hope you are well? I'm not. I came out of sick-bay yesterday afternoon. Last night and today I feel awful worse than I did when I went to sick-bay but sister does not do a thing. On Wednesday we played against Bloxham and I was Captain. We won 6:3. Being in sick-bay I am now 3 weeks ahead in work in Physics. I am going shooting this morning. (26/10/52). Godfrey's trumpet and bugle practice is now paying off: Next week sometime we are going up to the Assizes to blow our bugles. (16/11/52).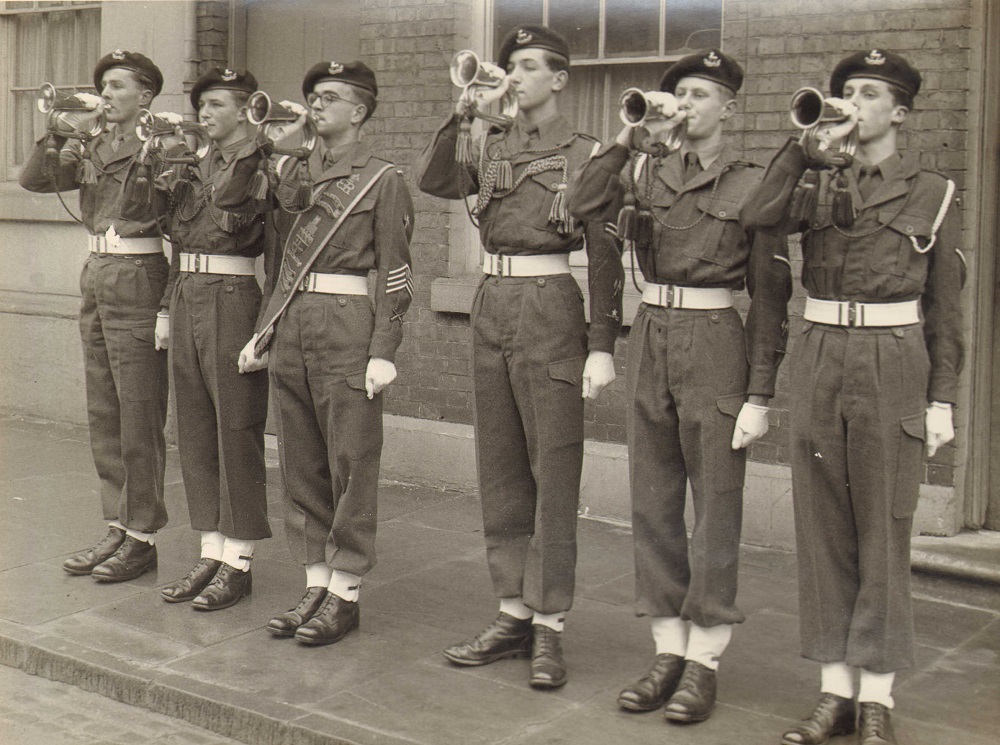 In the New Year Godfrey starts to realise how hard sixth-form work can be: I have enclosed an advertisement I saw in the "Telegraph" and I have written to De Havilland's for more information. This is the sort of job I would like to do if I can't get in the Navy. Actually the electricity we are doing in Physics at the moment is just beyond me. At the moment I have got more work to do than I ever had last term. I have been doing some running in my track-suit and I got too hot. (18/1/53). A week later Godfrey's social life is improving, although he seems to have needed a disinfectant soap (for head lice): I had a smashing time at the "social" last night and won a ½lb box of Cadbury's milk-tray. Cass and Bish were there and they seemed to enjoy themselves. The floor of big school was very slippery and I have worn a hole in my shoes. I have bought some "Derbac" soap. The name of the old boy who I met at the dance is Mr Dawes of Dawes bicycles. (25/1/53). Godfrey must have confided something about a young King's High lady he met at the "social" to his parents: Thank-you for lecture no. 14, it is the first time that I have had one in a letter. I assure you that Valerie does not affect my work as I only see her on Sundays and it is one of my principles never to have any work on Sundays. I have just been out to Warwick looking for a junior who had run away. (8/2/53).
Godfrey continued in a humorous vein in May: Thank-you for taking me out last night. I thoroughly enjoyed myself. We all watched the fireworks last night and I thought they were jolly good. I can't think of anything to say but you can consider yourself honoured that I am writing. I hope you enjoyed yourself last night and haven't got a hangover. (7/5/53). He now looks ahead to the Coronation: I think the band is wanted at Warwick on Coronation Sunday. (17/5/53). A couple of weeks after the Coronation Godfrey met Monty: Yesterday I went to the Royal Warwick's "at home" do, Monty was there and of course he was in a shabby old suit. I am 2nd bugler in the band and I've got a silver bugle. I am playing tennis with Valerie this afternoon. I don't seem to have suffered from not doing any work in the holidays, nobody else in the form did any. (14/6/53).
Godfrey is now planning a foreign trip for the summer holidays. In 2022 he explained that David Higgins and he cycled from Ostend to Basle through the Ardenne, Rhine and back through France: Mr Dugdale has been giving us some advice on where to go abroad. We are just getting our route planned. I am doing 1½ hours extra French every day. I think I am going to take Domestic Science in "O" level because I looked at some old papers the other day and it was just common-sense. In the practical cookery you can look at the paper 3 days beforehand and, well, anybody can learn to cook in 3 days. (28/6/53). There is now more information about the holiday: David and I are leaving London at 4.30 on Tuesday afternoon August 11th. We get back to London on Monday August 24th at 8.50 in the evening. We had an end of year test in Applied Maths and I got 80%. I think I'll go into the UVI and just take Applied Maths. (5/7/53). Godfrey's tone changes a fortnight later: I have most of my exams and altogether I have done pretty lousy. I did worst in the Maths paper even worse than the French paper. I have still two more papers to do and they are the worst of the lot. At this rate I will still be in the LVI and it will be goodbye to the R.N. Last night I went to the Pageant. I want to help in the scene-shifting at the pageant, but we have to have notes from our parents. We go every night until 11.30. I won't start doing it until I have finished my exams. (19/7/53).
Sixteen-year-old Godfrey's last three letters from school to home convey a good deal of introspection about his abilities, and his future career. He did enter the UVI, in form USVI, still with Mr Charman, but decided to spend his last two terms at Warwick School living at home. In 2022 Godfrey explained why: "There were two reasons - as a House Prefect there were becoming more distractions from preparing for A levels. I realised that joining the Merchant Navy I was never going to have some time living at home."
So there are no more letters home from school after November 1953: (1) Could you send my electric razor as soon as possible. The razor I am using is just hacking my skin to pieces and leaving the hair. I am in the XXX. Have you still got that old electric toaster if you have could you let me have it? I got 48% in French and the pass mark was 52%. In Maths I got 45%. I don't know what the pass mark was. I got 70% in Chemistry. (20/9/53). (2) Valerie's mother has just had her operation and she seems to be getting on alright. This week I have to do bells, its an awful job trying to remember to ring them. Thank-you for the toaster, we are making some jolly good toast. The work is ten times harder this year than last, I have to work after school every-day and then I don't have any English to do. We had a fire practice last night, it was freezing, so Col. Whitlam is not very popular at the moment. (27/9/53). (3) I have seen Mr Warren and he thinks that I am wise about the R.N., and he has made me write to some place so as to find out which is the best training scheme. I made a speech at the Debating society on Friday and I lost my notes just before the debate and had to do it from memory. I had me French oral the other day. Love from Godfrey. (15/11/53).
In the summer of 1954 Godfrey passed A-levels in chemistry, physics and maths and, aged just 17, went to Swansea Technical College to study for a National Diploma in Marine Engineering. In July 2022 Godfrey clarified what he did immediately after leaving Warwick School: I was on a 'Marine Engineering Apprenticeship' with BP Tankers Ltd. They sent me to Swansea. It was a two year course, then 18 months at sea. Due to health problems at sea I left BP and did a Student Apprenticeship with ICI(Metals) at Aston University. National Service finished just as I left the Merchant Navy. I did receive my call-up papers but they were subsequently cancelled.
We wished Godfrey a very happy 85th birthday on 24th July 2022, and thank him most warmly for his co-operation with the writing of this article.
Gervald Frykman
July 2022