Sabine Baring-Gould, 1834–1924
A Fleeting Old Warwickian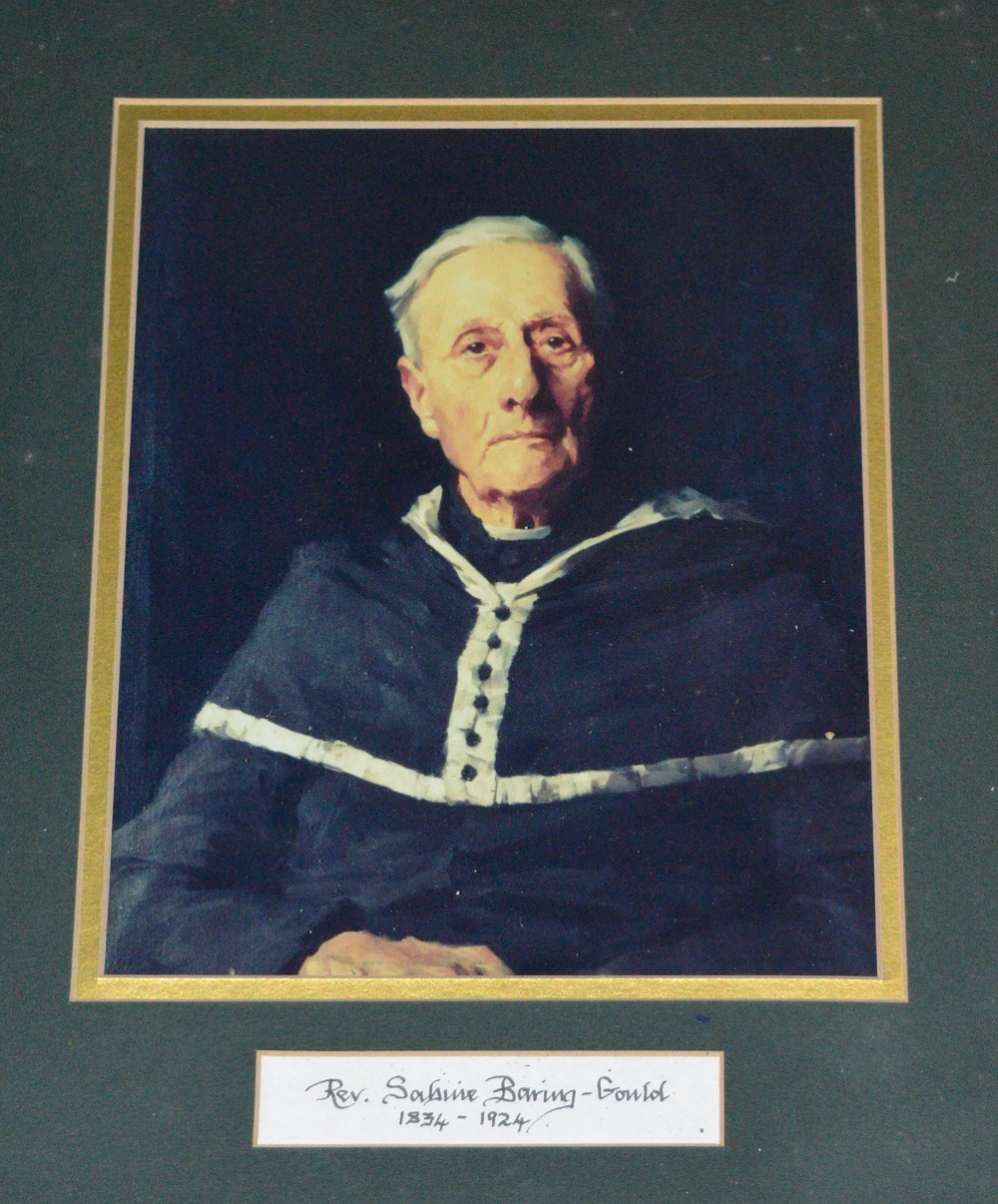 By the time Sabine Baring-Gould died, just short of his 90th birthday in 1924, he had amassed over 1,200 publications, as well as having achieved eminence in a wide variety of other fields, such as archaeology, collecting folk music and translating hymns from an astonishing variety of languages.
He was born near Exeter, the eldest son of a former soldier and now Justice of the Peace, Lord of the Manor of Lew Trenchard and Deputy Lieutenant of Devon, Edward Baring-Gould and his first wife, Sophia. He had little formal schooling, having spent much of his childhood travelling around Europe with his family. He had a succession of private tutors, and spent a short while at King's College School in London, and an even shorter time (a couple of terms) at the King's School, Warwick, in 1846. Having contracted whooping cough, his father ordered him abroad again, for the sake of his health.
In 1852 he went up to Clare College, Cambridge, to read Classics. The following year he expressed a desire to be ordained. From 1857 to 1864 he taught at Hurstpierpoint College in West Sussex, including being responsible for languages and science. It was noted that he wore "bright suits, and kept a pet bat on his shoulder" at the school. He took Holy Orders in 1864, and was appointed curate at Horbury Bridge, just south-west of Wakefield in Yorkshire. It was while he was there that he met and fell in love with Grace Taylor, the illiterate teenage daughter of a mill hand. His vicar at Horbury arranged for her to be educated in York, while Sabine moved to be curate at Dalton, near Thirsk. Sabine (34) and Grace, now aged 18, were married at Horbury in 1868, and the marriage lasted for the next 48 years, with 14 of their 15 children surviving into adulthood. It is known that Baring-Gould and George Bernard Shaw were friends, and that GBS based his play "Pygmalion" on the story of Sabine and Grace, as did Jay Lerner with the musical "My Fair Lady".
Sabine was appointed Rector of East Mersea in Essex in 1871, spending the next ten years there. In 1872 his father had died, leaving Sabine to inherit the 3,000-acre estate and manor, but he had to wait until 1881 before he could appoint himself as squire, and parson, at Lew Trenchard church, dedicated to St Peter. He subsequently did a lot of restoration work at the church, and the manor house, which is now a hotel. He chose to do most of his writing standing up, at night, and his desk is preserved at the hotel. It is noteworthy, perhaps, that John Betjeman called him a "born story-teller of uncompromising amateurishness."
Although he was a prolific writer of novels and short stories (especially about local legends and were-wolves), a keen archaeologist (he helped to organise the first scientific excavation of hut circles on Dartmoor in 1893) and compiler of information about saints, he himself considered that his most important work was in preserving the folk songs of Devon and Cornwall. It is fair to note, though, that he "cleaned up" the words of many of the songs that he discovered, considering them to be too rude. He did, however, leave the original words in his huge manuscript library, for historians to discover. An example of Baring-Gould's bowdlerising is the song Strawberry Fair, which generations of school children learned was about buttercups and daisies, but was, in fact, a sexual lament: A blacksmith, going to Strawberry Fair, meets "a fair maid go selling her ware." She says she has "a lock that doth lack a key." She invites him to try his key. Now she has no wares and wishes her lock had been a gun to shoot the blacksmith.
Less controversial is his writing of hymns – hymnary.org lists 67 of them. He is most well-known for writing "Onward, Christian Soldiers", which he allegedly wrote in 1865, knocking it out in 15 minutes for a children's procession. This might not actually be the whole story, needless to say…
In 1865, the vicar at St. Peter's church decided that the Horbury Bridge Mission scholars should join them. Baring-Gould was asked to conduct them to St. Peter's and the route from Horbury Bridge was then, as it is now, up Quarry Hill and beyond for over a mile. Fearful the little ones would straggle all over the place when climbing Quarry Hill, Baring-Gould decided that singing a hymn would help make their long journey that much easier for the children. This is allegedly Baring-Gould's own account:
"The hymn 'Onward Christian Soldiers' was written on Whitsun Eve, 1865. I had resolved that the Brig children should come up to the parish church on Whitsun Tuesday. Mr. Fred Knowles came to me at the vicarage and asked what they should sing on the day of the long walk. We discussed one thing and then another, then I said 'I'll write a processional.' Mr. Knowles replied 'You must be sharp about it, as this is Saturday and there will shortly be no printing done.' So, I sat down and wrote the hymn. It was printed, practised on the Sunday afternoon, and it was sung to the tune of Haydn on the Tuesday."
However, this is a popular misconception, fuelled by Sabine Baring-Gould himself, as can be seen by the above account. In fact, the hymn Onward Christian Soldiers was published in the Church Times on the 15th October 1864. It may have been an early draft, but the hymn was actually written seven months before Whitsun Tuesday in 1865.
To begin with, Onward, Christian Soldiers used the tune St Alban, taken from the slow movement of Haydn's Symphony No. 53. It wouldn't provoke a very quick march. Arthur Sullivan's St Gertrude seemed made for Onward, Christian Soldiers and, from 1871, the hymn has usually been sung to this tune. The Salvation Army adopted the hymn as its favoured processional and the piece became Sullivan's most popular hymn.
Claud Peter Primrose Burton, Warwick School's first Director of Music (staff 1946 – 49) wrote another tune to this hymn, published under the name Warwick School, and it was first performed in public to the great excitement of the headmaster, A. H. B. Bishop, in 1946.
Other well-known hymns written by Sabine Baring-Gould include Now the Day is Over, The Angel Gabriel from Heaven Came (translated from the Basque), Sing Lullaby, and Through the Night of Doubt and Sorrow (translated from the original Danish, and which a university acquaintance of my wife's insisted on being sung at his wedding!).
One final, possibly apocryphal, anecdote about Sabine Baring-Gould concerns his large family: at a children's party one night, a small child bumped into Baring-Gould's leg and, upon picking her up, he asked "And whose little girl are you?", at which the child burst into tears and said "I'm yours Daddy!"
Gervald Frykman, September 2022