2009, Grafton Morrish Finals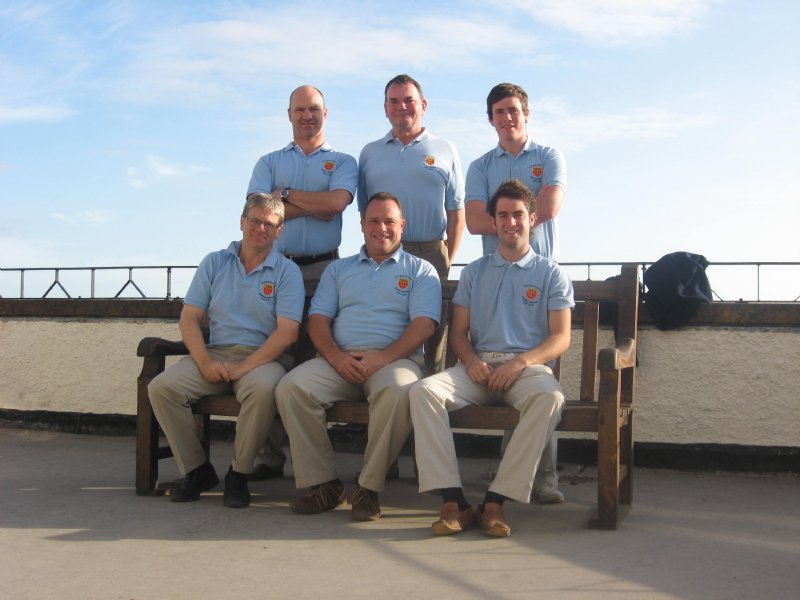 With the weather forecast strongly in our favour, the team (minus our 'traveller from the north' and team newcomer – Richard Tidman) set off early on Thursday morning from Warwick for a great golfing weekend in late September 2009.

Our eager golfers, full of desire to do well, travelled to Norfolk and the usual venues of Hunstanton and Brancaster Golf Clubs.
Team (l-r): Steve Tubb (7), Peter Hill (5), Julian Marcus (7)(capt), Tim James (5), Charlie Higgins(1) and Richard Tidman (1).

A 3hr journey and 'avoidable detour' finished with an extremely relaxed practice round of individual golf at Hunstanton and with our team selections already made, we felt prepared for the following day and the main, scratch foursome matchplay competition, on the same course.

Having failed to progress past the first round in the previous two years, through drawing top and seeded opposition, our captain was hopeful of an improvement in the team's fortune. Practice had gone well and the pairings finalized.
A restful Thursday night saw us up nice and early for the main event.

Sadly, however, we found we had drawn Malvern School, for the first round and yet another top team, having won the Grafton Morrish in 2005 and 2006. Our difficulties of getting through to the second round seemed destined to continue.

OW first pair of Tim James (5) and Charlie Higgins (1) gave stiff opposition to a strong Malvern pair, gaining a well deserved half. Unfortunately, following a premature and early return to the driving range for Steve Tubb (7) and Julian Marcus (7) losing 7 and 6, Peter Hill (5) and Richard Tidman (1) also succumbed too early, losing 6 and 5. We had been well beaten and the whole team felt very deflated. Quiet descended upon us in the bar afterward, while we mentally tried to work out where we had gone wrong – nothing had gone wrong – they were simply just a little better than us on this occasion.

Malvern progressed nicely to the Quarter Finals before meeting last year's winners – Solihull - and losing 2-1. Solihull made it through to the semi-finals only to lose heavily 3-0 to KES Wimbledon. In the final, Wimbledon were beaten 2-1 by a very strong George Heriots team. On reflection our team's efforts appeared a little more respectable. Naturally, the OW team was very, very disappointed yet even more determined to return next year and, perhaps, with a bit more luck, find performance that would be good enough to see us into the second round.

So, into the plate competition - The Solihull Salver - and a scratch foursome stableford at Brancaster. With changed OW pairings, we found familiar Warwickshire faces as playing partners in The Salver. Both KES Birmingham and Coventry had suffered similar early departures from the main competition and this made for a very enjoyable and friendly game for all players – some of whom had played together many times.

From our new team pairings of Charlie Higgins and Richard Tidman, Peter Hill and Steve Tubb, and Tim James and Julian Marcus, it was hoped that the OWs participation in this year's plate was going to be a good one. Obviously, this was to be the case because not disheartened by the previous day's loss, Warwick finished a creditable equal 10th with Repton on 84 pts and only failed to progress into the last 4 and Sunday's Committee Bowl final at Hunstanton by the narrowest of margins.
It is fair to say that our six gallant representatives are even more determined to return next year, and to go one better, especially if we can have the October weather we enjoyed this year.
Julian Marcus