2009, Sidmouth Cricket Tour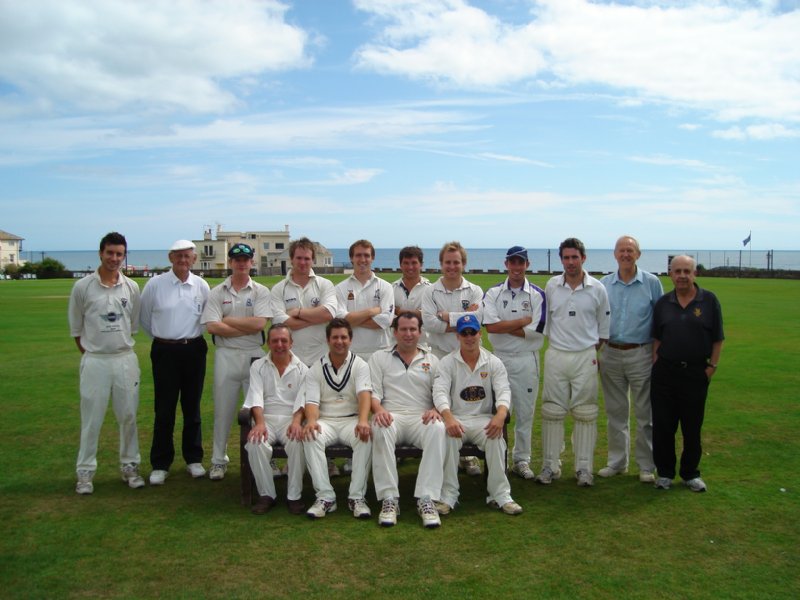 Back Row, Left to Right: W.Noble (Guest), D.Cook (Umpire/OW), R.Rigby (OW), C.Carr (OW), J.Beard (Guest), N.McLellan (Guest), B.Carr (OW), A.Harris (OW), C.Todd (OW), M.Smith (OW), G.Watson (OW)
Front Row, Left to Right: A.N.Crockert (OW), N.Tarrant (OW), N.A.L.Reay (OW), D.G.Roots (OW) T.Whiteside (OW) present on the second day, but not in photo
Sidmouth Tour 16th and 17th August 2009
Nathan Reay provides the following report on the 2009 OW Cricket Tour to Sidmouth
If you are interested in the 2010 OW Cricket Tour please contact Nathan Reay on 07725 070980 or via email at nathan.a.l.reay@uk.pwc.com

After a long summer of planning, the OW cricket tour finally all came together on Sunday 16th August in Sidmouth (Devon). Widely regarded as one of the most beautiful places to play cricket in the country, with the pitch backing onto the beach!
Sidmouth had picked a strong side for our first game including 7 of their current 1st X1, who had just won the Devon League the previous day by a record breaking 40 points. Captain Nathan Reay won the toss and elected to field.
40 overs a side was agreed (8 overs max'm per bowler) and a prompt start made at 2.00pm on a lovely sunny day.
Harris (lively spell) made an early breakthrough trapping their opener LBW for 4, however the second wicket produced a partnership of 89. Chris Carr finally breaking the deadlock by bowling their number three for 95. McLellan (OW guest) was brought on and took 3-37 with 2 maidens off his 8 overs and Tarrant claimed 3 wickets for 22 off only 4 overs to clear up the middle order. Roots 8-0-45-0 and Ben Carr 8-0-34-0 also bowled. Catches were held by Reay, Beard and C Carr.
Sidmouth finished on 246 for 8wkts off their allotted 40 0vers.
In reply, OWs struggled to make a start and lost wickets regularly, at one stage 70-7 (3 ducks and an unfortunate run out). However, B Carr (31) and N Mclellan (45) came together at 8 & 9 and provided us with entertainment and respectability.
Chris Carr chipped in with 17 and Nathan Reay was 4 not out at the finish.
OWs 177 all out (36.4 overs)
Monday
This was an all day affair commencing at 11.30am prompt, a traditional time game.
Nathan Reay handed over the captaincy duty to Gareth Roots for the day, with Gareth winning the toss and electing to bat on what was a beautifully sunny day by the sea.
The openers set the tone with a 120 partnership in 80 mins (R Rigby 61, A Crockert 34). The fall of wickets did nothing though to stop the surge, with runs continuing to flow before and after lunch with Beard 33, Roots 71 not out and Todd 60 not out entertaining the crowd with some big hitting out of the ground, enabling OWs to declare at 300-3 after 48 overs.
In reply, Sidmouth also had a rapid start with an opening partnership of 100 but then Tarrant was brought on to bowl and shortly afterwards, clean bowled their opener middle stump for 102. His 20 over spell produced two further useful wickets, employing the Sidmouth slope to good effect.
Roots got 3 wickets before taking over the final spell as wicketkeeper (Thom Whiteside – injured fingers) and Mclellan got another wicket. All the time Sidmouth were creeping closer to the target, but the rate had increased to 6 for the last 10 overs.
With the clock ticking near to 7.30pm, the whole game came down to the last over with Sidmouth 8 wickets down, 3 balls to go and 2 runs required!
An exciting run out (Rigby, direct hit) delighted the crowd but with 2 balls left, Sidmouth hit a 4 over the close ring of fielders to win the game.
OWs bowled 65 overs in reply.
Although registered as a loss, this was a great game enjoyed by all that attracted a large crowd at the Fortfield. In the post match discussions, Sidmouth showed their appreciation at such a sporting declaration by the OWs.
In summary, a hugely enjoyable tour and one that will hopefully now be repeated for many years to come. Dates are to be confirmed for next year, but the hope is that it will be a 3 day tour to Sidmouth, with a 40 over game on the Sunday afternoon, a 20 over match on the Monday evening followed by a traditional day game on the Tuesday.
I would like to finish by offering a huge thank you to everyone concerned. It was at times hard work to get this tour off the ground, but the unstinting support of the 13 squad members and also vitally the non–playing supporters, including umpire was so much appreciated. A big THANK YOU to you all!
If you are interested in the 2010 OW Cricket Tour please contact Nathan Reay via E-mail at nathan.a.l.reay@uk.pwc.com