2011 1st Round - Cricketer Trophy
The Cricketer Trophy
With the demise of the Cricket World Trophy and The Brewers Cup, the committee of The Cricketer Cup felt a need for more schools to be able to play under Cricketer Cup conditions. Warwick School was one of eight schools invited to set up their own competition to start in 2011. This will be an independent competition for three years, after which discussions will be held about the possibilities of incorporating the competition into The Cricketer Cup.
OWs vs. Old Georgians at Weybridge, Sunday 17 July 2011
1st Round - Cricketer Trophy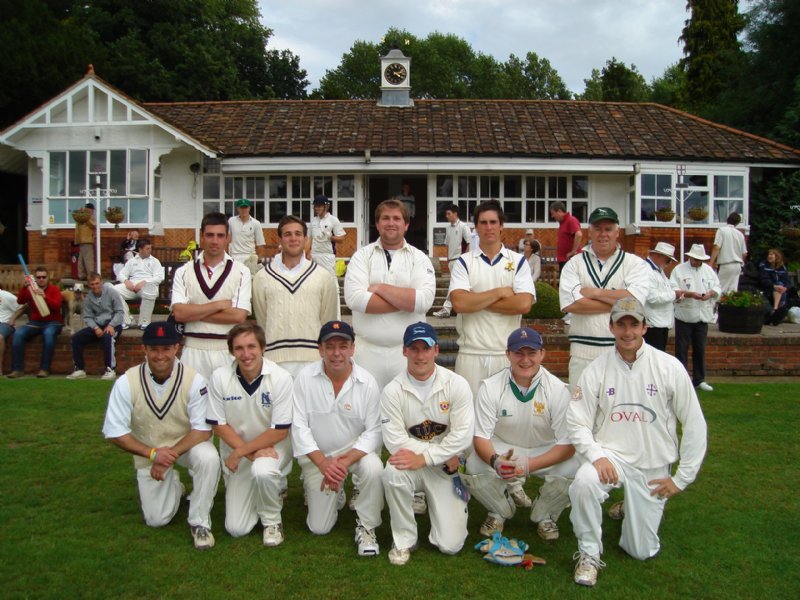 OGs won the toss and invited OWs to bat first. In view of the unpredictable weather situation, the Captains agreed 40 overs a side, maximum 8 overs per bowler, the result to be decided if necessary on 'net run rate'. With a slow outfield and the ball swinging a lot, OW openers started cautiously against some accurate bowling, with an opening stand of 38 off 15 overs (Crockert 9, Mulraine 34).
Gareth Roots joined Sam Wood and they took the score to a steady 86-2 after 28 overs, when a storm interrupted play and tea was taken.
After tea, Roots and Wood continued to accumulate wisely, 101 off 31 overs. They then launched an assault on the bowling with some powerful stroke play, taking our total to 217-2 at the close. Wood 91 not out, Roots 61 not out (150 partnership: 120 deliveries, 72 mins, 8 4s, 6 6s.). This was a superb partnership and very entertaining to watch!
In reply, OGs started briskly with 62 off 17 overs. Chris Kroeger and Andy Harris were brought into the attack and almost immediately slowed the pace. Pressure started to build. Mark Banham took a brilliant catch at long on (b. Kroeger) for the first wicket and the other opener, who had been threatening to build a big score, was also dismissed, bowled by Kroeger for 57. This was a vital breakthrough. Total now 72-2 off 20 overs and some way behind the net run rate required at that point (should the weather have intervened). In fact, the sun came out for much of the rest of play. Was this an omen?
The next 10 overs produced 46 runs with the loss of OGs number 3 bat (4) ct. S Wood, bowled A Harris. OGs Capt, Giles Henderson, resisted with 23 before being bowled by Tim Austin in a useful spell of bowling. OGs now required 100 runs off the last 10 overs, but managed a further 50 for the loss of 5 further wickets, including 2 run outs (Austin and Harris) finishing on 171-8 (13 extras).
Wickets were shared as follows: C Kroeger, 2 for 28 off 8 overs. A Harris, 2 for 28 off 8 overs. T Austin 1 for 35, 7 overs and F Dixon 1 for 10, 3 overs (ct. Mulraine).
Man of the match: Sam Wood.
Our thanks to OGs President, Brian O'Gorman for hosting the day.
A fine win for OWs in their first game of the new competition.

Team, back l-r: A Harris, F Dixon, C Kroeger, S Wood, MP Banham.
Front l-r: C Mulraine, T Austin, AN Crockert, G Roots (Capt), J Williams (Wkt), D Wood.