2015 OW Golf
With thanks to Honorary Secretary and Captain, Julian Marcus.
Spring Day
Tues 19 May, Tadmarton Heath GC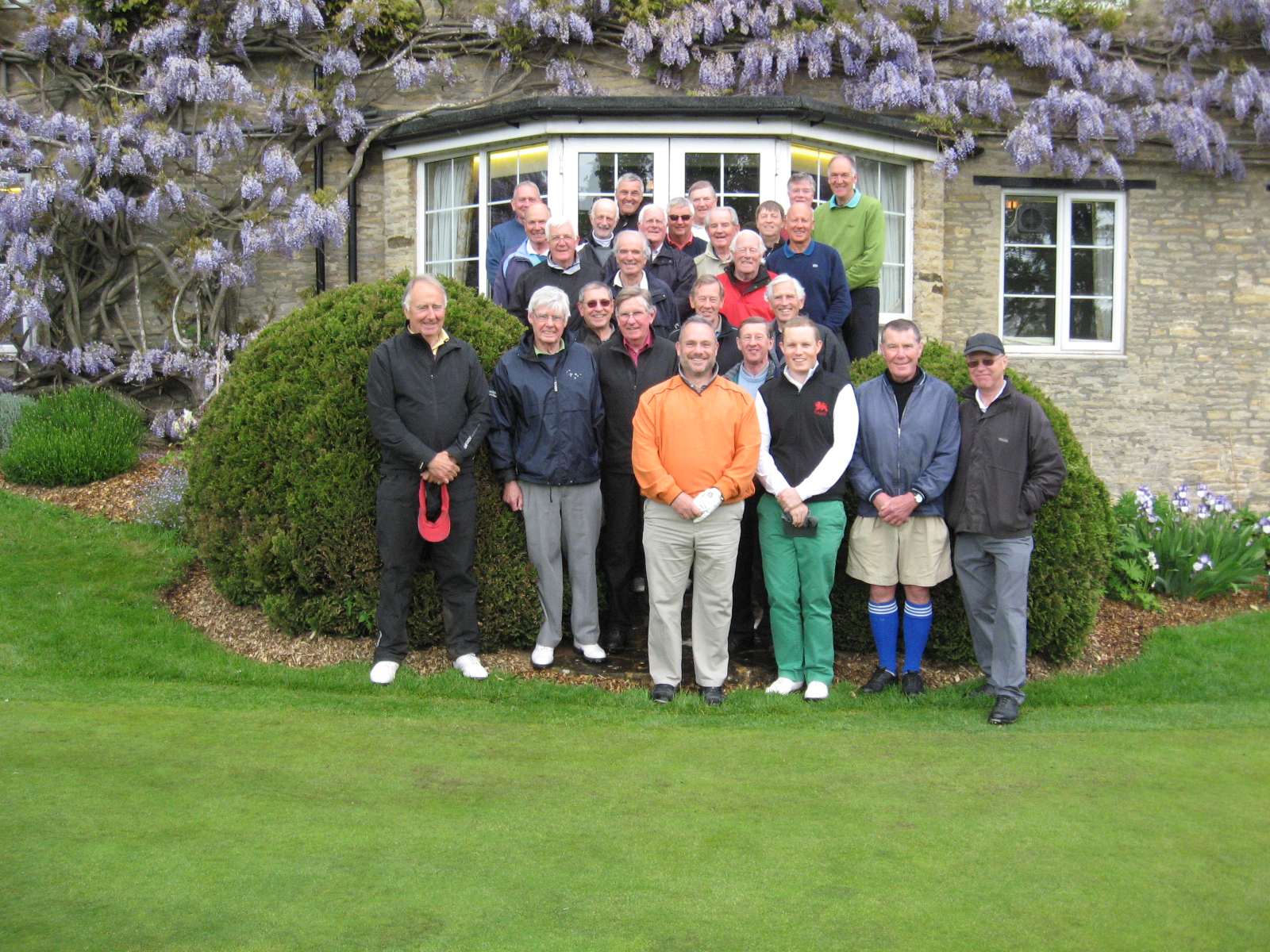 Left to right and front to back - D Rotherham, C Davis, T Harry (back), D Payne, G Thorpe, C Adams, A Dunnell, P. Baird, O Pearman (back), J Mayo, B Abbott, J Marcus, M Lines, C Bellerby (back), B Woodham, V McDonald, J Ayres, C Kaye, T Shenton-Taylor, P Gedge, D Tandy (back), M Barnwell, J Cumberland, N Harper, D Phillips and M Eykyn.
The biggest number of OWs for many years turned out for the Spring Golf Day. 13 golfers played all day and a further 13 joined for the afternoon's main event. Some had not seen one another for over sixty years! It was lovely to welcome some newcomers, plus a few who have been unable to attend in recent years.
Tadmarton Heath GC has undergone some wonderful improvements and the course was in magnificent condition. The weather delivered its own challenges as we experienced all four seasons in one day. Retiring to the bar for afternoon tea crossed many golfers' minds.
Gracey Tankards
Edinburgh foursomes (the best of two drives and play alternate shots on either odd or even holes).
Winners, on 39 pts, Nigel Harper (rookie winner) and Cliff Bellerby.
Runners-up, on 35 pts, Ollie Pearman and Tim Harry.
Langley Trophy
An individual stableford off 7/8 handicap.
Triumphant, on 34 pts (won on the back 9), Brian Woodham.
Runner-up, on 34 pts, Duncan Rotherham.
Third, on 32 pts, Chris Adams.
Nearest the pin (7th green), Julian Marcus.
Longest drive (13th), Malcolm Eykyn.
2016 will be the 50th anniversary of the Langley Trophy when we hope to see as many people as possible. Provisional date: Tuesday 17 May 2016.
Grafton Morrish Qualifier
Sat 16 May 2015
Olton Golf Club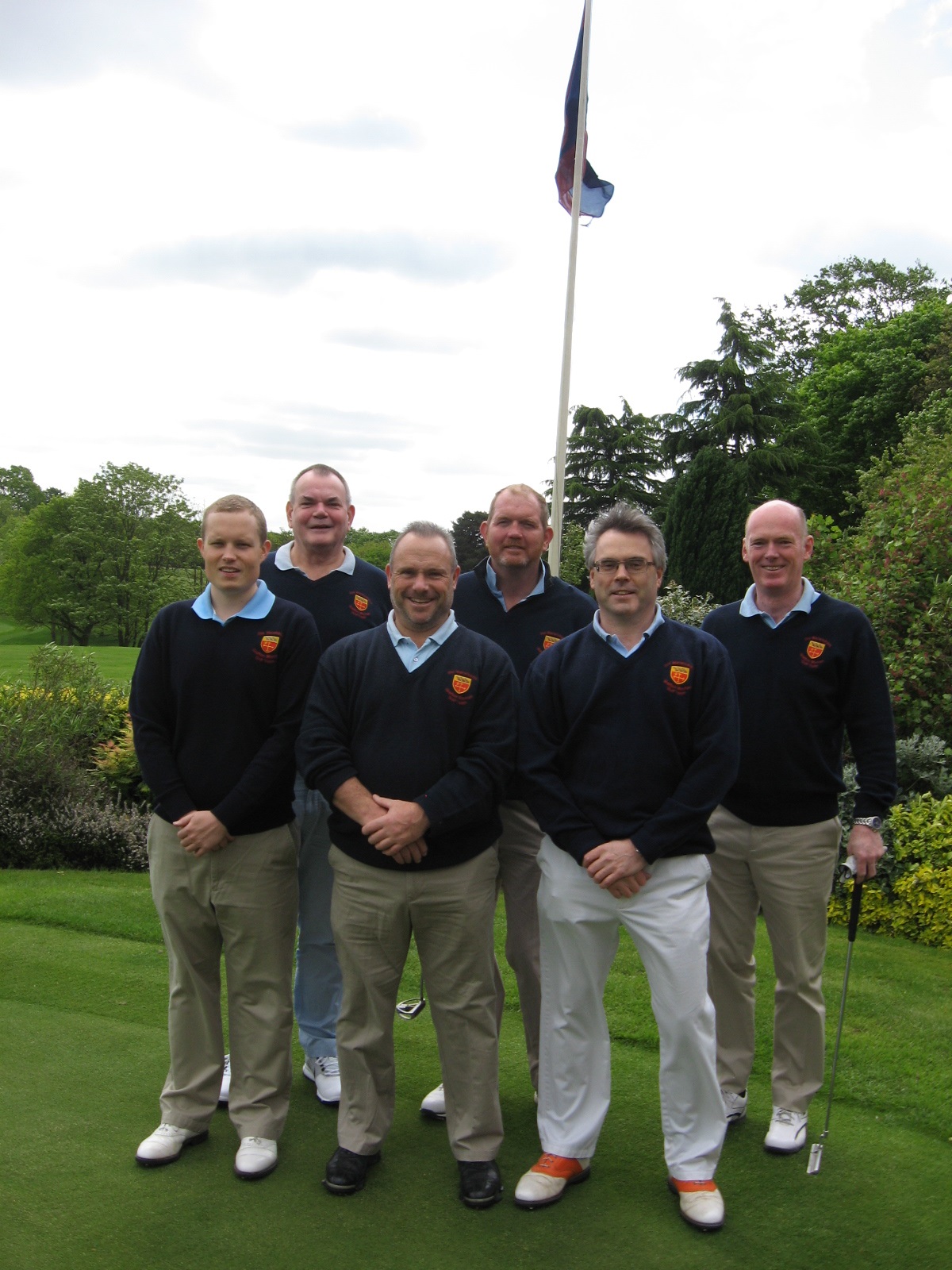 James Cumberland, Tim James, Julian Marcus (capt), Peter Gordon, Matt Leefe and Phil James.
Not only did Warwick have a later tee off time this year, we also had a change of playing companions. Solihull were replaced by Repton and, with the course in immaculate condition and playing conditions near perfect, we felt a good performance would give us a great chance of qualification for the GM Finals in September.
Peter Gordon and Phil James got off to a steady start, followed by James Cumberland and Tim James. Julian Marcus and Matt Leefe were left in the 'anchor role'. With greens fast and hard we were steady, without being fantastic. Coming off the last green we realised with regret we had left a few too many shots out there.
Joint winners on the day were Solihull and Coventry, on 82 pts. Warwick was placed equal sixth, on 76 pts. Another great effort nonetheless - well done and many thanks to the team yet again.
OWs vs School
Fri 26 June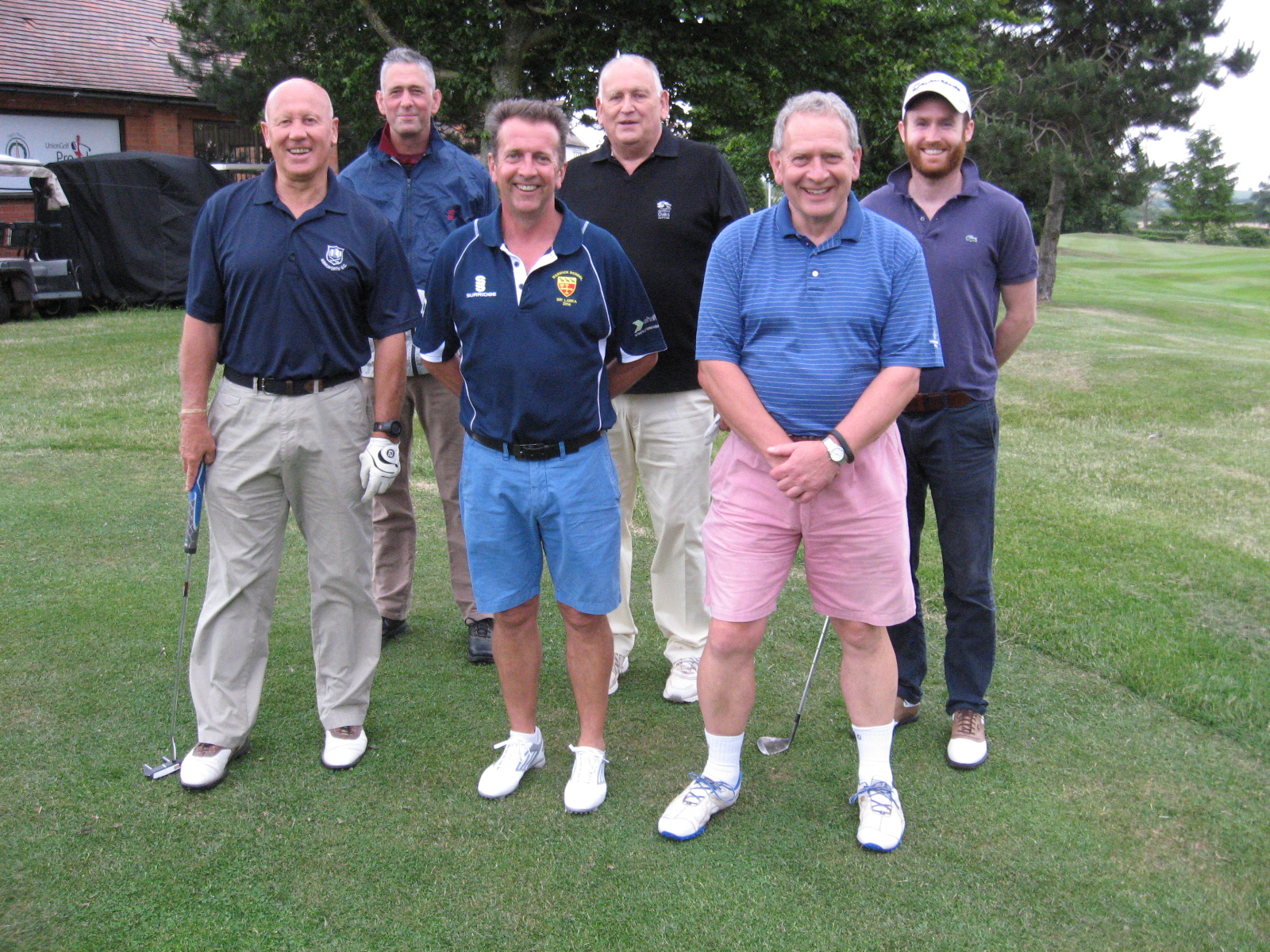 Mike Barnwell, Pip Whitting, Geoff Tedstone, Chris Hart, Tim Harry and John Gibbons.
Teams of 6 paired up to play 4-ball better-ball match play, played off 3/4 handicap difference… just for a change. Battle commenced between OWs and School for the prestigious Jack Marshall Trophy. The School's young golfers were ready to avenge last year's 3-0 defeat and our Hon Sec watched a dazzling display of long hitting off the first tee.
Ingon Manor Golf Club provided a change of venue well received by all the players. The weather was dry, but our golfers knew a decent speed of golf was required. Driving off first for OWs were Mike Barnwell (13) and Geoff Tedstone (10)(capt), playing the very promising pair of George Gill (2) and Josh Dennison (3). Sadly, the game did not go as far as the stand-in captain would have liked, with hands being shaken on the 14th green - 5 and 4 loss.
Our second string of Tim Harry (16) and Chris Hart (14) found themselves duelling with Laurence Johnson (5) and brother Jamie Johnson (14). The long hitting of Laurence proved too much for our second string and thoughts of a Ryder Cup style fight back disappeared fast. The 14th green seemed to be a common meeting place where hands were shaken – another 5 and 4 defeat.
So, with the trophy already being engraved and heads held low, OWs tried to salvage some pride with our final pairing. Pip Whitting (18) and John Gibbons (4) battled against Anant Gill (11) and Ross Perry (10). This time it was the 17th green that saw hand shaking and a sorry white wash declared.
Final score: OWs 0 – School 3. The Jack Marshall Trophy was presented by Geoff Tedstone to George Gill and will remain at School for a further 12 months before battles are resumed.
Autumn Meeting, Friday 18 September 2015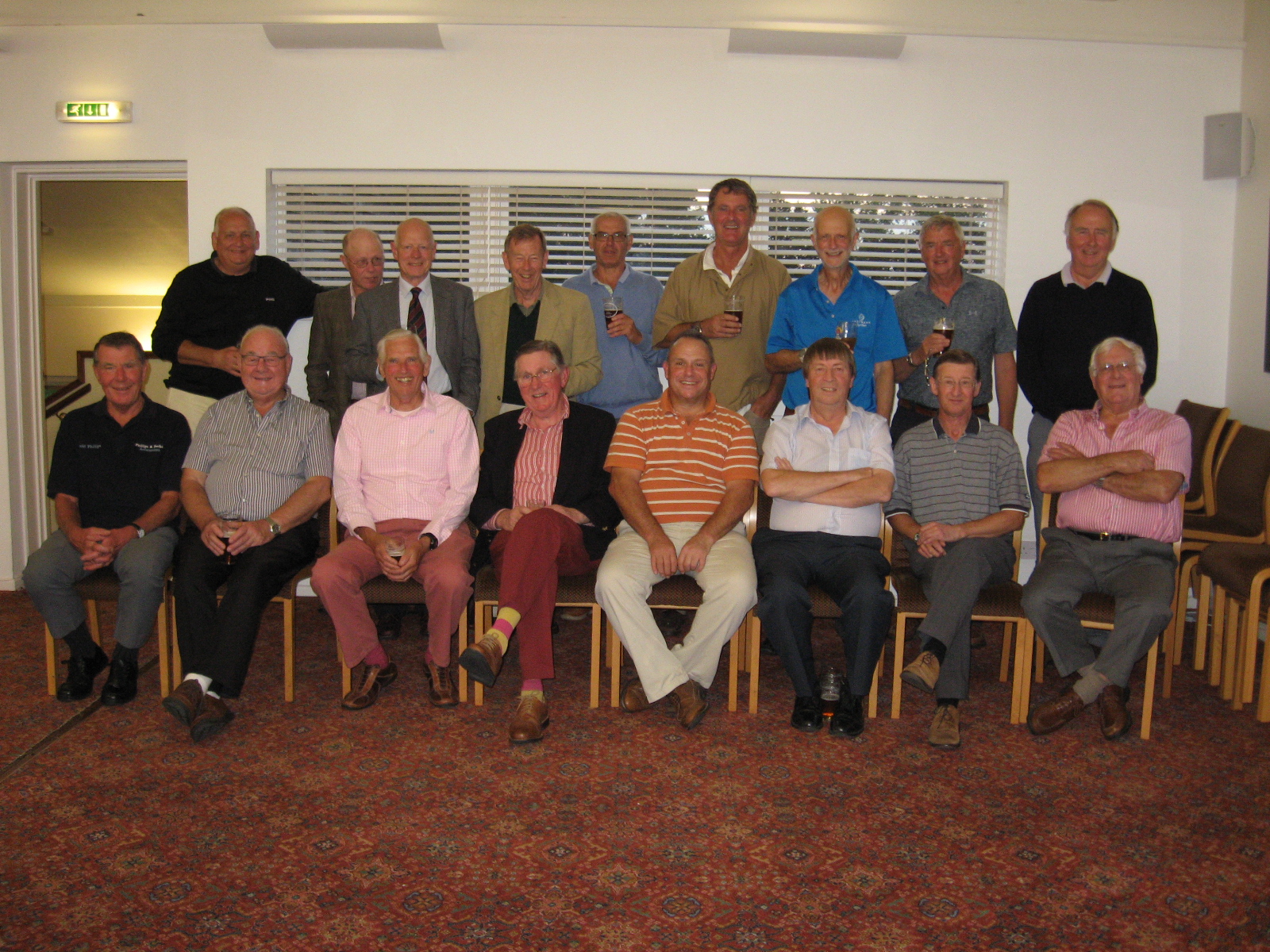 Back: Chris Hart, Malcolm Eykyn, Chris Aldridge, Brian Woodham, Richard Simmons, Jon Gregory, Andy Dunnell, Malcolm Lines and Duncan Rotherham. Front: Dave Phillips, John Sheffield, Peter Gedge, Peter Baird (Capt), Julian Marcus(Hon Sec), Tim Shenton-Taylor, Chris Kaye and Budd Abbott.
Following the 2014 excellent Autumn Golf Day, we returned to Kenilworth GC and were delighted with a course in great condition and superb hospitality, catering and customer service. After bacon sandwiches and coffee, we began with 18 holes in the morning foursomes. 12 players made for 6 teams and three 4-balls battled for the coveted OW Tankards. We welcomed Chris Aldridge on his first outing with the Golf Society.
Seven additional OWs joined us for lunch and we welcomed another society débutant – Clive Boast – hopefully the first of his many golf days with us. The afternoon individual round for the OW Salver was keenly contested by 19 players. Some were well satisfied while others felt too many shots had gone begging.
The weather tried to dampen spirits with a couple of fine showers, but it only helped to slow down the spritely greens, which helped most of us.
OW Tankards
Edinburgh foursomes golf over 18 holes (stableford)
Winners, receiving two new golf balls each: Jon Gregory and Malcolm Lines on 39 pts.
Runners up, Richard Simmons and Andy Dunnell on 38 pts.
OW Salver
An individual stableford played off 7/8 handicap.
Winner, Julian Marcus on 36 pts.
Second, Jon Gregory on 35 pts.
Third, Brian Woodham on 34 pts (winning on back 9).
Golfer of the Year 2015
A combination of individual points made in both individual rounds at Tadmarton and Kenilworth Golf Days.
Winner, Brian Woodham on 68 pts.
Second , Duncan Rotherham on 64 pts.
Third, Andy Dunnell on 58 pts (last 18).
Fourth, Mike Barnwell on 58 pts.
Chris Hart provided admirable entertainment off the first tee in the morning when taking a 3 wood for safety, he drove the ball into the tee just in front of the tee peg. The ball popped up and was caught casually by Chris on his follow through – a truly talented performance. Professional trick golfer Noel Hunt needs to watch out! Dinner was forfeited in favour of watching England's opening Rugby World Cup match!
Grafton Morrish Finals
25-26 September 2015
With thanks to James Cumberland for captaining the team.
James Cumberland (capt), Phil James, Peter Gordon, Tim James, Matt Hicks and Steve Tubb.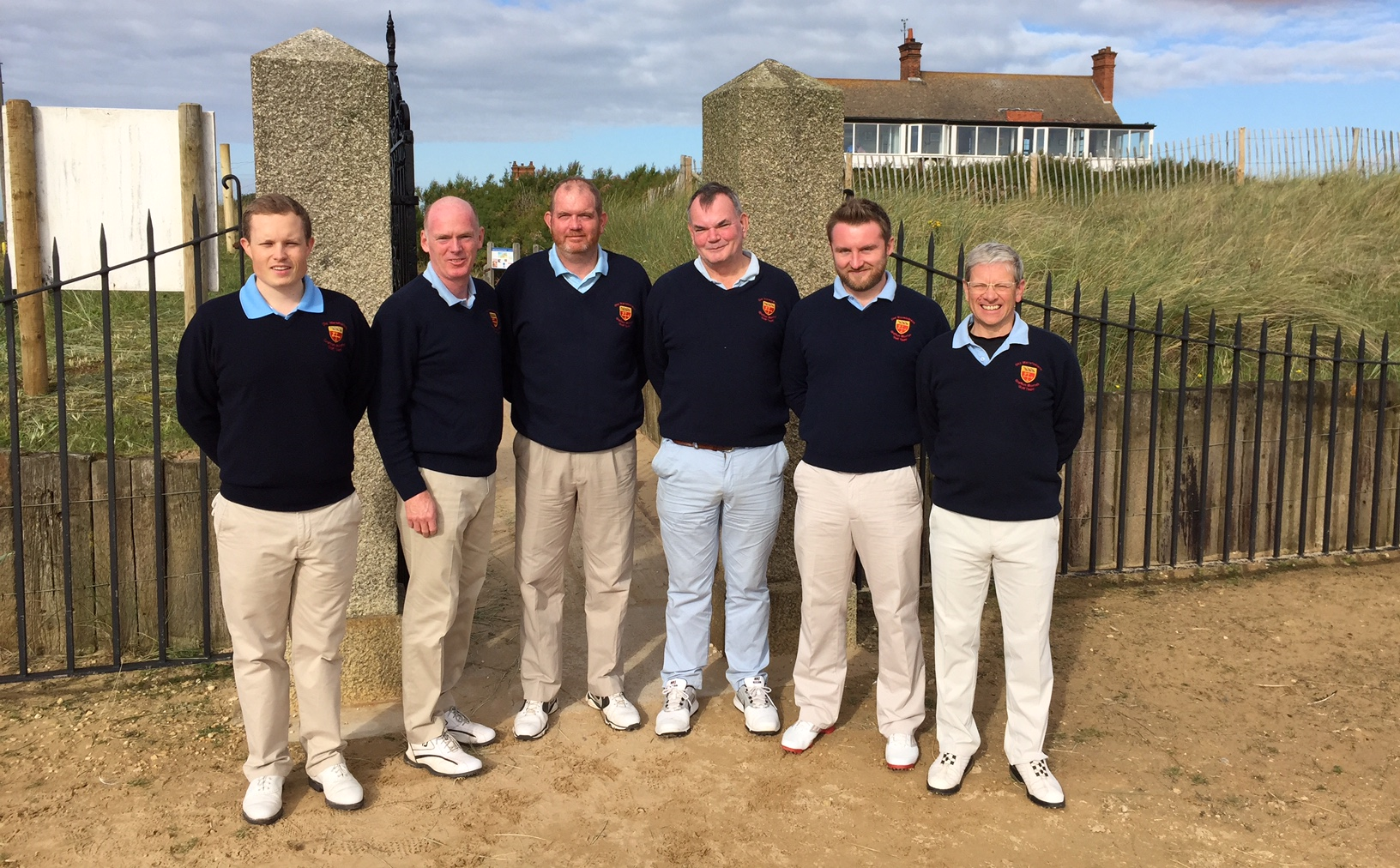 On the 30th anniversary of the OW victory in the competition, we were granted an 11th hour reprieve just a week before the event, as the organisers sought a replacement for Fettes, who were unable to raise a team. A team was assembled at short notice. Stand-in captain James Cumberland and Steve Tubb led the team off, with Tim James and Matt Hicks as second string and Phil James and Peter Gordon the anchor pair.
The 2016 trip to the Norfolk coast was particularly notable for Tim, Phil and Peter who all played in the winning side of 1985. Sadly, this time, we were unable to replicate their past success. Phil and Peter's opponents were round in level par to win 5 & 4 and in a match which was close all the way, James and Steve held on for a half which left our fate in the hands of Tim and Matt. Ahead early, they fell behind as Stamford made a hat-trick of birdies from the 6th and, despite fighting back, they too were only able to manage a half, leaving Stamford as 2-1 winners.
Returning to Hunstanton on Saturday, the team set out to contest the Solihull Salver stableford competition, for 1st and 2nd round losers, playing with Merchant Taylors' and King's Taunton. A pair of birdies on Brancaster's tricky par 3s following some sparkling iron play by Steve helped him and James to 29 points. After a slow start on the front nine, Tim and Matt rallied to 22 points, whilst Phil and Peter played very steadily to record 30 points. Our total of 81 points placed joint 11th.
The Grafton Morrish is a most special competition and with talk of a "taskforce" meeting over the winter to discuss our somewhat disappointing recent form, we very much hope to be able to report some more successful results in 2016.