2018 OW Golf
With thanks to Hon Sec Julian Marcus

Grafton Morrish Qualifiers
12 May 2018
The OW golf team gathered at Olton GC for Grafton Morrish qualifying on 12 May. Three qualifying spots were available for the seven competing teams, leaving little margin for error. On a glorious morning for golf, with barely a breath of wind, OWs were in the first group, playing sixsomes alongside Solihull and Coventry. Veteran pairing Peter Gordon and Philip James led off, followed by Matt Hicks and OW debutant John Hale, with James Cumberland and Steve Tubb as the anchor pair.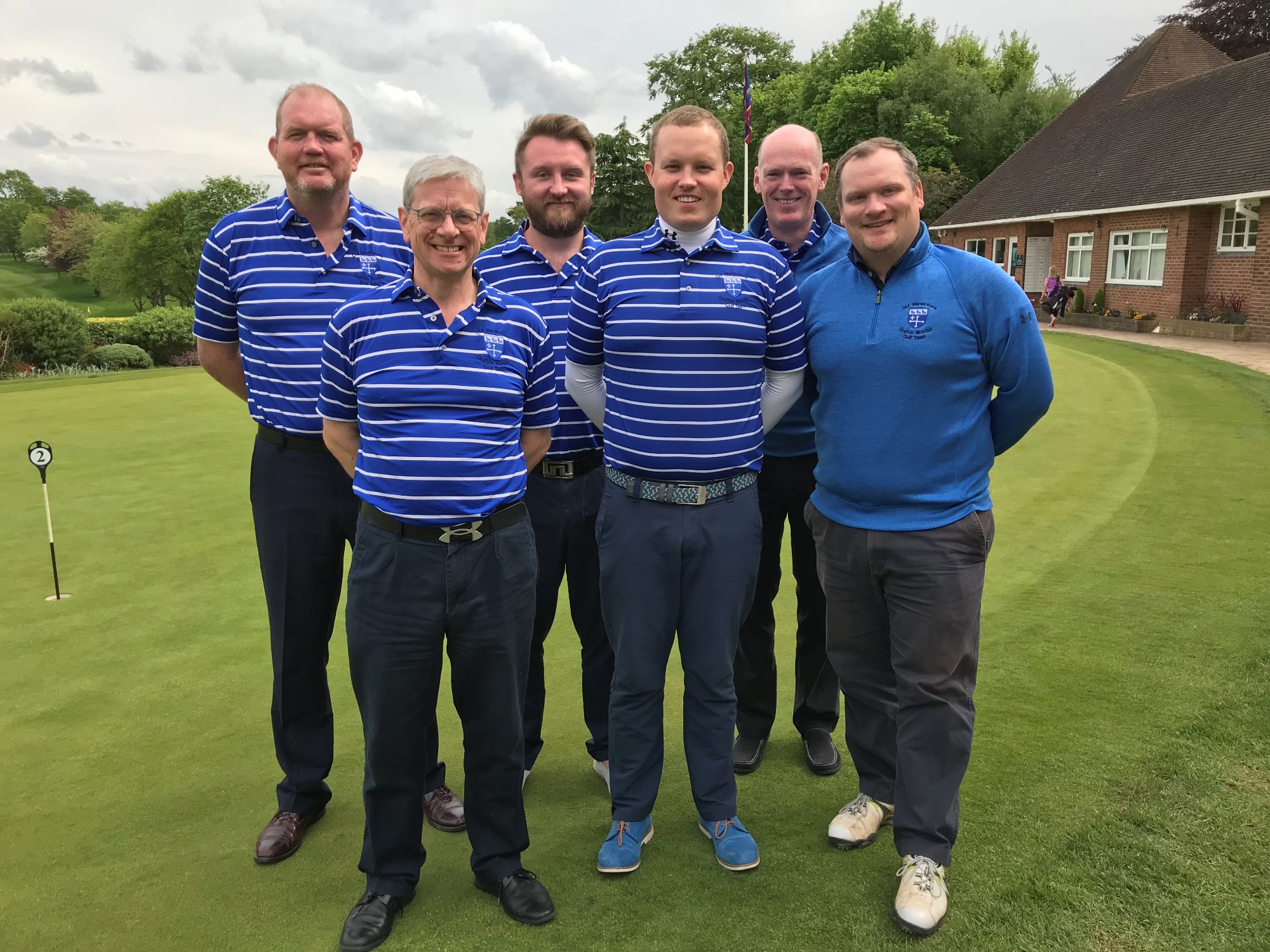 The OW team score of 87 points included an excellent 34 points from Peter and Philip, the highest scoring pair from any school. This gave OWs second position, behind Solihull (91 points) and ahead of Shrewsbury (84 points) for whom former England cricketer James Taylor was playing. OWs have therefore qualified for the Grafton Morrish finals, to be held at Hunstanton GC and Royal West Norfolk GC in early October.
Spring Golf Day
Tues 15 May 2018 - Tadmarton Heath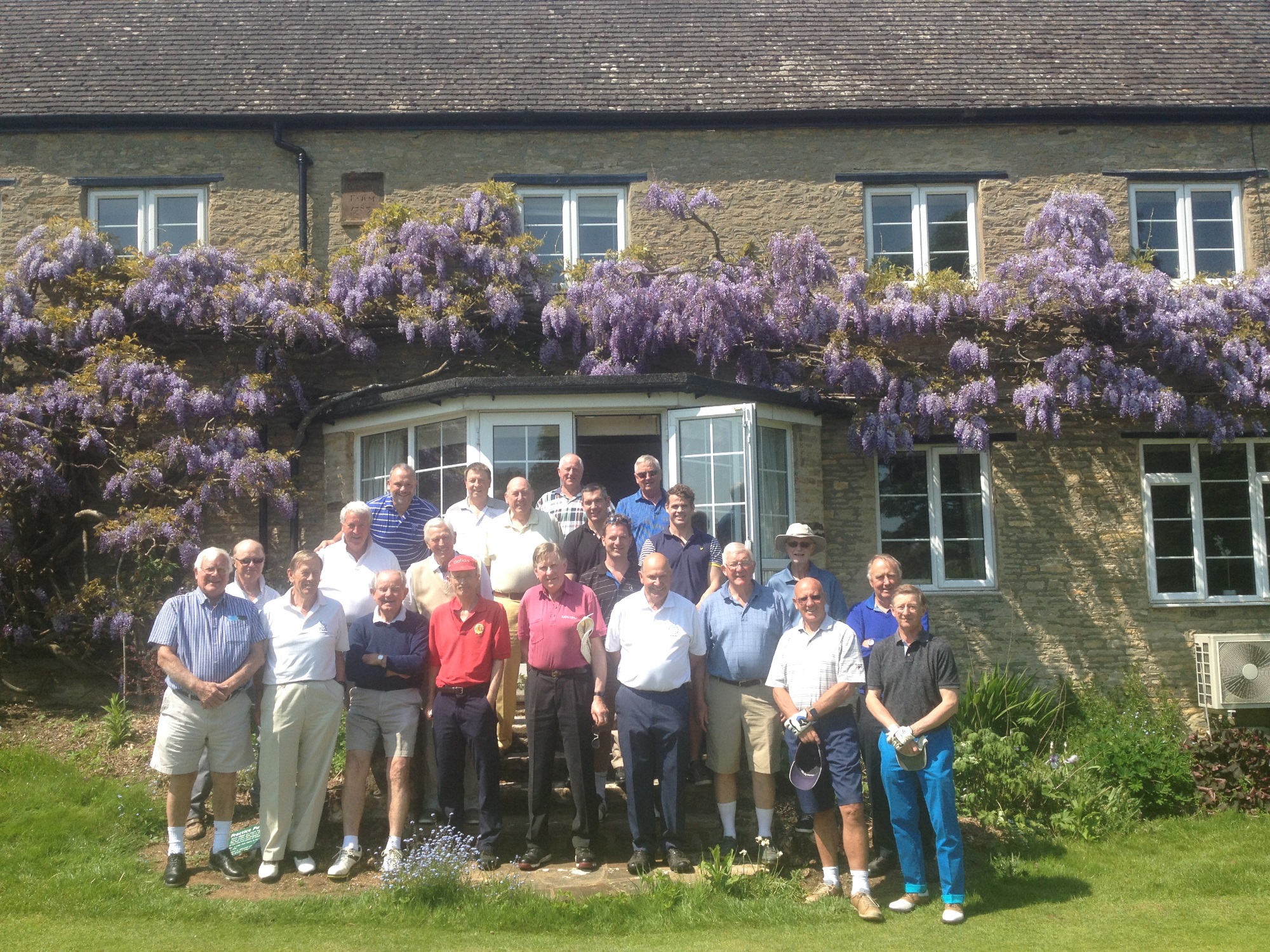 This year's OW Golf Spring Day was the first time for many years when the sun shone all day! Having undergone major alterations, the course at Tadmarton was looking magnificent with many of the new features having bedded in well. Although the course seemed more playable and a little kinder, scoring points still seemed more of a trial than a number had expected.
12 morning players were joined by a further ten golfers in the afternoon.
Gracey Tankards
Edinburgh foursomes – take the best of two drives and play alternate shots on either odd or even holes.
Winners on 35 pts, Malcolm Eykyn and Geoff Thorpe
Runners up on 34 pts, John Elson and Andrew Dalton
Third on 32 pts, Ollie Bates and Iain Simmons.

Langley Trophy
An individual stableford off 7/8 handicap
Winner on 32 pts, Chris Kaye
Runner up on 31 pts, Tim Shenton-Taylor
Third on 29 pts, Duncan Rotherham
Fourth on 29pts, Mike Barnwell.
With thanks to those who kindly donated prizes. Once again, the golf, company and food were greatly enjoyed.

OWs vs. School
Fri 6 July 2018
OWs met the school golf team to contest The Jack Marshall Trophy in the annual golf match held at Stratford-on-Avon Golf Club. The course was in great condition, parched and bone dry with greens running true but the rough waist deep. With one man down, OWs Geoff Tedstone (11) and Julian Marcus (8) took on the might of Josh Kearns (4) and Ralph Hiatt (5). Power and length gave way to straight hitting and good putting with OWs running out 2 and 1 winners on the 17th green. Graham Carter (10) and Richard Plummer (24) played the very talented pair of Rob Fitchford (11) and Sachin Kholi (13). Rob's final put on the final green secured a 1 up victory for the school.
All square! Out third, on his own, was the fiercely competitive Steve Tubb, who came up against Max Hayward (1) and Theo Barnes (2) and lost 6 and 5.
Final score: OWs 1 – 2 School.
The Jack Marshall Trophy was presented by Julian Marcus to Josh Kearns. The trophy was first presented in 2007 and the score book now reports: OWs 6 wins and School 6 wins.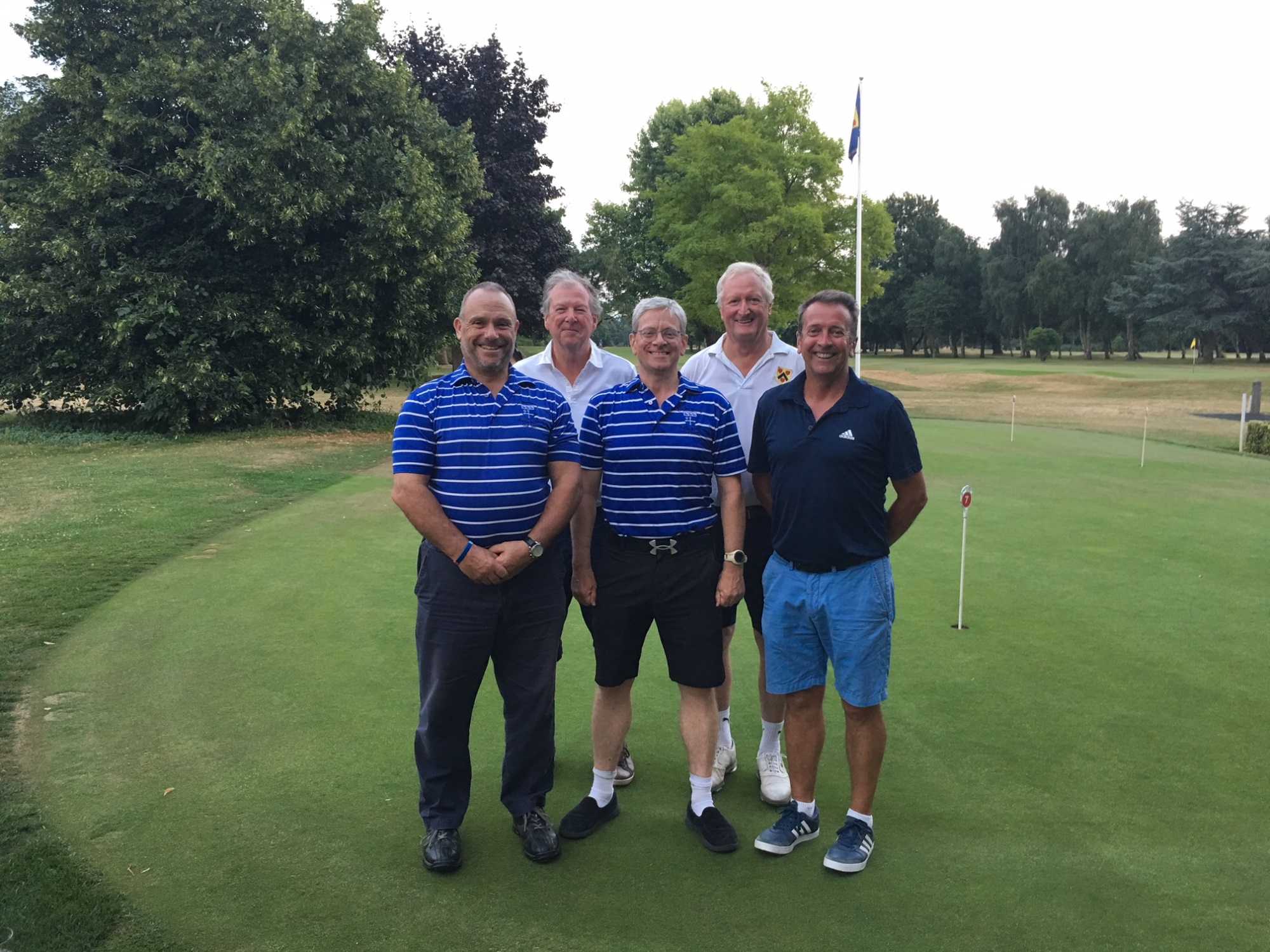 Autumn Golf Meeting
14 September 2018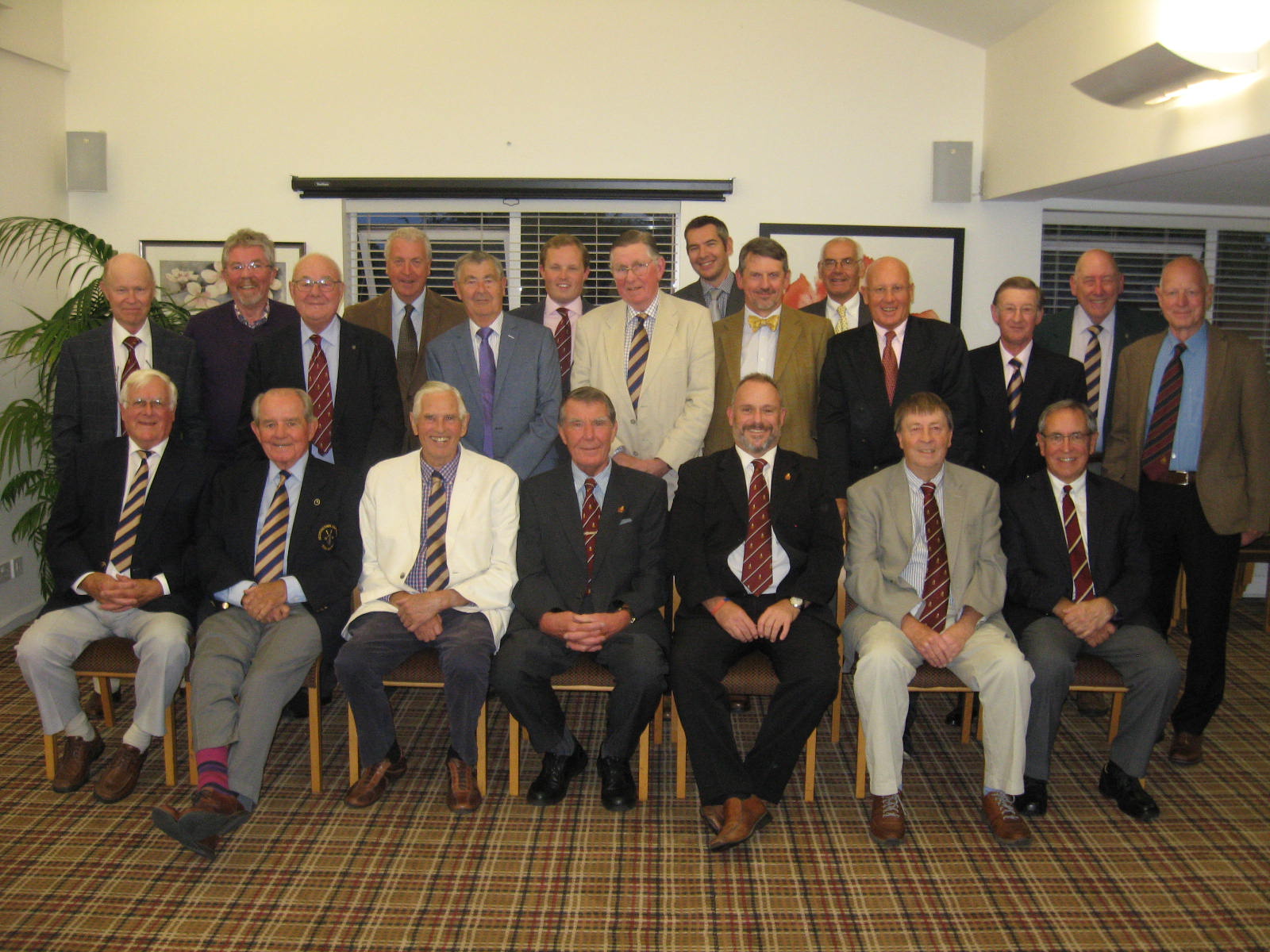 Back: Malcolm Eykyn, Rob Kay, John Sheffield, John Elson, David Cleminson, James Cumberland, Peter Baird, Iain Simmons, Oliver Commins, Richard Simmons, Mike Barnwell, Chris Kaye, Clive Boast and Chris Aldridge. Front: Budd Abbott, Vic MacDonald, Peter Gedge, David Phillips (Capt), Julian Marcus (Hon Sec), Tim Shenton-Taylor and Chris Adams.
The long hot summer had parched many courses but, in the most part, Kenilworth GC had recovered and provided some extremely fast greens to test our OW resolve with the putter. Coffee, bacon rolls and a catch up set eight golfers off to a good start. We were joined by Rob Kay who had driven down from Royal Birkdale for the day, though sadly not playing on this occasion. Foursomes golf over 18 holes in the morning were played for the keenly contested OW Tankards. Soup and sandwiches were delivered for lunch and a further 12 players arrived for the main afternoon competition - the OW Salver.
OW Tankards
Winners: James Cumberland and Chris Aldridge on 35 pts
Runners up: Malcom Eykyn and Chris Kaye on 28 pts
Third: Mike Barnwell and Peter Baird on 28 pts.
OW Salver
An individual stableford played off full handicap for the first time in our main event.
Winner: Iain Simmons (retaining his title) on 35 pts
Runner up: James Cumberland on 33 pts
Third: Chris Aldridge on 31 pts.
Golfer of the Year 2018
(A combination of individual points made in both individual rounds at Tadmarton and Kenilworth)
Winner: Chris Kaye on 60 pts
Runner up: Piers Neville on 55 pts
Third: Budd Abbott on 55 pts
Nearest the pin on 7th - Iain Simmons
Nearest the pin on 18th - James Cumberland.
Huge thanks to all the sponsors and to Peter Baird, outgoing Captain, who handed over the Captain's Pot (a silver Tankard) to Dave Phillips on his first official OW Captain's engagement - having missed Tadmarton in favour of a Buckingham Palace garden party!
Grafton Morrish Finals
With thanks to James Cumberland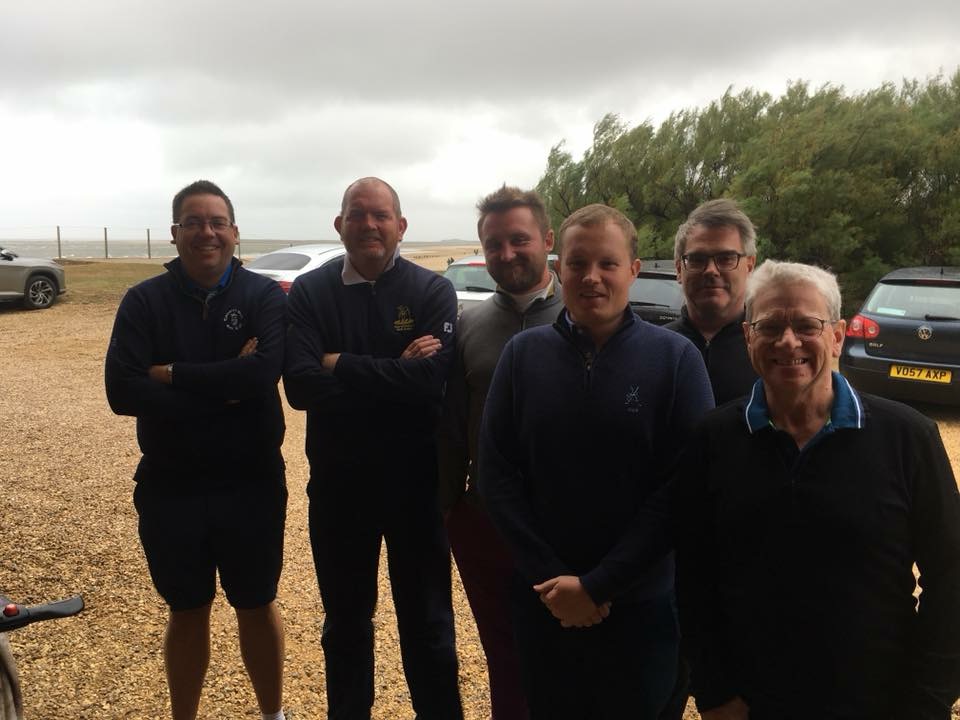 After successfully negotiating the Grafton Morrish qualifiers in the spring, the first week of October saw the OW scratch golf team travelling to Norfolk for the finals. We were particularly grateful to Steve Tubb for stepping in as an 11th hour substitute.
Following a round at Royal West Norfolk GC on Thursday afternoon to acclimatise, we were drawn against George Heriot's, the defending champions. At 08:00 on the Friday morning Matt Leefe and Steve Tubb led the way, with Peter Gordon and Mark Wolton in match two and James Cumberland and Matt Hicks in the final game. Matt and Steve fought back bravely for a half against the Heriot's captain and his partner (who turned professional the following week). Our other two pairs succumbed down the course against strong play from Heriot's, who went on successfully to defend their title on Sunday afternoon.
We returned to Brancaster on the Saturday morning for the Solihull Salver plate competition. This stableford competition is usually played in three-ball six-somes, with two other schools in a group, but the atrocious weather led to 20 of the 32 schools pulling out, including both of our playing partners, so the OW team headed out together marking our own cards.
30-40 mph winds, rain and a sea fret are not ideal conditions in which to play golf. Huddling like penguins to keep warm, the team produced a creditable 58 points to finish 6th out of the 12 teams who had braved the elements, Matt and Steve once again lead the way with 21 points. This unfortunately left us just two points short of qualifying for the Committee Bowl competition on Sunday.
Many thanks to the team for representing OWs in this prestigious competition, to James Cumberland for captaining and to travelling supporter Tim James for his encouragement and advice.