2019 OW Golf
With thanks to Hon Sec Julian Marcus and GM Captain James Cumberland

Spring Golf Day
Tadmarton Heath GC, 14 May 2019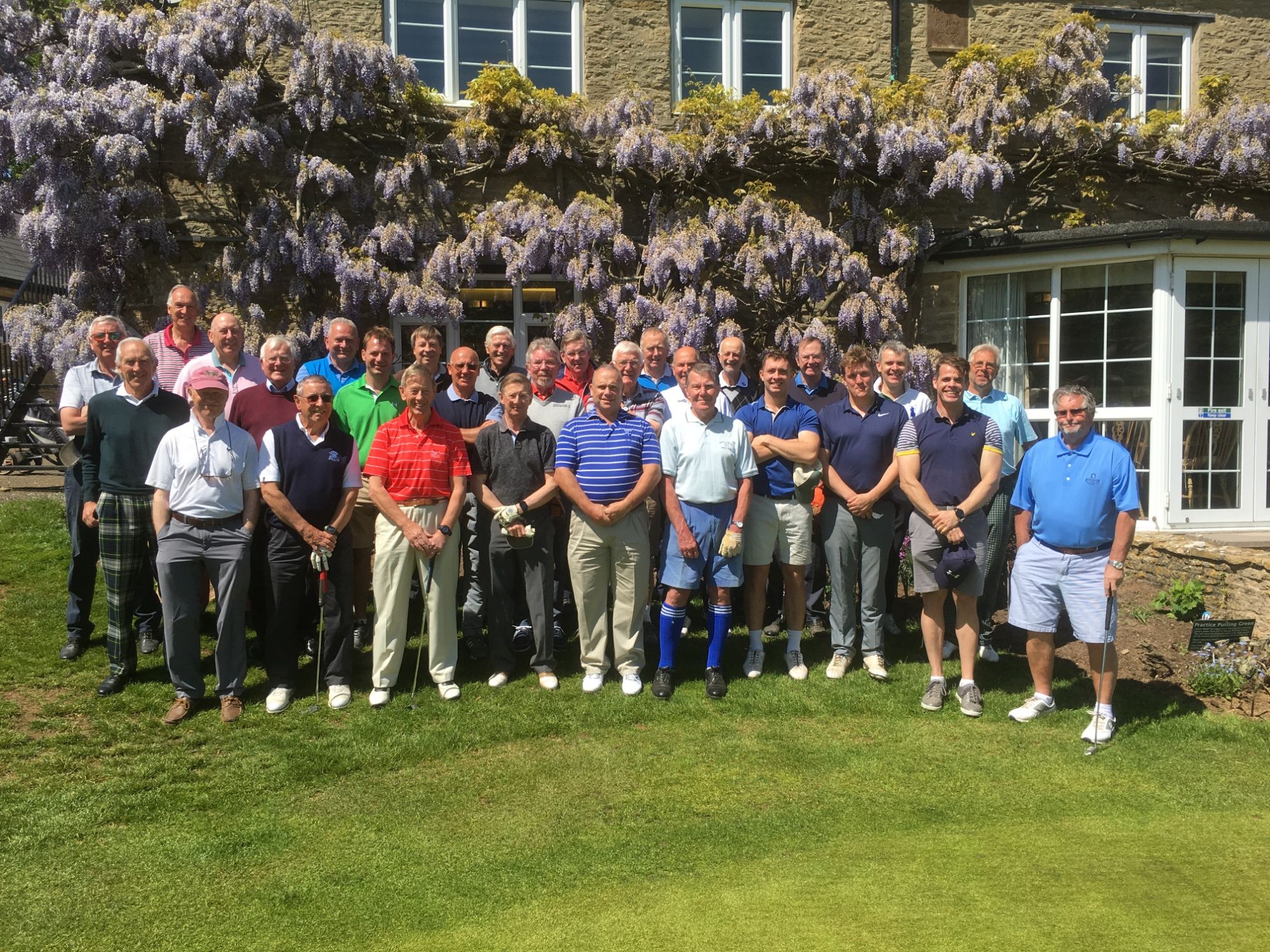 Malcolm Lines, David Derbyshire, Nigel Harper, Malcolm Eykyn, Clive Boast, Bud Abbott, Chris Adams, Tim Harry, Piers Neville, Brian Woodham, Tim Shenton-Taylor, Mike Barnwell, Peter Gedge, Chris Kaye, Rob Kay, Peter Baird, Julian Marcus, Geoff Thorpe, Duncan Rotherham, David Payne, Dave Phillips (capt), Andrew Dunnell, Cameron Koolhoven, John Loynton, Harry Abell, Simon Law, Oliver Murray-Bates, Chris Moody and Brian Docker.

Our band of merry golfers converged on Tadmarton Heath Golf Club, and were blessed with blue skies all day. 14 players gathered for the morning and a further 16 golfers arrived in the afternoon, filling the dining room and providing much laughter. It was wonderful to welcome seven OWs for the first time.
Gracey Tankards
Edinburgh foursomes – the best of two drives and playing alternate shots on either odd or even holes.
Winners, on 39 pts, Julian Marcus and Tim Harry
Runners up, on 39 pts, Ollie Bates and Piers Neville
Third, on 25 pts, Harry Abell and Malcolm Lines
35pts – good effort on debut for Harry.
Langley Trophy
An individual stableford off full handicap.
Winner, on 38 pts, Peter Gedge
Runner up, on 35 pts, John Loynton
Third, on 35 pts, Tim Harry
Fourth, on 34 pts, Mike Barnwell.
The Peter Gedge Pot
Peter Gedge was one of the founding members of the OWGS, making the first OWGS golf day at Tadmarton Heath GC in 1967 and being a constant attendee since. He was the club's first Hon Sec and then OWGS Captain. Peter kindly presented a solid silver pot to the OWGS as a prize for the best 'scratch' stableford score. Despite Peter's eager attempt to win his own trophy, John Loynton cornered the PG Pot.

GM Qualifiers
Olton GC, 11 May 2019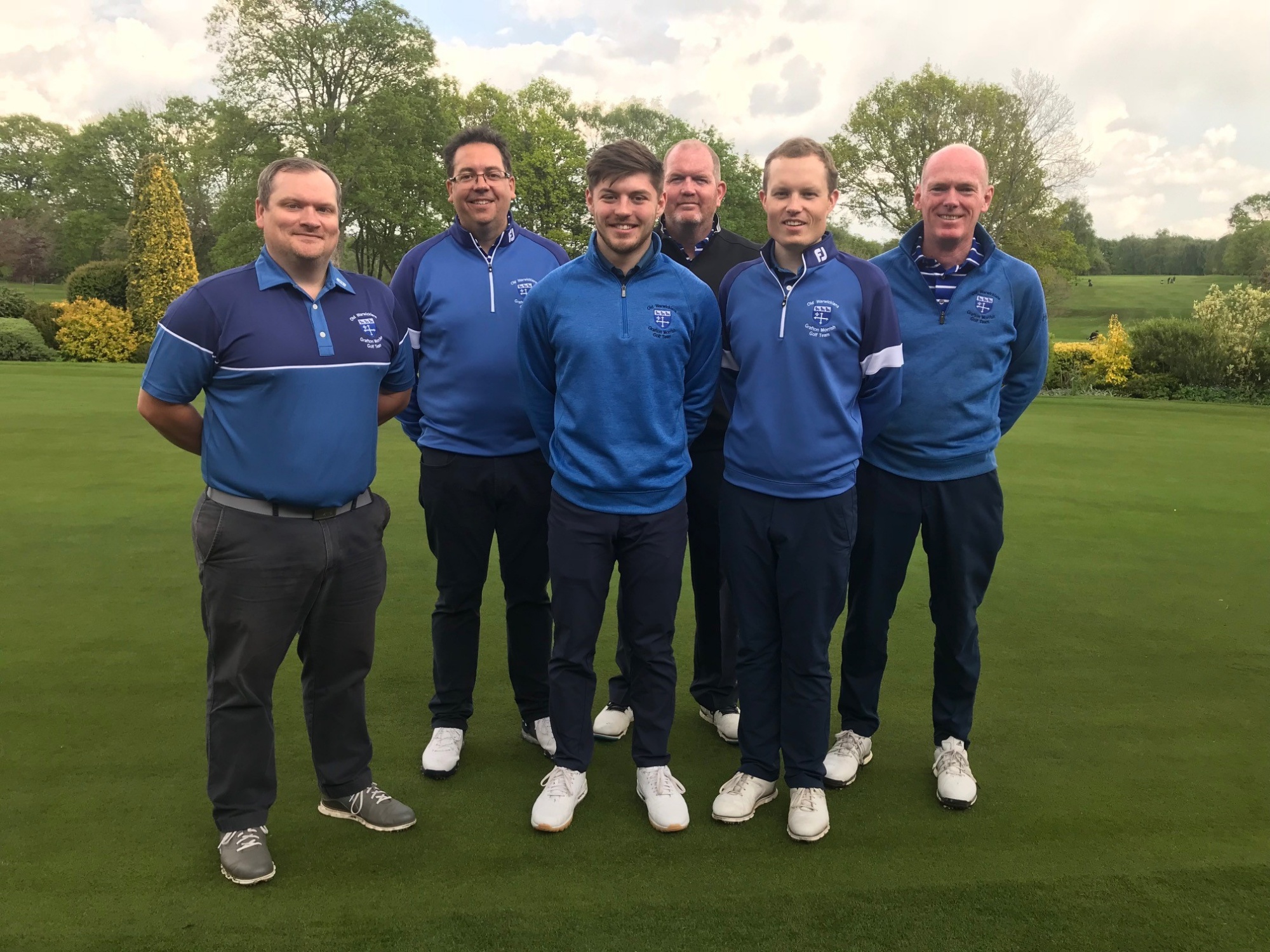 John Hale, Mark Wolton, George Gill, Peter Gordon, James Cumberland, Philip James.
The OW selection committee was delighted to call on the services of George Gill, making his OW debut, and John Hale, playing for the second time, in the Grafton Morrish Midlands Qualifiers, alongside regulars Peter Gordon, Philip James, Mark Wolton and James Cumberland.

Despite heavy rain, OWs turned in an excellent performance. Lead pair Peter Gordon and George Gill scored 29 points, Philip James and James Cumberland followed up with 26 points while John Hale and Mark Wolton saved the best until last with 30 points. The team total of 85 points was our best performance for at least 10 years and saw us tied for second with Coventry, just behind leaders Solihull, and safely qualifying for the Grafton Morrish finals in Norfolk at the start of October.

The team was very grateful for the support of Matt Hicks, who came to Olton to watch us tee-off and play the first few holes, and Tim James, who was there to greet us as we walked off the 18th.

OWs vs. School Golf
Stratford GC, 5 July 2019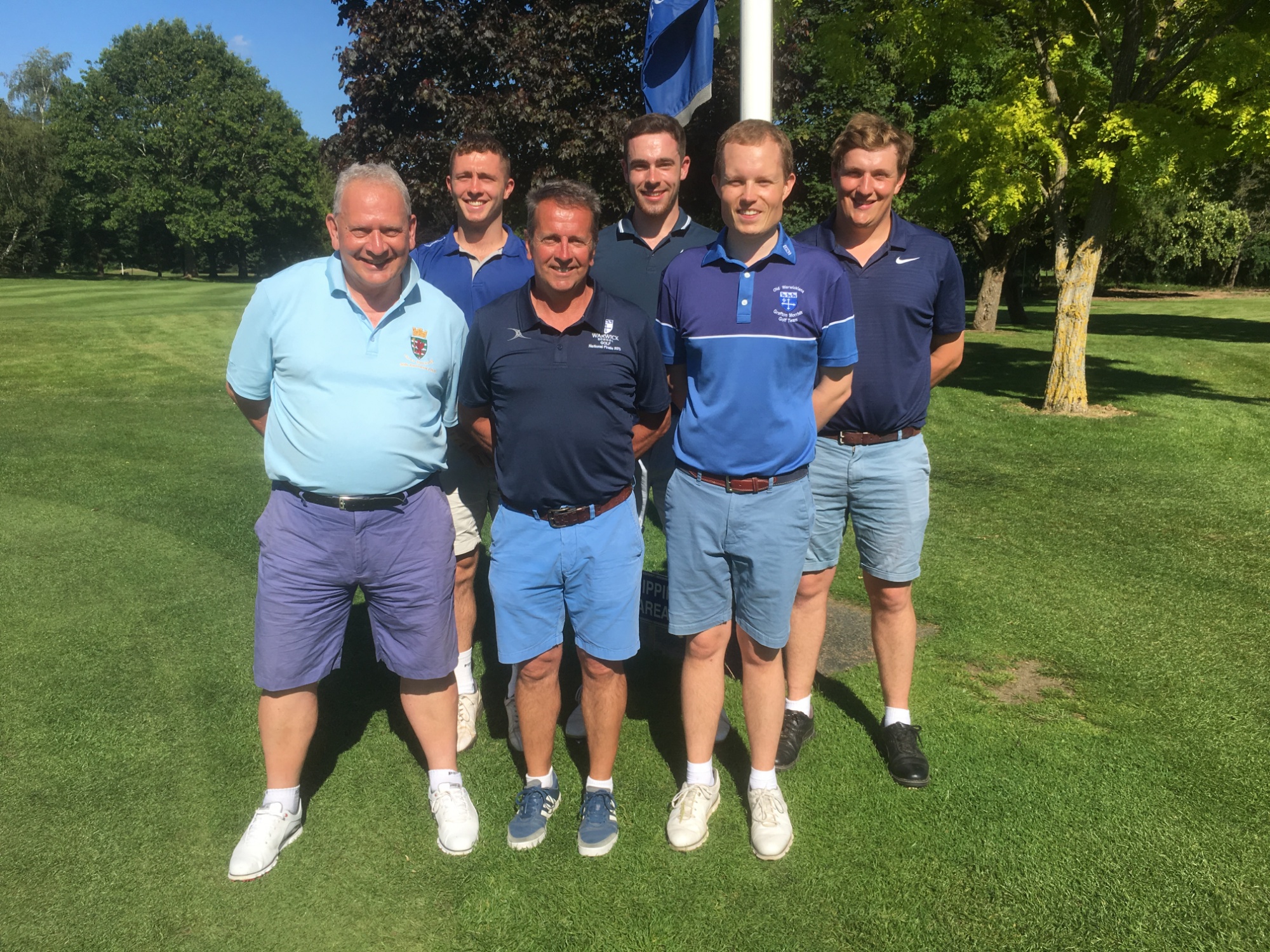 Tim Harry, Cameron Koolhoven, Geoff Tedstone, Josh Kearns, James Cumberland and Harry Abell.
OWs, having lost for the previous four years, took on the might of another School golf team in an attempt to regain The Jack Marshall Trophy in the annual match at Stratford-on-Avon Golf Club.
First back in the clubhouse were Cameron Koolhoven (6) and Harry Abell (15), who tried to overwhelm their opposition with an array of interesting shots from equally interesting angles. Sadly, not all the shots quite came off, the result a 5 and 4 OW loss. Next home and under pressure were Geoff Tedstone (10) and Josh Kearns (3). They went on the offensive and blazed their way round to a 3 and 2 OW win. All square!
Out on the course, with OW hopes still alive, were our second pairing of Tim Harry (17) and James Cumberland (4). Power hitting gave way to cunning and guile, with James and Tim securing victory in a tense 3 and 2 win. Final score: OWs 2–1 School. The Jack Marshall Trophy was presented to James Cumberland. Well done guys!
Autumn Golf Day, 6 September 2019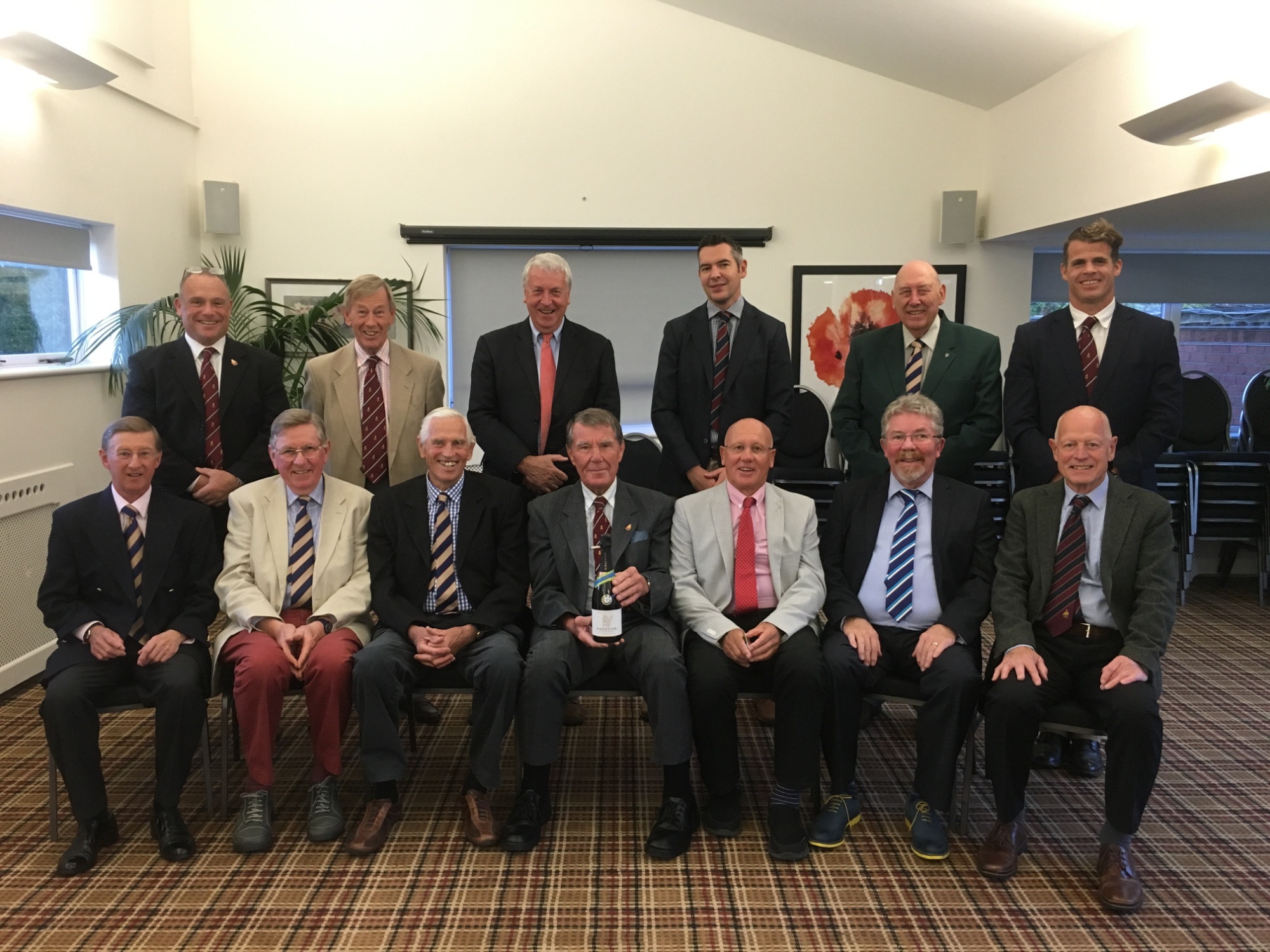 Back: Julian Marcus (Hon Sec), Brian Woodhams, John Elson, Iain Simmons, Clive Boast, Oliver Bates. Front: Chris Kaye, Peter Baird, Peter Gedge, David Phillips (Capt), Mike Barnwell, Rob Kay and Chris Aldridge.
Kenilworth GC was in great condition with lush fairways, rough tough and problematic trees! Twelve golfers got off to a good start with bacon rolls and coffee. Edinburgh foursomes golf in the morning challenged most, even if only to remember the rules. A further three players joined for the afternoon round and main event.
OW Tankards
Winners - Oliver Bates and Chris Aldridge on 35 pts
Runners up – Julian Marcus and Chris Kaye on 34 pts
Third - Mike Barnwell and Iain Simmons on 32 pts.
OW Salver
An individual stableford played off full handicap for the first time in our main event.
Winner - Peter Gedge on 32 pts
Second - Richard Simmons on 31 pts
Third - John Elson on 31 pts.
Golfer of the Year
A combination of individual points made in both individual rounds at Tadmarton and Kenilworth.
Winner - Peter Gedge on 71 pts
Second - Chris Kaye on 59 pts
Third - Oliver Bates on 57 pts.
Nearest the pin on 7th - Peter Gedge
Nearest the pin on 18th - John Elson.
2019 was another great year of OW golf. Huge thanks to Hon Sec Julian Marcus for his enthusiasm and commitment.