2008, Cricket World Trophy
Cricket World Trophy, 8 June 2008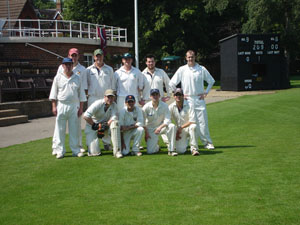 In this away match, versus Old Bedfordians, OWs lost the toss and were asked to bat. The Rigby brothers opened with a partnership of 44. Tom went on, for a fine 76, holding the innings together. Chhibber was in good form (15) and Tarrant (20), Rowland (17) and Russell (11) all contributed in a final total of 209-8 off 50 overs.
This might have been enough if we had had 11 men and another opening bowler, but Rowe had broken his hand the day before.
Three fine catches were taken by Montanaro, Russell and Tarrant. Leonard bowled well and wickets were shared by Russell, Rowland and R Rigby. OBs reached the target in 43 overs.
Thanks to scorer Bill Faulkes and OBs for their kind hospitality.
Team: AN Crockert, T Rigby, R Rigby, K Chhibber (Capt), Tarrant, C Montanaro, D Russell, Rowland, C Leonard, A Welch (wkt).