2008, Grafton Morrish Finals
The Grafton Morrish Trophy is the major trophy of the Public Schools Old Boys Golf Association (PSOBGA), played at the Hunstanton and Brancaster Golf Clubs. OWs last won the Grafton Morrish tournament in 1985.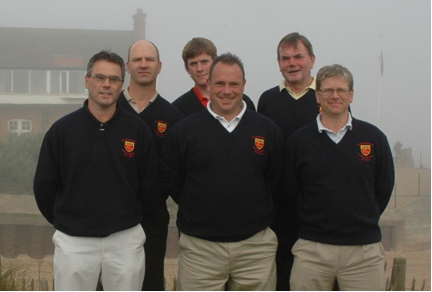 On arrival the team was buoyant and hoping to perform well. On the Friday morning we learnt that our opposition, St. George's Weybridge, were one player short and had already conceded the third pair match. Starting one match up was deflating for the team who were eager to give it their all. After much deliberation, we settled to keep the same team pairings, with Julian Marcus and Peter Hill promoted to first pair and Charlie Higgins and Tim James down as our second string. All seemed to be going well until the turn, when our pairings started to come unstuck. Although Charlie and Tim battled onto the 17th, they lost 2 and 1. This left the match evenly balanced at one match apiece. Peter and Julian continued their fight and were unlucky not to take the match down the 19th, narrowly losing on the last green 1 down. Finally, a little close to home perhaps, but Solihull School were the eventual GM winners – congratulations to them.

St. Georges joined Warwick in the Solihull Salver, played at Brancaster GC on the Saturday. Unfortunately we finished 11th of 16 teams, managing 55 team stableford points in a competition greatly shortened due to the heavy mist in the morning.

So, thoroughly enjoyable and keenly contested finals once again. The team will regroup for next year's event and give it their best once more. Many thanks to the OWA committee for sponsoring the new team kit.