2008, OWA 1st XI vs School
OWA 1st XI vs School, 5 July 2008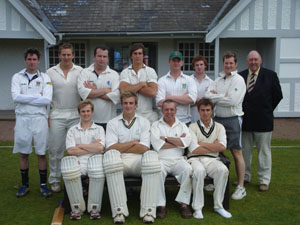 We played the more recent format of 50/50 with 10 overs max per bowler. OWs won the toss and elected to bat. The Rigbys put on 101 in a fine opening partnership. Collins batted well for 66. Other contributors were Wood (13) and Todd (9). Evans and Reay put in late appearances, both not outs. DNBs: Hazell, Crockert and Welch. OWs finished on 225-6 after 50 overs.
School got off to a cracking start and reached the target for the loss of 8 wickets with 10 overs to spare.
Thanks to our umpire, John Collins and the scorers, Clive Boast, Dick Philpott and Bill Faulkes.
Team: J Collins (Capt), AN Crockert, T Rigby, R Rigby, A Welch (Wkt), S Wood, N Reay, W Evans, C Hazell, T Whiteside, C Todd.
Cups were awarded as follows: Batting Cup: T Rigby, Bowling Cup: W Evans, Fielding Cup: A Welch.