2009, OW Broadway Golf Club Meeting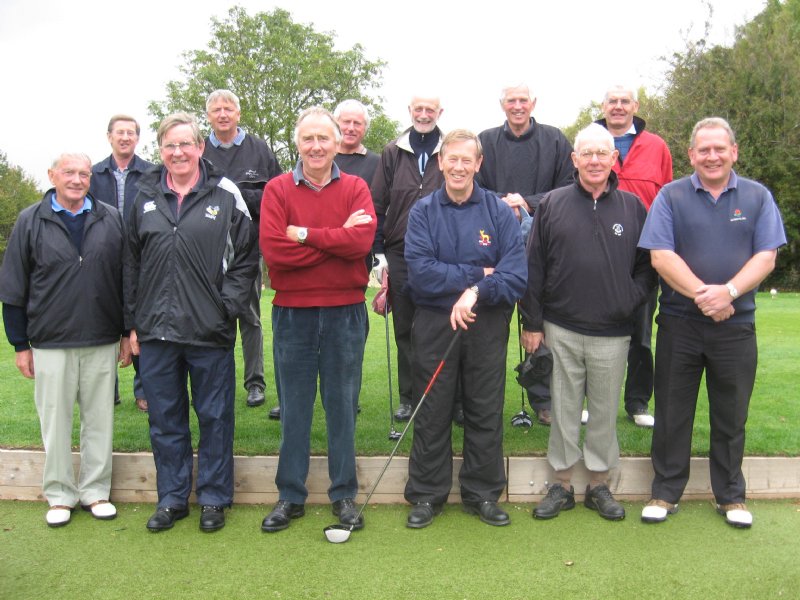 From left to right: Richard Budd, Chris Kaye, Peter Baird, Malcolm Lines, Duncan Rotherham (OW capt), Clive James, Andy Dunnell. Brian Woodhams, Peter Gedge, Pat Twigger, Richard Simmons & Tim Harry
Others present on the day but not in photo: Geoff Thorpe, Alan Alderman, Clive Mason, Dick Philpott, David Payne & Julian Marcus
Friday 9th October 2009
Battling with Edinburgh foursomes for the prestigious OW Tankards in the morning, 6 intrepid pairs & a single took to the course, in what were really harsh cold and blustery conditions. The afternoon saw another 4 OWs join but sadly 2 leave us to make for five 3-balls and increase the competition for the much sought after OW Salver.
The weather did its best to provide some additional rain for some of the afternoon, but it did little to dampen the continued friendship enjoyed by us all.
OW Tankard results
Some good pairings seemed set to do battle in earnest in the morning's foursomes, but after initially miscalculating the results board, our secretary announced that with the truly admirable score of 38 pts newcomer Tim Harry (15) and regular Richard Budd (18) triumphed as the winners.
Runners up on 36pts were Geoff Thorpe (22) and Richard Simmons (15) – nice to Richard again.
The prizes were as always gratefully received - 2 Nike golf balls going to each of the winners and a single ball to the runners up. No change there then!
OW Salver results
The individual stableford, played off 7/8 handicap, in the afternoon was troubled by rain both early and late in the round for most. However, despite a continued 2 club wind, the field managed creditable scores:-
Receiving one golf ball for third place with 32pts losing on the back 9 – Richard Simmons (15) - a productive day for Richard. Well done!
In second place and glad he came, if only for the afternoon and a precious prize of 2 golf balls –Brian Woodhams (20) with 32 pts.
But in first place, with a gratefully grabbed 34pts - your secretary and organiser – Julian Marcus (7) - the spoils – a beautiful trophy and of course the 3 golf balls.
Player of the Year - The Higginson Plate
Sadly, only a few OWs made it to both the spring and the autumn meeting putting them in pole position. Peter Gedge muscled in in third place with 56pts, Duncan Rotheram, second for the second year running, with 58pts but retaining his title on 60pts - Julian Marcus – his prize a lovely silver plate and more engraving!!!
The next meeting is:- Tadmarton Heath Golf Club on TUESDAY 18th May 2010.
Please do your very best to try and support the club – it is trying to grow and needs every-one to do their bit.
Everyone is always very welcome and it would be lovely to see some new faces, some 'old' but younger faces and, of course, the old stalwarts.