2011 2nd Round - Cricketer Trophy
OWs vs. Denstone, Warwick, Sunday 24 July 2011
2nd Round - Cricketer Trophy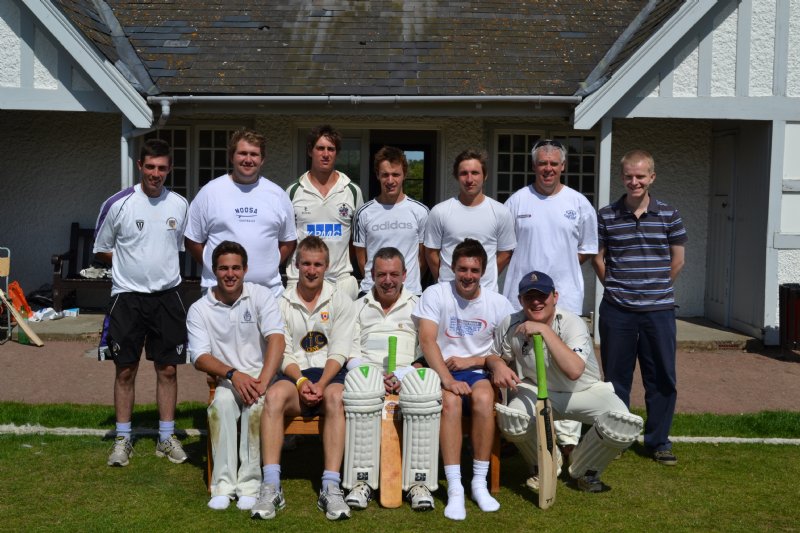 Back: A Harris, C Kroeger, S Wood, JP Melly, T Austin, MP Banham, RJ Grover (Scorer).
Front: F Dixon, DG Roots (C), AN Crockert, D Wood, J Williams (Wkt).
On another scorcher at Warwick, Denstone elected to bat and openers G Morgan (26) and R Howitt (29) played in correct tempo against some very tight bowling and good fielding. Banham 1-27 off 10 overs and A Harris 2-28 off 7 overs (1st spell) were the pick of the bowlers and Jamie Williams took two good catches behind (wkt). With the total on 74-3 off 18 overs hopes were high. Chris Kroeger joined the attack bowling well 0-44 off 10 overs and Freddie Dixon picked up the 4th wicket (ct Roots) with the total on 135 after 30 overs. Then A Siddique (96 not out) and T Kemp (62 not out) accelerated, taking the total to 279-4 off the allotted 50 overs. The partnership for the last wicket was 144.
In reply, OWs never got going, losing too many wickets early on, 80-6 off 24 overs with Roots (16) and Crockert (32) resisting. OWs were all out for 108 in 32 overs. A Siddique (3-35) and M Webster (2-17).
Man of the match: A Siddique.