2011 GM Qualifier
Grafton Morrish Qualifier, Olton Golf Club, 14 May 2011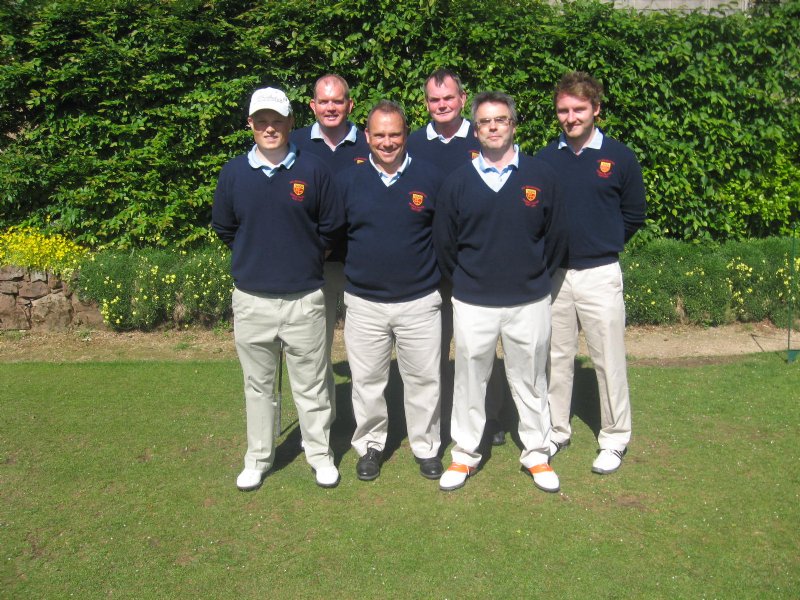 L-r: James Cumberland (5), Peter Gordon (1), Julian Marcus (7)(capt), Tim James (5), Matt Leefe (6), and Matt Hicks (6).
The Grafton Morrish team, hoping to qualify at Olton GC for the 5th consecutive year, fielded three team members playing Olton for the first time. New pairings were put to the test by the toughest of conditions. A 3 club swirling wind and greens measuring 13 on the stimpmeter (fast!) delivered enough problems to see off most of the field.
OWs were paired with Solihull School. Peter Gordon and Matt Hicks lead off our team effort, followed by Tim James and James Cumberland, leaving our third team pairing of Matt Leefe and Julian Marcus to 'bring the bacon home' – we hoped. The goal - to come in as one of the five teams to qualify.
The weather affected everyone's game and 3-putting seemed to be the order of the day. With grit and determination the team managed a very creditable 72 pts, were placed fifth and achieved qualification once more.
We are delighted to have Old Warwickians represented at the Finals from 7 to 9 October 2011.
Congratulations to all the players!