2011 OWs vs School
1 July 2011, Stratford-on-Avon Golf Club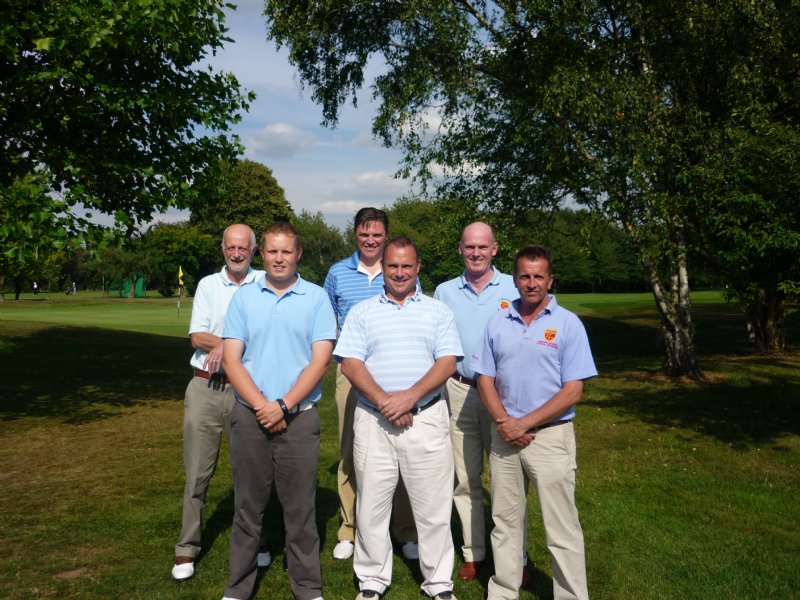 L-r: Andy Dunnell, James Cumberland, Kim Kerton, Julian Marcus, Phil James and Geoff Tedstone.
On yet another stunning Friday evening (surely the weather cannot continue to favour this match) OWs took on the might of the school's emerging and highly talented young golfers. Teams of six squared up to play 4-ball better-ball match play, played off ¾ handicap difference, with the school so talented they were giving us shots at times!
OWs fielded three new players as part of team rotation, in an attempt to win back the Jack Marshall Trophy we so reluctantly gave to the school to look after in 2010. The match is always a great occasion to catch up on old times and it was especially good to see Kim Kerton who has been overseas for a few years.
The tried and tested pairing of Geoff Tedstone (8) and Julian Marcus (7) lead off for OWs. The school pair took early advantage in a keenly fought game. Our OWs struggled but managed to come back from 3 down to lose 1 down on the last put of the match.
The second pair of James Cumberland (5) and Phil James (5) found the school second pairing more of a challenge. They brought the close match to a conclusion on the 18th green with a half.
Our final pair of Kim Kerton (9) and Andy Dunnell (16) managed to get home halving the match on the 18th - a game that again went to the wire.
Final score: OWs 1, School 2.
The Jack Marshall trophy was presented by Julian Marcus to school captain Sam Gill.