2011 OWs vs. School XI
Saturday 2 July 2011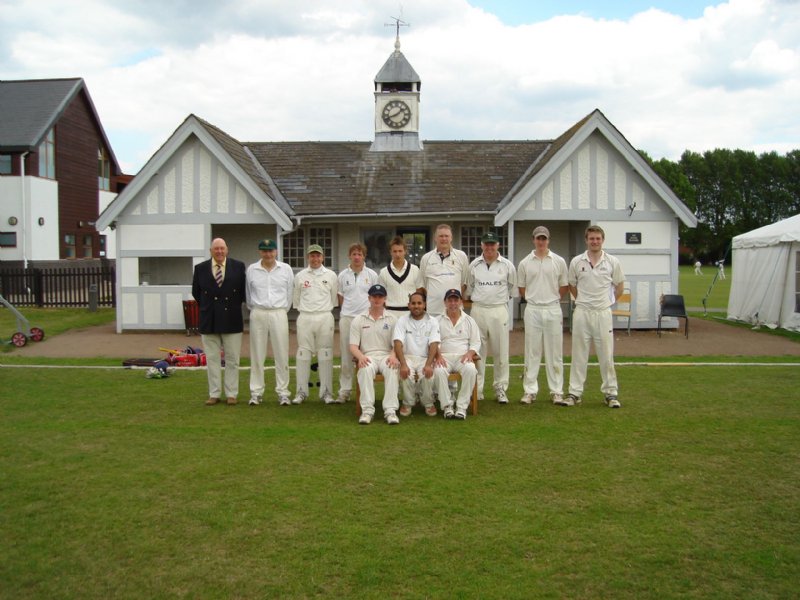 Back: C Boast (Scorer), A Shufflebotham, J Ball, E Melly, J Melly, S Dellow, M P Banham, T Lewis, A Mather.
Front: R Rigby, K Chhibber, A N Crockert
School, electing to bat first in a 45 over game, raced to 79 off 11 overs before Steve Dellow was brought into the attack to bowl George Tedstone (33).
The pace slowed to lunch, 132-2 off 25 overs thanks to some good bowling from Dellow (7 overs, 1 maiden, 18 runs, 2 wickets), Joe Melly (7-0-31-0) and Tom Lewis (8-0-36-0) and astute captaincy from Kamal Chhibber.
Rigby (a brilliant low to ground catch by the Captain) and Ed Melly (ct and bowled), took a wicket each but OWs never regained control with school finishing on 253-4. T Pigott, the school opener, batted throughout, finishing on 106 not out, supported by E Pettifer at the end with 41 not out.
Thanks to Jono Ball (Wkt) and Andrew Shufflebottom who made a welcome reappearance for OWs at short notice, regrettably missing some of their 1980s reunion.
In reply, with 9 off the first over, anything was possible. Unfortunately both openers were out by the third over!
Kamal (batting with a broken finger) (31) resisted and Ed Melly (22) entertained with a six to the longest part of the ground and onto the marquee, but the rest never made a start and the innings closed on 93 off 26 overs. School won by 160 runs.
The Captain thanked the school, umpires and scorer and asked OWA Chairman, Roy Dixon, to present the Peter Treadaway Trophy to the School Captain, Peter Walters.