2011 Spring Golf Day
Tadmarton Heath
17 May 2011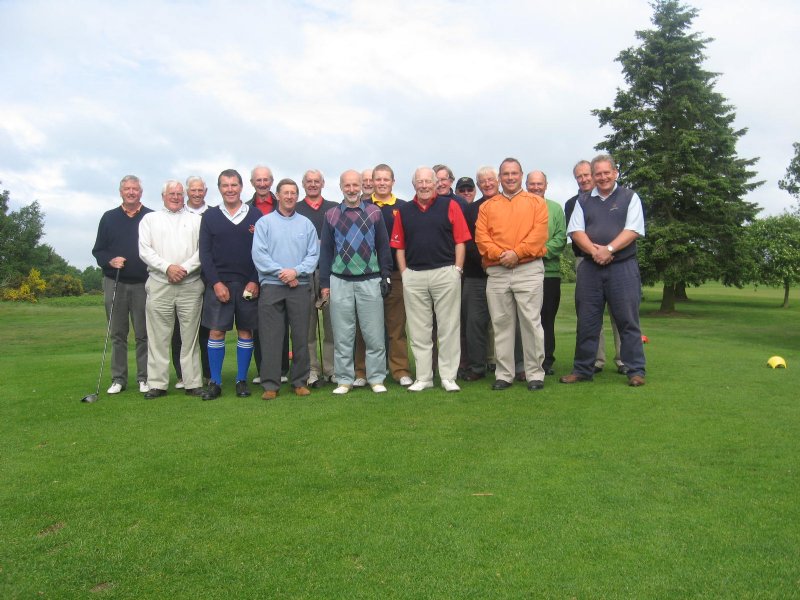 L-r: M Lines, J Abbott, P Gedge, D Phillips, E Langdale, C Kaye, R Simmons, M Smalley, A Dunnell, J Cumberland, J Ayres, P Baird, M Eykyn, G Thorpe, J Marcus, D Payne, D Rotheram and T Harry.
There was a good turn-out for the Spring OW Golf Day. 18 eager golfers pitched up at Tadmarton Heath Golf Club for early morning coffee and a bacon bap. With friendships rekindled we strode off to the first tee in Edinburgh foursomes, to play for the Gracey Tankards.
We were delighted to welcome James Cumberland for the first time and to see Chris Kaye after his enforced absence of two years.
Gracey Tankard
With 18 golfers, we had to have a 2-ball out first. However, this proved advantageous as the pair triumphed by one shot.
Winners, with 40 pts, Richard Simmons and Malcolm Smalley.
Runners-up, with 39 pts, Andy Dunnell and Geoff Thorpe.
Langley Trophy
An individual stableford played off 7/8 handicap provided plenty of very competitive golf in the afternoon. Some found the sumptuous soup, sandwiches and chips a little more of a handicap than the conditions.
Winner: James Cumberland
Second: Andy Dunnell
Third: David Payne
Fourth: Julian Marcus.
Special thanks
The OW Golf Society would like to give special thanks to Captain, Duncan Rotheram, who was able to make the golf day this year following hip bionics. This was Duncan's last official engagement for us. Thank you Duncan for your support.
Our ex-secretary, Alan Alderman, takes over the captaincy. We welcome Alan's contribution and look forward to congratulating him personally at Broadway later this year.