2012 Grafton Morrish Finals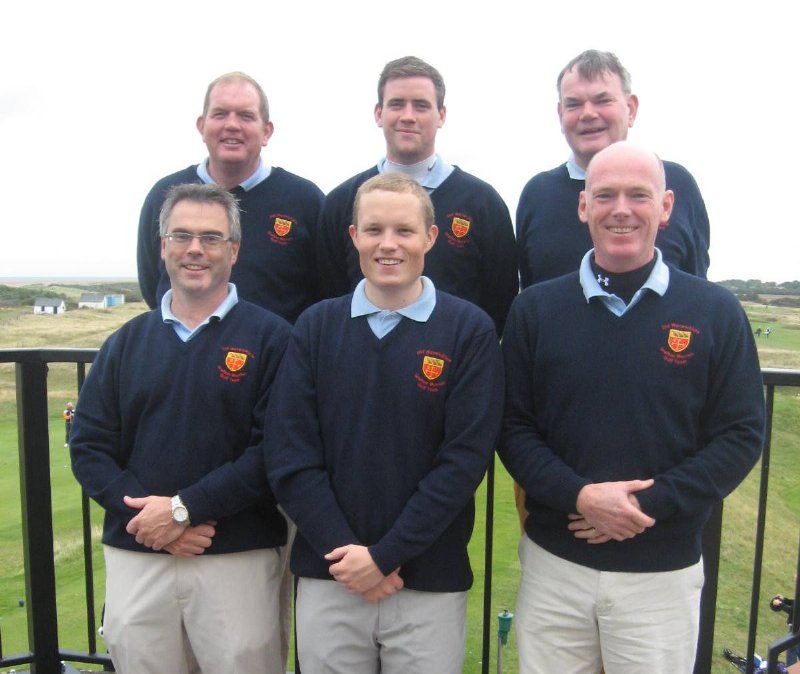 This year provided three members of the team with a trip down memory lane. Peter Gordon, Phil & Tim James were part of the victorious 1985 GM. Joined by James Cumberland, Charlie Higgins and Matt Leefe they set off for a practice round at Hunstanton GC.
For the first time in the competition, the Team gratefully accepted a bye in the first round and enjoyed a lie in at the hotel, allowing a leisurely practice prior to the first match. Golf conditions were proving to be tough as the wind had picked up and this year's opponents were Haileybury from Hertfordshire.
Charlie Higgins (1) and Tim James (5) led out the match, with Matt Leefe (6) and James Cumberland (5) off second, leaving Peter Gordon (2) and Phil James (5) to hold down the 'anchor' role.
All the matches got off to good start and by the turn the team was up in two games and level in the third. Without any good reason the team's luck started to change and a run of 5 lost holes started the road to despair for Peter Gordon and Phil James, finally losing 3 & 2. Matt Leefe and James Cumberland struggled on courageously, they kept their match very level all the way round until they went one down at the 16th, they finished up losing on the 17th green 2 & 1 against Haileybury's best pairing. Whilst up front, the OW flag was flown valiantly by Tim and Charlie who never looked in difficulty winning 5 & 4.
The OW's left Hunstanton GC pondering what might have been, they had come so close to considering their first win but could not hold off coming out in the first round. Additional sadness came on the Sunday afternoon, when Haileybury made it through to the final, only to lose to a good Uppingham team. The Team took courage in knowing they had given Haileybury a good run for their money!
So into the plate competition - The Solihull Salver - and a scratch foursome stableford at Brancaster GC. Phil and Peter remained together to try and re-demonstrate the strength of their partnership and returned with creditable 27pts. The two youngsters, Charlie and James brought home 25pts and Matt & Tim James managed a haul of 22pts. This left the Team too far down the table to be able to compete for the Committee Bowl.
Competition over! Spirits remained high with the memories of yester year once more rekindled. They all agreed it had been thoroughly enjoyable while it lasted. The Team just have to go one better next year !!! This remains the ultimate goal.
Well done again boys – keep the faith !! The more you practice, the better and luckier you will get !!!
Julian Marcus