2012 OWs vs School
Stratford GC, Fri 29 June 2012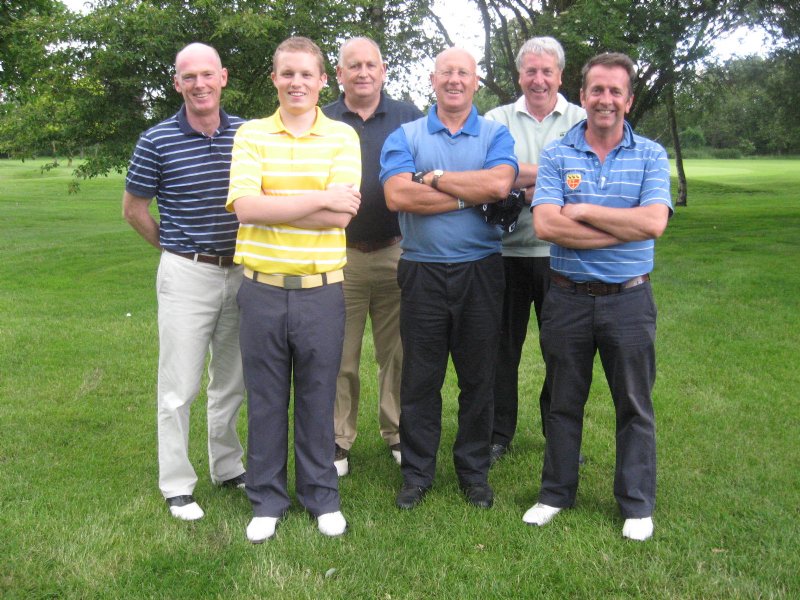 L-r: Phil James, James Cumberland, Chris Hart, Mike Barnwell, John Elson and Geoff Tedstone.
In a summer when more golf has taken place indoors on the range than out on the course, it was wonderful to see a warm, bright blustery golf course and a host of talented golfers in both teams. Teams of six paired up to play 4-ball better-ball match play, played off ¾ handicap difference.
Leading off for the OWs the untried pairing of Geoff Tedstone (9) and James Cumberland (5) played the hugely talented Gill brothers – Sam (5) and George (6). Geoff and James steadied themselves nicely to come home winning 2 and 1 – a perfect start.
OWs Mike Barnwell (13) and John Elson (9) battled doggedly against the second pairing and won 2 and 1.
The third pair of Phil James (5) and Chris Hart (13) had their challenge snuffed out with a hole in one from school boy Harry Brown. The school pairing beat OWs 2 and 1. Harry Brown has become the first pupil or OW to grace this match with a hole in one – Jack Marshall would surely have been absolutely delighted.
This left the final score OWs 2 to School 1. The Jack Marshall Trophy was present by Sam Gill to Geoff Tedstone. Once engraved, it will be on display at school.