2013 Grafton Morrish Finals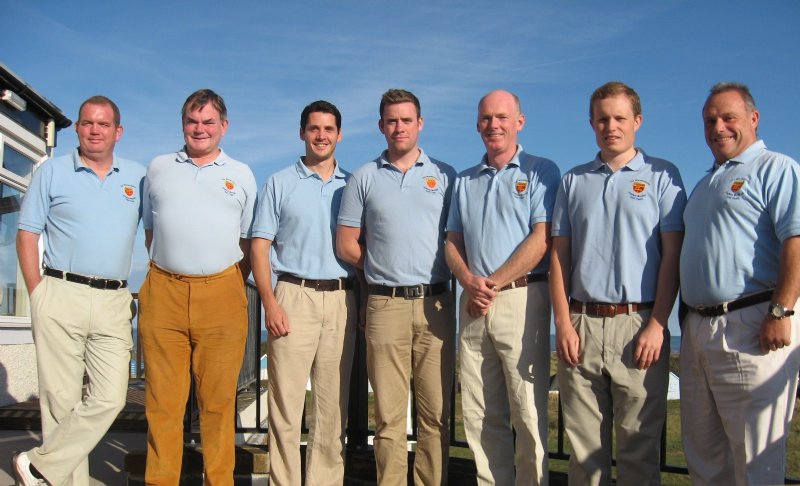 With glorious sunshine, clear skies and a moderate 2-3 club wind, Hunstanton and Brancaster courses were in excellent condition for the Grafton Morrish Finals.
L-r: Peter Gordon, Tim James, Andy Haslam, Charlie Higgins, Phil James, James Cumberland and Julian Marcus (capt).
We were desperately looking to progress beyond the first round, but as always, the standard of golf on display was breathtaking. Charlie Higgins (1) and Andy Haslam (5) led our attack, Tim James (5) and James Cumberland (5) were off second, leaving Peter Gordon (2) and Phil James (5) to bring up the rear.
Ampleforth (Yorks) were our first round opponents - quarter finalists in this year's Halford Hewitt! At the turn, all our matches were very evenly poised. Sadly, drives into two fairway bunkers on 12 and 13 put Charlie and Andy 2 down – a deficit they failed to overturn losing 4 and 3. Peter and Phil nudged 2 up and held their nerve well. Daring to believe victory might come our way, all attention turned to the crucial middle pairing, where the match was extremely close and even. Tim came agonizingly close to an eagle on 15, only to see the opposition sink a 8 ft putt for a half. Match all square. James holed a fantastic putt on 17 for a half, leaving Warwick needing to win the last for an outside chance of a half in the match and force a trip down the 19th! Two great shots left us 10ft from the pin and whilst Ampleforth's third pairing produced an amazing second shot and two good putts, it fell to James, in his second year at the finals, to try and hole his putt. The tension was unbearable as we watched his effort slide past the left hand side of the hole but failed to drop. What might have been…
So, into the plate competition - The Solihull Salver at Brancaster GC. In very tough windy conditions, where scoring on the outward nine was extremely difficult, Charlie and Tim brought home 18 pts, Phil and Peter returned with a creditable 25 pts and Andy and James managed a fantastic 27 pts. We were sadly too far down the table to compete for the Committee Bowl on the Sunday.
Our competition over for 2013, we all agreed it had been a thoroughly, thoroughly enjoyable weekend. Post match debriefing, gave suggestions of a pre-finals golf day, which we agreed would be good preparation. We just have to go one better in 2014! The margins between success and defeat are so fine at this level, surely our luck will change!
Well done again boys – keep the faith! The more we practice, the better and luckier we have to get and soon victory will be ours once more.
Julian Marcus, OW Golf Secretary