2014 OW Golf
With thanks to Julian Marcus for the following reports.
Autumn Golf Meeting
Kenilworth Golf Club provided a new venue for the 2014 OW Autumn Golf Da with a great course, in great condition, and hospitality to match.
11 OWs set off for the morning foursomes. At the last minute and with a great effort and surprise, OW Don Cole, a resident of Perth, Australia, was able to join us… with his own clubs! Holidays and hospitals meant a few of our regulars were missing this year. We hope the travellers had a great time and wish those sampling the NHS a speedy recovery.
OW Tankards
A two ball, followed by two four balls, with the usual high standard of Edinburgh foursomes golf over 18 holes. With large smiles and receiving two new golf balls each: Richard Simmons and Iain Simmons, on 41 pts. Runners up: Phil Cooper and Geoff Thorpe, on 37 pts.
OW Salver
Tim Shenton-Taylor, Peter Gedge and John Sheffield joined us for the afternoon's competition - an individual stableford played off 7/8 handicap. Players battled with themselves (primarily) and the golf course for the OW Salver. Winner: Iain Simmons, on 41 pts (again). Second: Chris Kaye, on 33 pts. Third: Tim Harry, on 33 pts (losing on back 9).
Golfer of the Year 2014
A combination of individual points made in both individual rounds at Tadmarton and Kenilworth Golf Days. Winner: Tim Harry, on 65 pts. Second: Julian Marcus, on 65 pts (lost on back 9). Third: Peter Baird, on 62 pts. Fourth: Chris Kaye, on 56 pts.
Chris Kaye kindly provided two new prizes for 'nearest the pin' on the 4th and 7th. Richard Simmons and Mike Barnwell were the proud winners of a golf glove each!
Peter Gedge presented a new trophy to the OWA Golf Society in the form of a Captain's Pot, an engraved pewter tankard. The Pot was presented to Peter Baird with our thanks.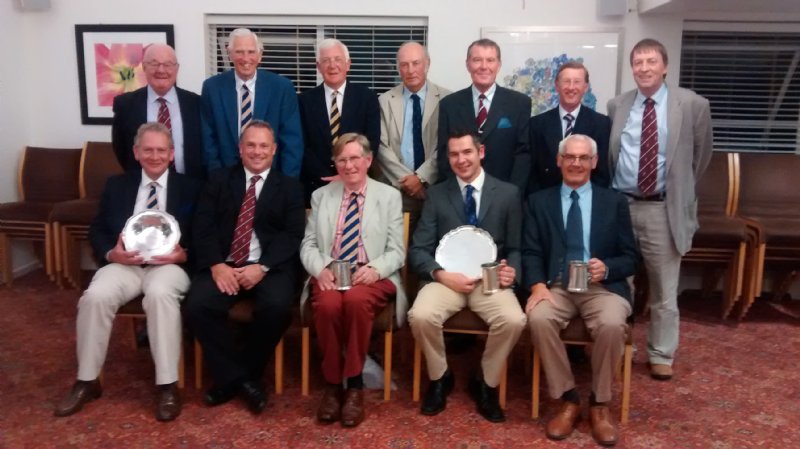 Back l-r: John Sheffield, Peter Gedge, Geoff Thorpe, Phil Cooper, David Phillips, Chris Kaye and Tim Shenton-Taylor.
Tim Harry, Julian Marcus, Peter Baird, Iain Simmons and Richard Simmons.
Not pictured: Mike Barnwell and Don Cole.

Spring Golf Day
Tadmarton Heath GC, 19 May 2014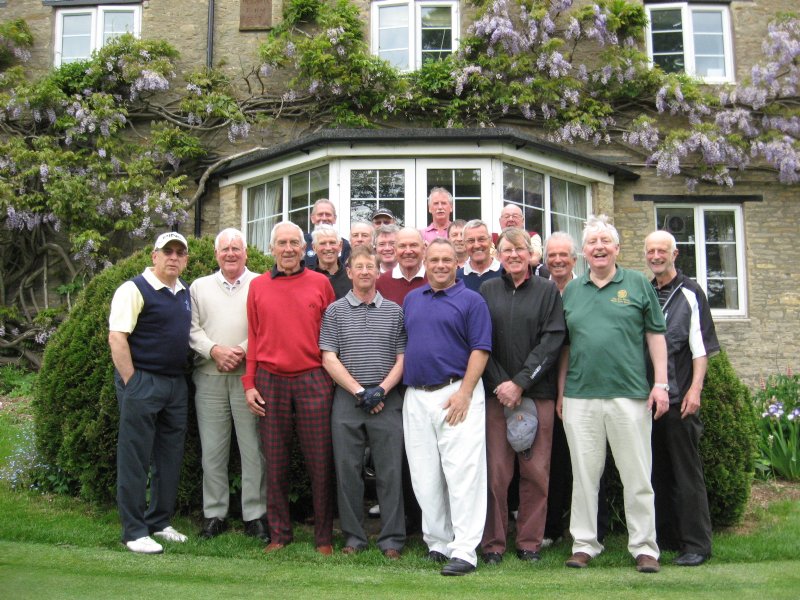 L-r: C Adams, B Abbott, D Derbyshire, T Harry (back), P Gedge, P Cooper,
C Kaye, M Eykyn (hat & back),
D Tandy, D Payne, J Marcus, A Sharp (back), T Shenton-Taylor, O Pearman, J Sheffield (back), P Baird, J Mayo,
K O'Gorman and A Dunnell.
What a day in May we had! Tadmarton Heath GC in magnificent condition, the weather warm and dry, great company and great gold - who could ask for more? Gracey Tankards Edinburgh foursomes – take the best of two drives and play alternate shots on either odd or even holes. As usual, the pre-tournament favourite and last year's runner up, Chris Kaye, was playing down his chances of regaining 'his' cup… Winner, with 38 pts: Chris Kaye and Ollie Pearman. Runners up, with 34 pts: Andy Dunnell and Kevin O'Gorman. Langley Trophy The morning pairings were joined by a further eight individuals for the afternoon - an individual stableford off 7/8 handicap. Winner, with 35 pts: Julian Marcus (no more shoulder or clubs excuses allowed now!). Runner up, with 32 pts: Tim Harry. Third, with 30 pts: Andy Dunnell. 2015 will be the 50th playing year of the Langley Trophy. Tadmarton GC, once again, hosted us wonderfully. The catering was excellent (especially the Queen of Puddings!) and yet another great OW Golf Day was had by all.
Grafton Morrish Qualifier
Olton Golf Club, 10 May 2014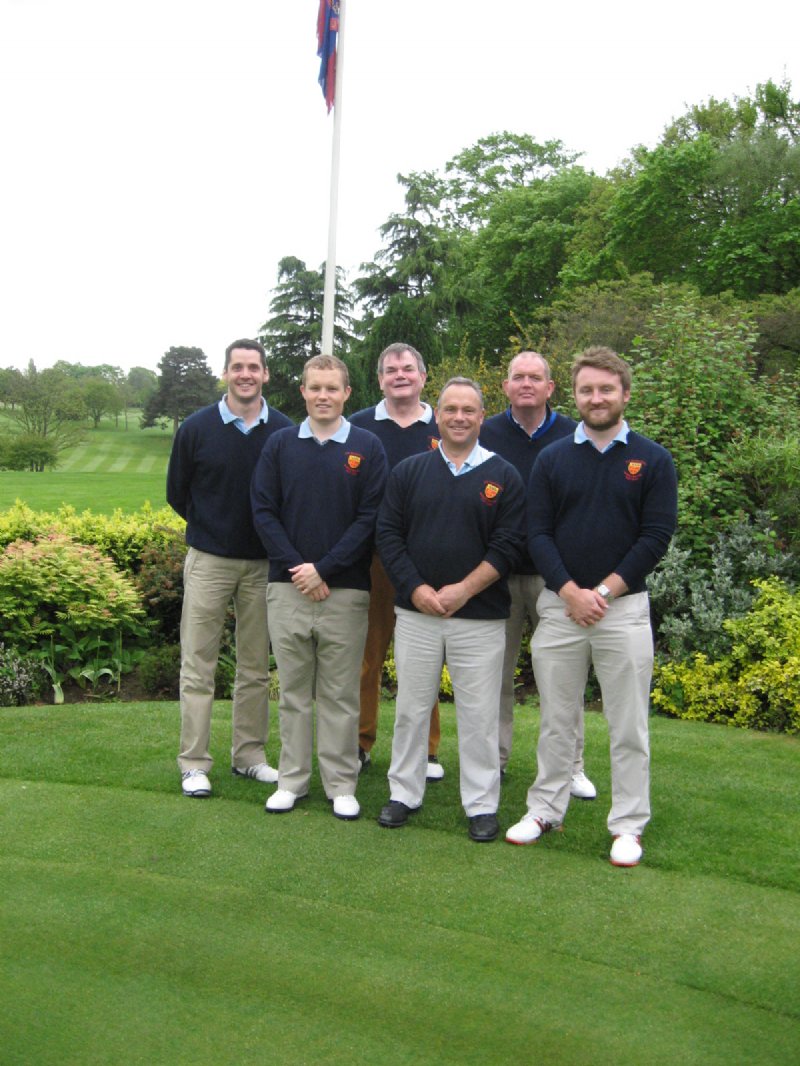 L-r: Andy Haslam (5), James Cumberland (4), Tim James (5), Julian Marcus (8)(capt), Peter Gordon (2) and Matt Hicks (5).
Despite torrential rain overnight, our OW Grafton Morrish team stepped forward for this year's qualifier to join our usual playing partners and old enemy, Solihull, with their large band of supporters. OWs got off to a slow start and, after nine holes, had some work to do. Conditions on the course were very tough and points proved hard to come by. Steadily we collected points. Peter and James contributed a marvelous 27 pts, Tim and Julian some 21 pts and Andy and Matt 22 pts. Sadly both Malvern and Shrewsbury passed Warwick's total, leaving them fifth and best runners up. Automatic qualification for the 2014 finals is gone for the moment although we are still in with a slim chance of making the Finals in October if we get through as best losers. Fingers and clubs crossed!
Well done and again, many thanks to the team.

OWs vs. School
Stratford GC, 4 July 2014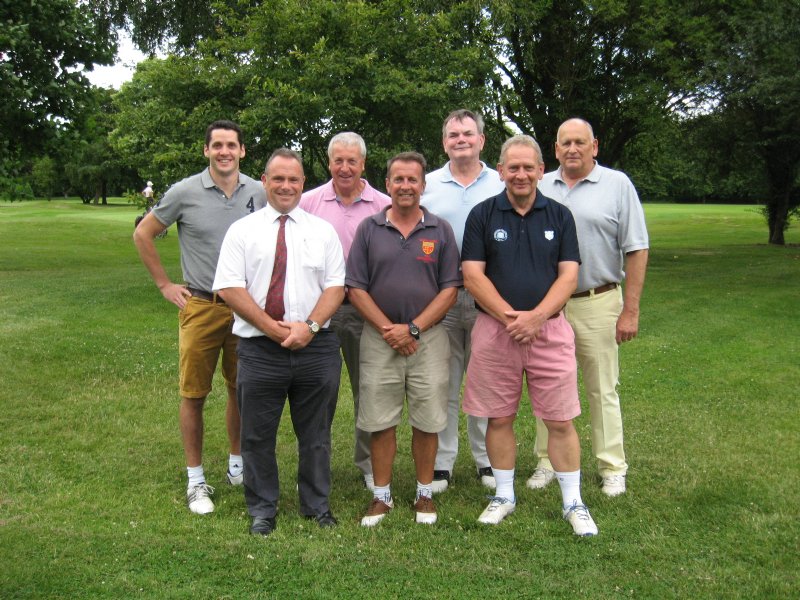 L-r: Andy Haslam, Julian Marcus (capt), John Elson, Geoff Tedstone, Tim James, Tim Harry and Chris Hart.
Strengthening the OW squad with two Grafton Morrish regulars (Andy Haslam and Tim James), OWs were looking to avenge the defeat of 12 months ago and regain the Jack Marshall Trophy. The School's young golfers were more than ready for the challenge.
Teams of six paired up to play 4-ball better-ball match play, played off full handicap difference.
The weather forecast was bright but, around the half way mark, steady drizzle for 30 minutes made playing conditions more exacting. However, it cleared, leaving the games to continue into the late evening. Andy Haslam (5) and Tim Harry (16) played the very promising pair of Ross Perry (11) and Ralph Hiatt (12). The game went all the way to the 17th, with OWs finally triumphant 2 and 1. John Elson (10) and Chris Hart (13) found themselves dueling with Harry Brown (9) - the hole in one king – and Archie Dent (12). John Elson had definite plans for an early dinner, shooting below par gross after 9 holes and bringing OWs home 5 and 4. With the trophy already in safe OW hands, Geoff Tedstone (10) and Tim James (5) battled George Gill (3) and Harry Fitzpatrick (6). Our final pair battled hard to the 17th, winning 2 and 1. The final score OWs 3, School 0. The Jack Marshall Trophy was presented to Geoff Tedstone by George Gill under the gaze of Samuel Ryder. A huge personal thank you for the support of the OW team members and well done to the School. Well done all!