2016 OW Golf
With thanks to Hon Sec Julian Marcus.
Autumn OW Golf Meeting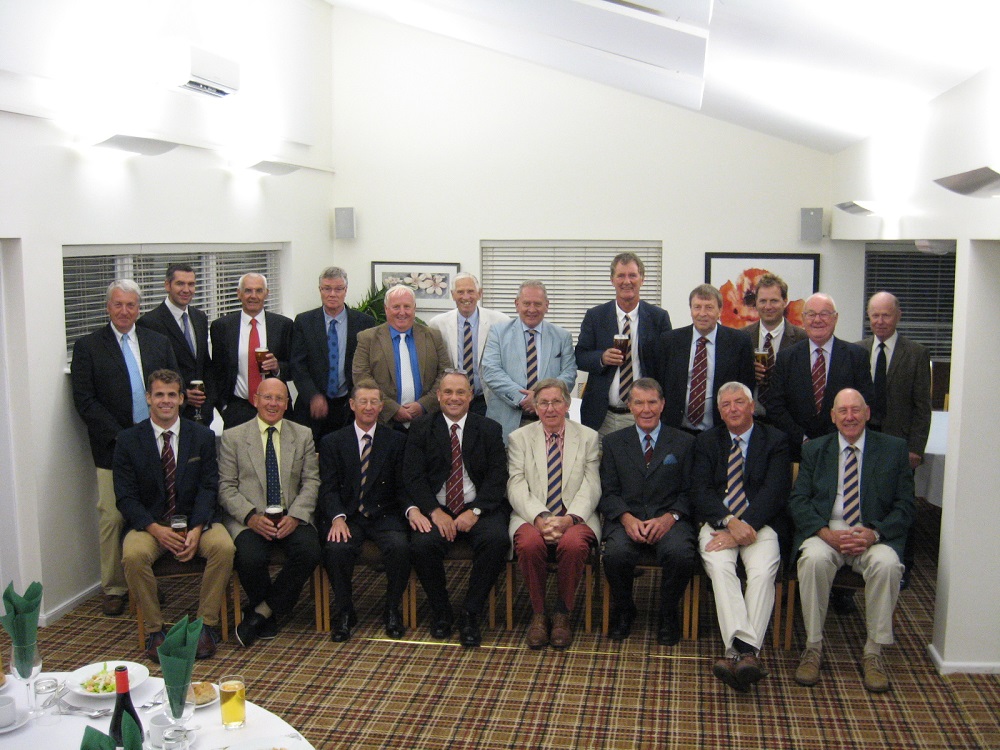 Back: John Elson, Iain Simmons, Richard Simmons, David Tandy, David Rees, Peter Gedge, Tim Harry, Jon Gregory, Tim Shenton-Taylor, Piers Neville, John Sheffield and Malcolm Eykyn. Front: Oliver Bates, Mike Barnwell, Chris Kaye, Julian Marcus, Peter Baird (Capt), David Phillips, Malcolm Lines and Clive Boast.
Kenilworth GC provided a course in great condition, superb hospitality and catering and a warm welcome for the Autumn Golf Meeting. Bacon sandwiches and coffee were followed by 18 holes of foursomes golf. Very social and yet competitive, four pairs battled it out for the OW Tankards. A further 14 OWs joined us for lunch and the main afternoon event, in sunny but blustery conditions. A huge warm welcome to David 'Dai' Rees who joined us for his first taste of OW golf. He linked up with Jon Gregory and Tim Harry to remember those 'old school days'.
OW Tankards Edinburgh foursomes over 18 holes (stableford).
Winners: Jon Gregory and Piers Neville on 44 pts
Runners up: John Elson and Tim Harry on 37 pts
Third: Oliver Bates and Dave Phillips, Phil Cooper and Malcolm Lines on 33 pts.
OW Salver An individual stableford played off 7/8 handicap.
Winner: Chris Kaye on 37 pts
Runner up: Oliver Bates on 34 pts
Third: Tim Shenton-Taylor on 32 pts.
Golfer of the Year 2016
A combination of individual points made in both individual rounds at Tadmarton and Kenilworth Golf Days.
Winner: Chris Kaye on 69 pts
Runner up: Tim Shenton-Taylor on 61 pts
Third: Iain Simmons on 61 pts
Fourth: Julian Marcus on 58 pts.
OW Golf Spring Day - 50th Anniversary
17 May 2016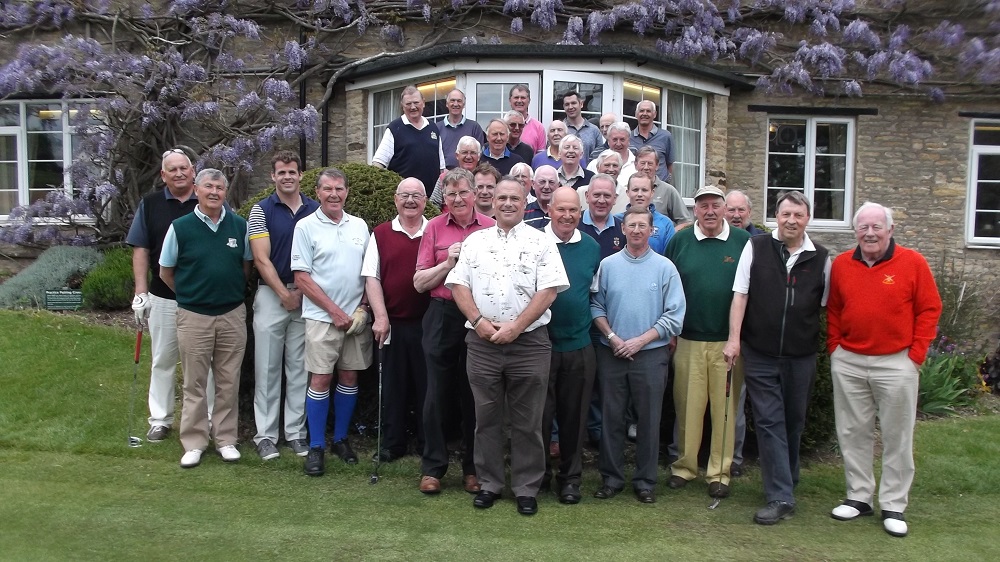 Front: C Hart, D Cleminson, O Bates, D Phillips, J Sheffield, P Gedge (capt), J Marcus, D Payne, D Rotherham, C Boast, R Gash, T Shenton-Taylor, J Ayres. Middle: G Thorpe, P Neville, D Rotherham, M Lines, B Abbott, G MacDonald, B Holl-Allen, K O'Gorman, T Harry, P Gedge, A Dunnell, J Elson, J.Cumberland, B Woodham. Back: C Bellerby, N Harper, J Gregory, I Simmons and R Simmons.
The 50th Anniversary OW Golf Day was an extremely well supported day with a total of 32 golfers enjoying high and lows around the beautifully manicured Tadmarton Heath GC. The course was in magnificent condition and for once the day started with glorious sunshine – the scene was set.
We were very pleased to welcome newcomers Piers Neville, Oliver Bates and Gordon MacDonald (all the way from Guernsey!). It was also lovely to see some others missed for a few years in David Cleminson, Bob Holl-Allen and Richard Gash. Thanks to some of the over 75s for making the day so special!
Gracey Tankards
Edinburgh foursomes – take the best of 2 drives and play alternate shots on either odd or even holes. 21 players contested the tankards.
Winners, on 37 pts – Oliver Bates (rookie winner) and Chris Kaye.
Runners up, on 36 pts - Nigel Harper and Malcolm Lines.
Third, on 35 pts (winning on the back 9) - James Cumberland and Geoff Thorpe.
Langley Trophy
Joining the 21 players from the morning were 11 additional golfers for the afternoon's main event. An individual stableford off 7/8 handicap.
Winner, on 36 pts – Julian Marcus.
Runner up, on 34 pts - James Cumberland.
Third, on 32 pts - Chris Kaye.
Fourth, on 32 pts - David Cleminson.
Nearest the pin (7th green) - James Cumberland.
Nearest the pin (16th green) - Oliver Bates.
We were very lucky to have competition sponsors in the names of Peter Baird, our Captain, donating The Langley Trophy first prize, John Elson for sponsoring prizes and to Richard and Iain Simmons for producing marvellous commemorative 'wine boxes' in which The Captain was able to present the prizes. Champagne for the winners and runner up prizes of a bottle of wine – no golf balls for the 50th Anniversary - we really pushed the boat out!
A special 'wine box' went to Peter Gedge – for attending the most OW golf days and for being present on the very first Tadmarton Golf Day. Another special prize to our Captain for all his hard work. Peter presented Alan Alderman's widow with a commemorative OW photo of Alan at Broadway GC in 2012 and we held a moment's silence prior to dinner to reflect on the life and efforts of Alan as Hon Sec and Capt, and long serving member of the OWGS.
We were also delighted to receive a commemorative decanter from Tadmarton Heath GC, presented to Peter Baird by Rod Proud, Tadmarton vice capt. The decanter will remain at Tadmarton and be filled each OW golf day with a suitable tipple to be enjoyed by all on the day. Heart-felt thanks to Tadmarton Heath GC for a lovely and unexpected gift.
OWs qualify for GM finals 2016
With thanks to James Cumberland
After nearly ten years captaining the OW Grafton Morrish team and with a stint as OW President looming large, Julian Marcus decided over the winter that the time was right for him to relinquish the GM reins. We thank Julian for all his hard work in reinvigorating the GM team, which has qualified for the Finals in eight of the last nine seasons.
After practice rounds at Frilford Heath GC and Olton GC (kindly organised by Philip James and Peter Gordon respectively), the team returned to Olton GC for the Grafton Morrish qualifying competition on Saturday 14 May, resplendent in new polo shirts and jumpers.
The format was, as ever, scratch foursomes Stableford, with an aggregate score of 75 points from the three pairs to aim for. With the 11th hole having been converted from a par-4 to a par-5 over the winter, we were expecting scoring to be marginally higher this year.
New captain James Cumberland led off the team, partnering Steve Tubb to a 20 point total, not helped by James' stunningly accurate tee-shot on the 9th hole, which clattered Steve's trolley, some 200-plus yards down the fairway, for a one-stroke penalty.
Local knowledge helped Peter Gordon and Philip James, stalwarts of the Grafton Morrish team, to nudge it round in a healthier 26 points, although this left us a few points behind playing partners Solihull, with the final pairing still to finish. Happily, the best was saved until last, as Matt Hicks and Charlie Higgens combined for an excellent 29 points and made a superb birdie on the 18th hole, as Charlie's 3-wood from 260-yards was followed by a lovely bunker shot from Matt to six or seven feet. Watched by a small crowd, including Tim James, a third member of the winning 1985 team, Charlie brushed the putt in, taking us to a total of 75 points and edging past Solihull who finished on 74 points. We were placed third out of the nine teams competing, which ensured our qualification for the 2016 Grafton Morrish finals at the beginning of October.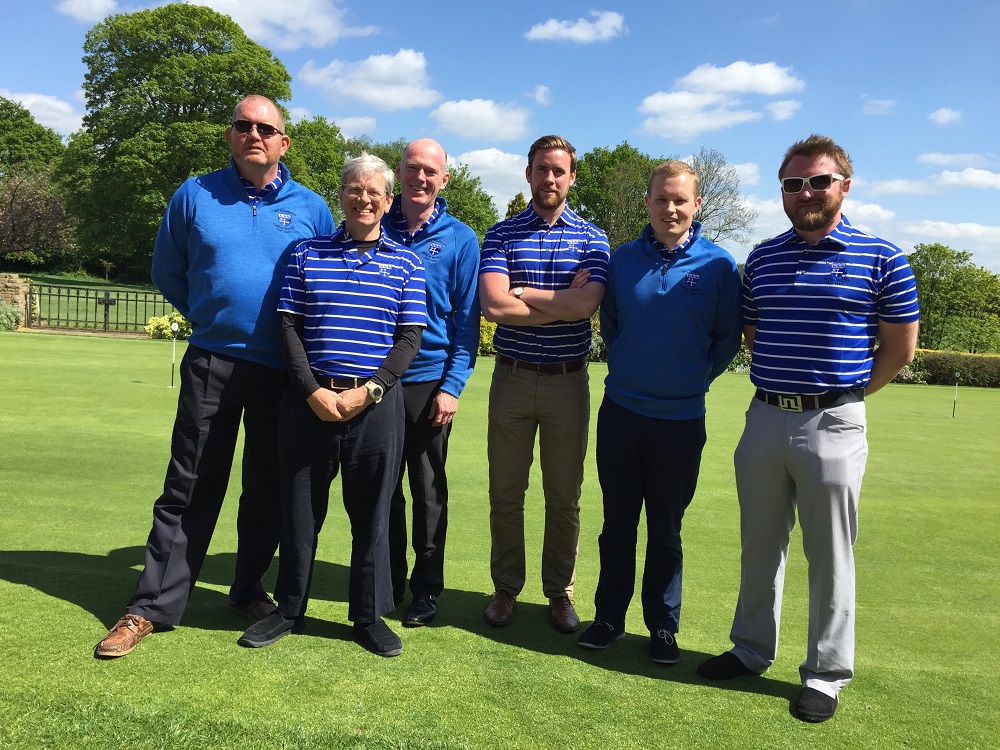 Peter Gordon, Tim James, Steve Tubb, Philip James, Charlie Higgens, James Cumberland and Matt Hicks.
OWs vs School
Fri 24 June
The prestigious Jack Marshall Trophy was once again the main prize for the annual OWs vs. School golf match. Ingon Manor Golf Club played host to our combat. The School's young golfers were only too ready to defend last year's 3-0 win and powerful hitting off the first tee did nothing to make the OWs feel any easier about the task ahead.
A beautiful Friday evening saw teams of six paired up to play 4-ball better-ball match play, played off full handicap difference (with OWs needing all the help they could get!).
Driving off first for OWs were Geoff Tedstone (11)(capt) and Julian Marcus (8), playing the very talented pair of George Gill (+1) and Ross Perry (7). Despite all the shots received, the game did not go as OWs would have liked, losing 3 and 2.
Our second string of Oliver Bates (9) and John Gibbons (5) found themselves duelling with Theo Barnes (7) and Ralph Hiatt (6). Despite OWs being ahead for some of the round, the school managed to find inner strength down the stretch overwhelming our slender lead to bring the match home all square.
So, with the trophy all but engraved, OWs third pair of Pip Whitting (18) and Matt Leefe (6) tried to lift spirits with their match against Max Hayward (11) and Alex Ford (13). They sadly bowed out 3 and 2 on the 16th green. Final score: OWs ½ - School 2½.
The Jack Marshall Trophy was presented by Geoff Tedstone to Ross Perry. The trophy tally for the last ten years now stands at five matches apiece.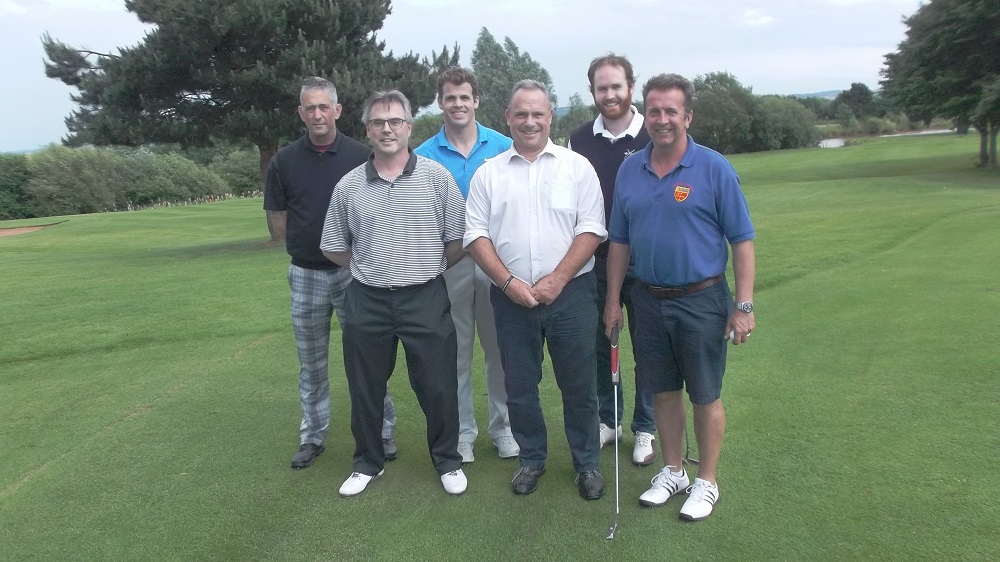 Pip Whitting, Matt Leefe, Oliver Bates, Julian Marcus, John Gibbons and Geoff Tedstone (capt).
With thanks to Julian Marcus and Geoff Tedstone.