2017 OW Golf
Grafton Morrish Qualifiers
Olton Golf Club, 13 May 2017
Once again, OW golfers gathered to compete in qualifying for the Grafton Morrish. We were delighted to welcome back Mark Wolton and Elliott James for the first time in a number of years, and to have recent leaver Laurence Johnson making his OW debut. GM regulars Philip James, Peter Gordon and Matt Hicks completed the six man line-up, with OWA President Julian Marcus, GM Captain James Cumberland and GM stalwart Tim James providing support from the side-lines.

Paired with Old Reptonians, Philip and Peter led off, followed by Matt and Laurence, with Mark and Elliott as the anchor pairing. The team total of 78 stableford points (26/25/27 respectively) was on par with our target and 3 ahead of Repton. Returning to the clubhouse to find Solihull and Coventry had scored 84 and 83 points respectively, with only four teams to qualify, there was a nervous wait. Monmouth came home with a fantastic 97 points and Shrewsbury tied OWs for fourth place, which meant countback was required, on the teams' aggregate back-nine scores. The OW pairings had been the model of consistency, gaining half of their points on the back-nine, but, unfortunately, Shrewsbury scored 44 points after the turn and pipped OWs to the last qualification spot for the finals.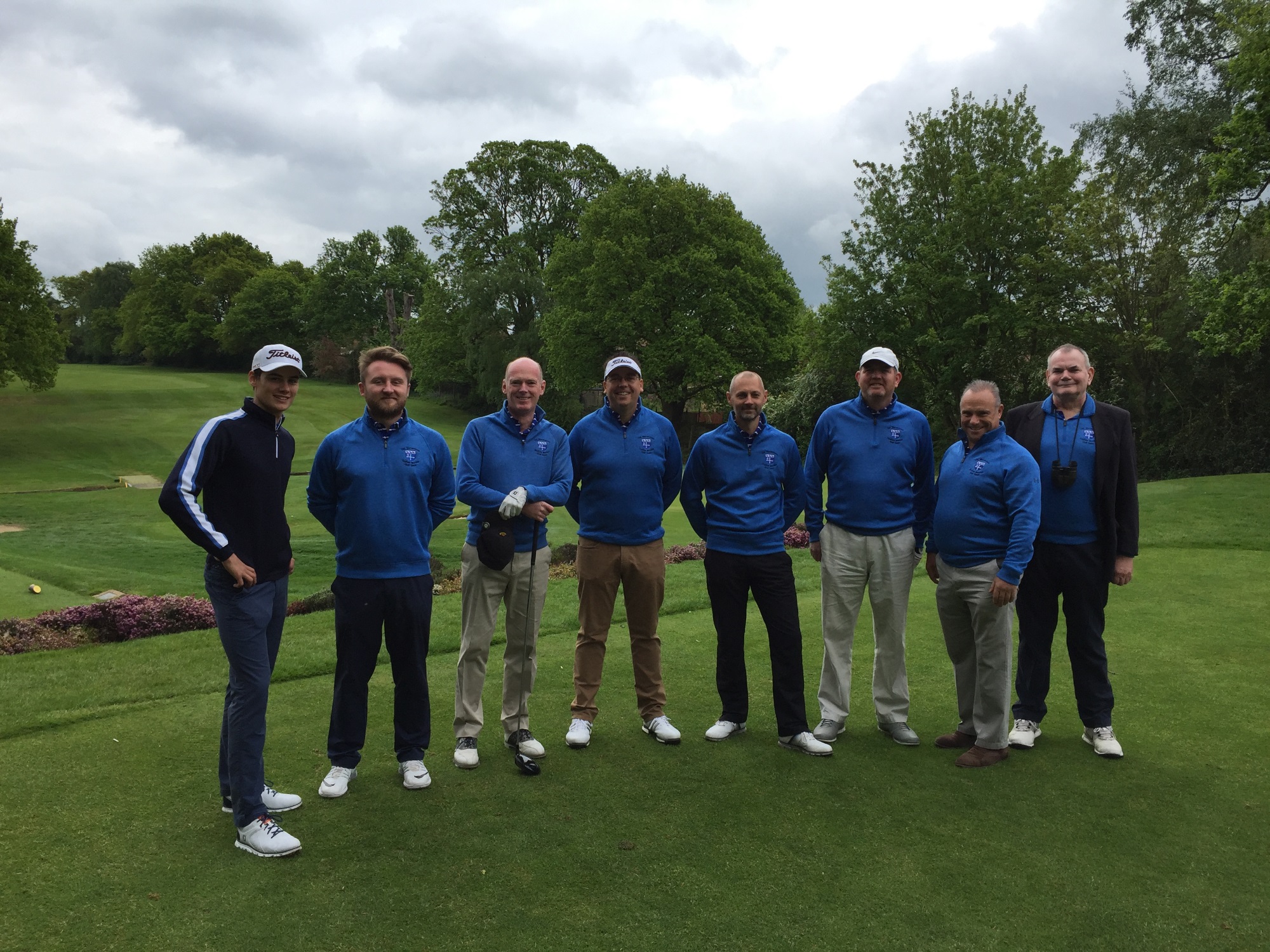 Laurence Johnson, Matt Hicks, Philip James, Mark Wolton, Elliott James, Peter Gordon, Julian Marcus and Tim James.
Spring Golf Day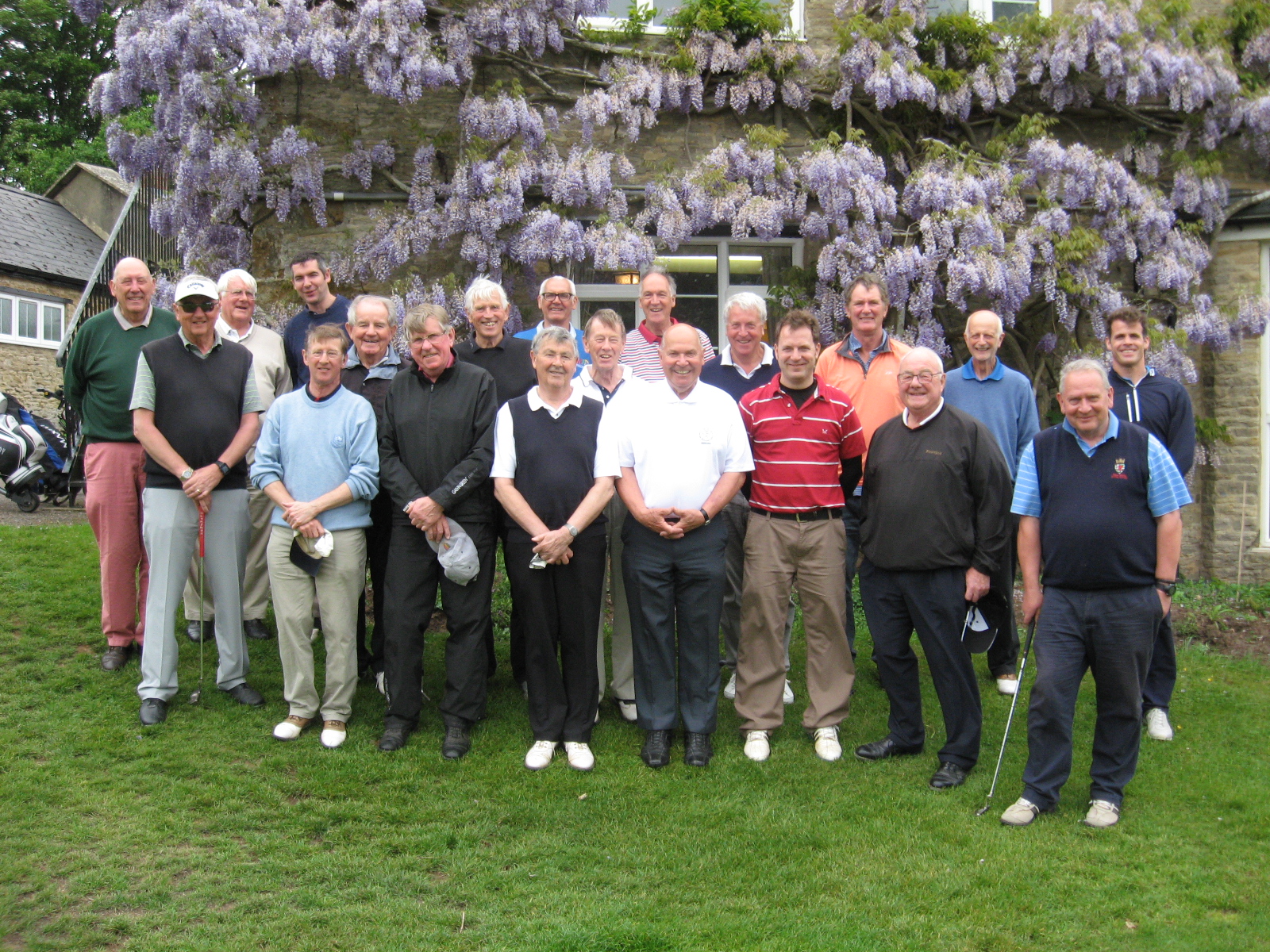 Clive Boast, Malcolm Lines, Bud Abbott, Iain Simmons, Chris Kaye, Victor McDonald, Peter Baird (OW Golf Capt), Peter Gedge, David Cleminson, Richard Simmons, Brian Woodham, Nigel Harper, David Payne, John Elson, Piers Neville, Jon Gregory, John Sheffield, Andrew Dunnell, Tim Harry and Oliver Bates. Not pictured: OWA President Julian Marcus - taking photo!
The first OW Golf Day of the season was an extremely enjoyable meeting, with golfers' enthusiasm undeterred by showers and drizzle. The course was in good condition and there were 12 players for the morning and a further 9 for the afternoon.
Battle commenced in the morning for the Gracey Tankards (Edinburgh foresomes), and continued in the afternoon for the Langley Trophy (the main singles event).
Gracey Tankards
Edinburgh foursomes - take the best of 2 drives and play alternate shots on either odd or even holes.
Winners, on 34 pts, Richard Simmons and David Payne
Runners up, on 32 pts, Iain Simmons and Julian Marcus
Third, on 31 pts (winning on the back 9), Chris Kaye and John Elson.
Langley Trophy
An individual stableford off 7/8 handicap.
Winner, on 33 pts, Tim Harry
Runner up, on 31 pts, Richard Simmons
Third, on 30pts (back 9), Brian Woodham.

After a fabulous carvery, our happy yet tired golfers returned home to reflect on what might have been!
OWs vs. School
Stratford-on-Avon GC, 7 July 2017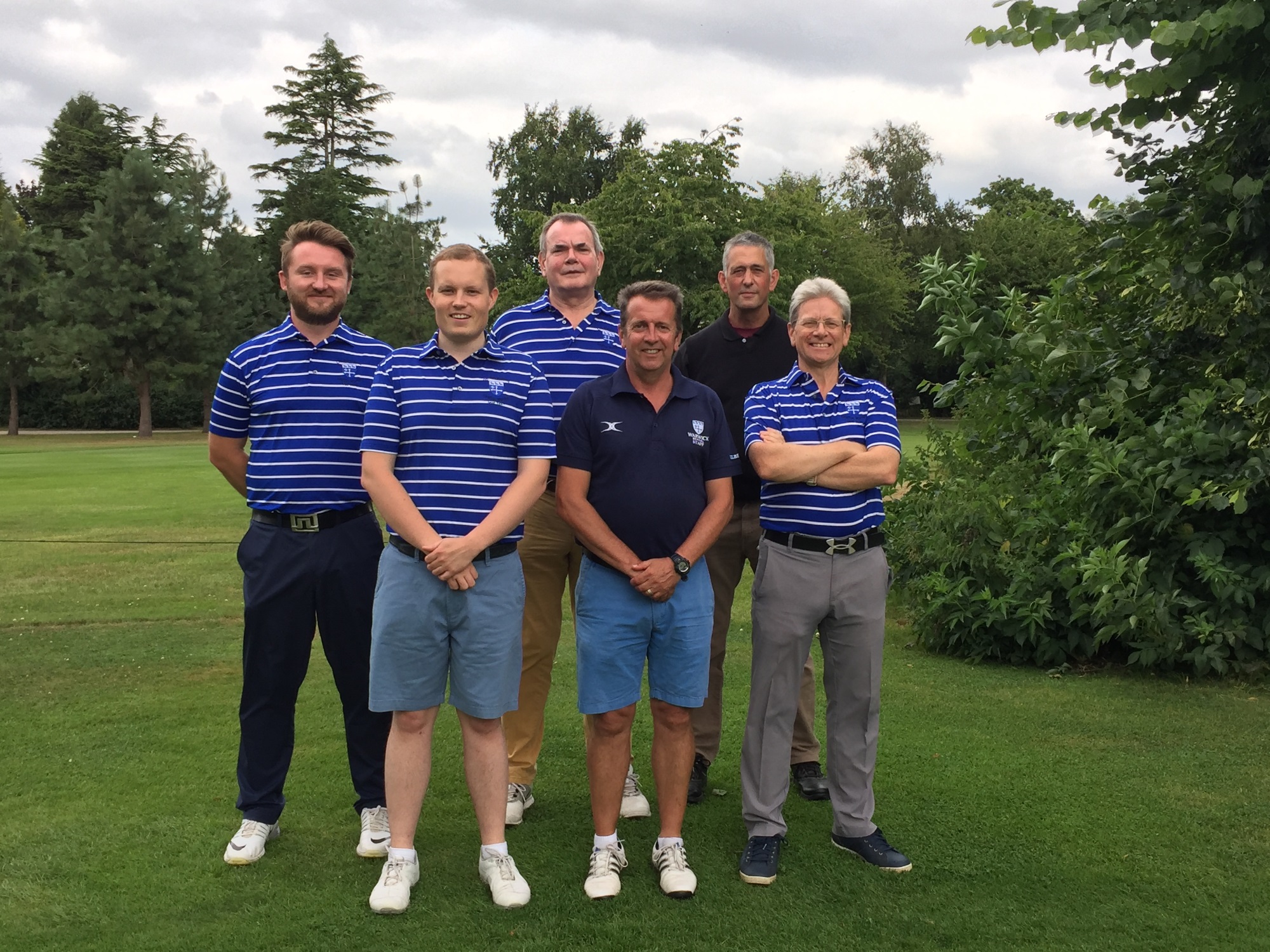 Matt Hicks, James Cumberland (capt), Tim James, Geoff Tedstone, Pip Whitting and Steve Tubb,
The course was in great condition having been prepared for the following day's club championship – green running true and rough tough.
The school's young golfers were more than ready to defend last year's 3 – 0 whitewash. Driving off first for OWs were Geoff Tedstone (11) and Tim James (7), playing the very talented pair of Josh Kearns (5) and Matt Paden (5). Sadly, despite all the shots received, a 2 and 1 loss was the result - an unfortunate start!

Our second pairing of Matt Hicks (7) and James Cumberland (4) found themselves in deep conflict with Theo Barnes (6) and Max Hayward (4). Once again, the school boys were just a putt or two too strong and the match was lost 2 and 1.

OWs' final pairing of Pip Whitting (18) and Steve Tubb (8) tried to lift our spirits with a match against Ollie Tubb (12) and Ralph Hiatt (5). Tubb Senior showed no mercy to Tubb Junior and, with Pip playing very well, OWs salvaged some pride with a 3 and 2 winning margin.

Final score: OWs 1, School 2. Since the trophy was first presented in 2007, the running score now stands at OWs 5, School 6.
The Jack and Joan Marshall Memorial Golf Day
The Warwickshire Golf Club, 9 July 2017
The first Jack and Joan Marshall Memorial Golf Day was held at The Warwickshire Golf Club, with an emphasis on fun. 28 golfers, of all standards, gathered in glorious weather to take up the challenge provided by the 18 holes of the Earls Course. With 2 scores to count on each hole for each team of four, most managed to beat par to give themselves a fighting chance of winning the main prize – four bottles of wine!
By the end of the day the Norman Emery team of Norman, John, Thomas, and Karl posted a fine 86 points – 14 under par - to take first prize. Runners up, on 79 points, were Geoff Tedstone, Simon Francis, Neil Smith and Sue Batstone.
A post game meal of gammon, egg and chips went down well, accompanied by some golfing poetry from OW Oliver Comins (Golf Monthly's Poet of the Month for March 2017).
We hope to repeat this event next year and attract a cross section of entries from school boys, teachers, OWs and parents.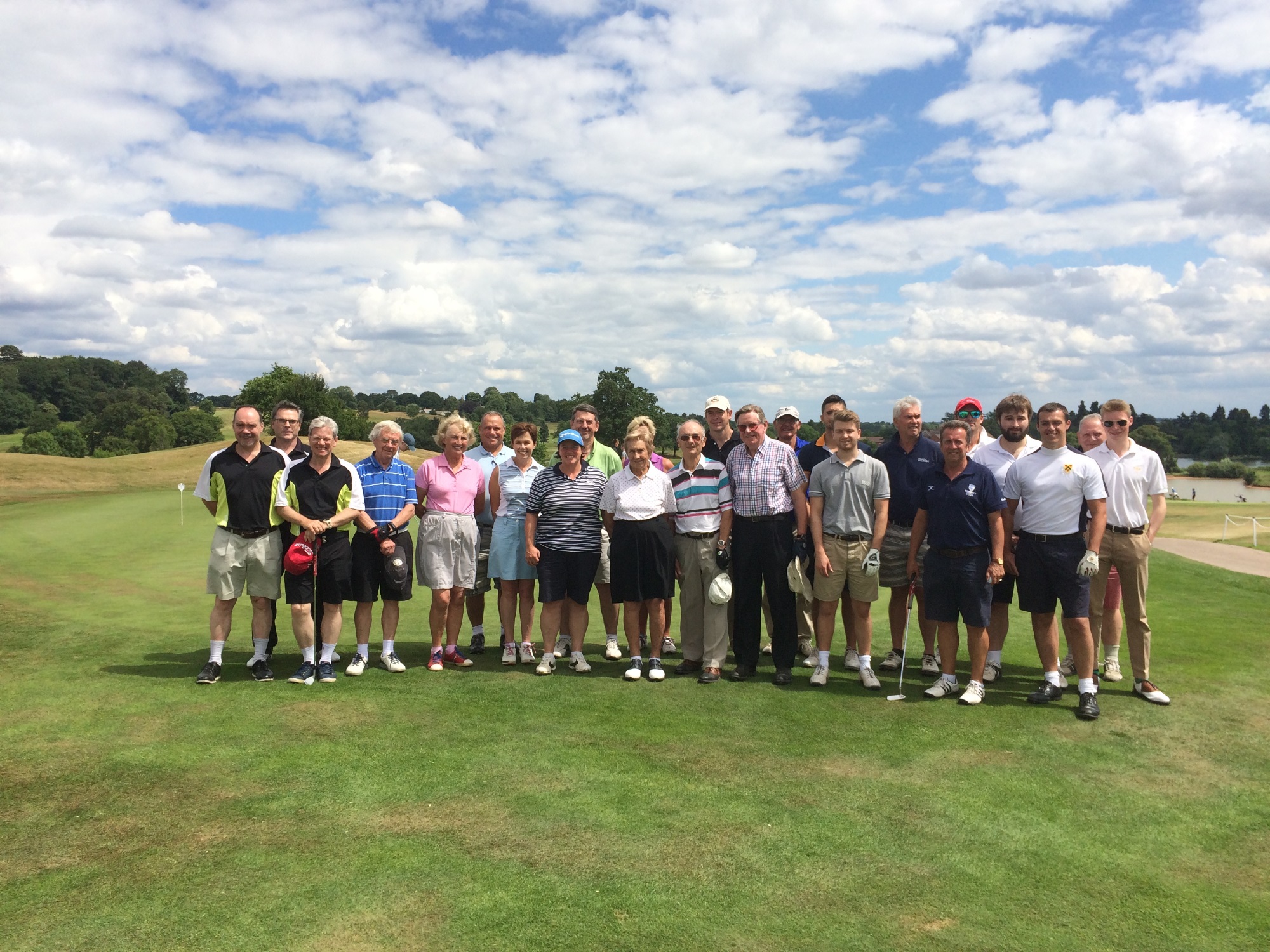 Autumn Golf Day
Kenilworth Golf Club, 8 September 2017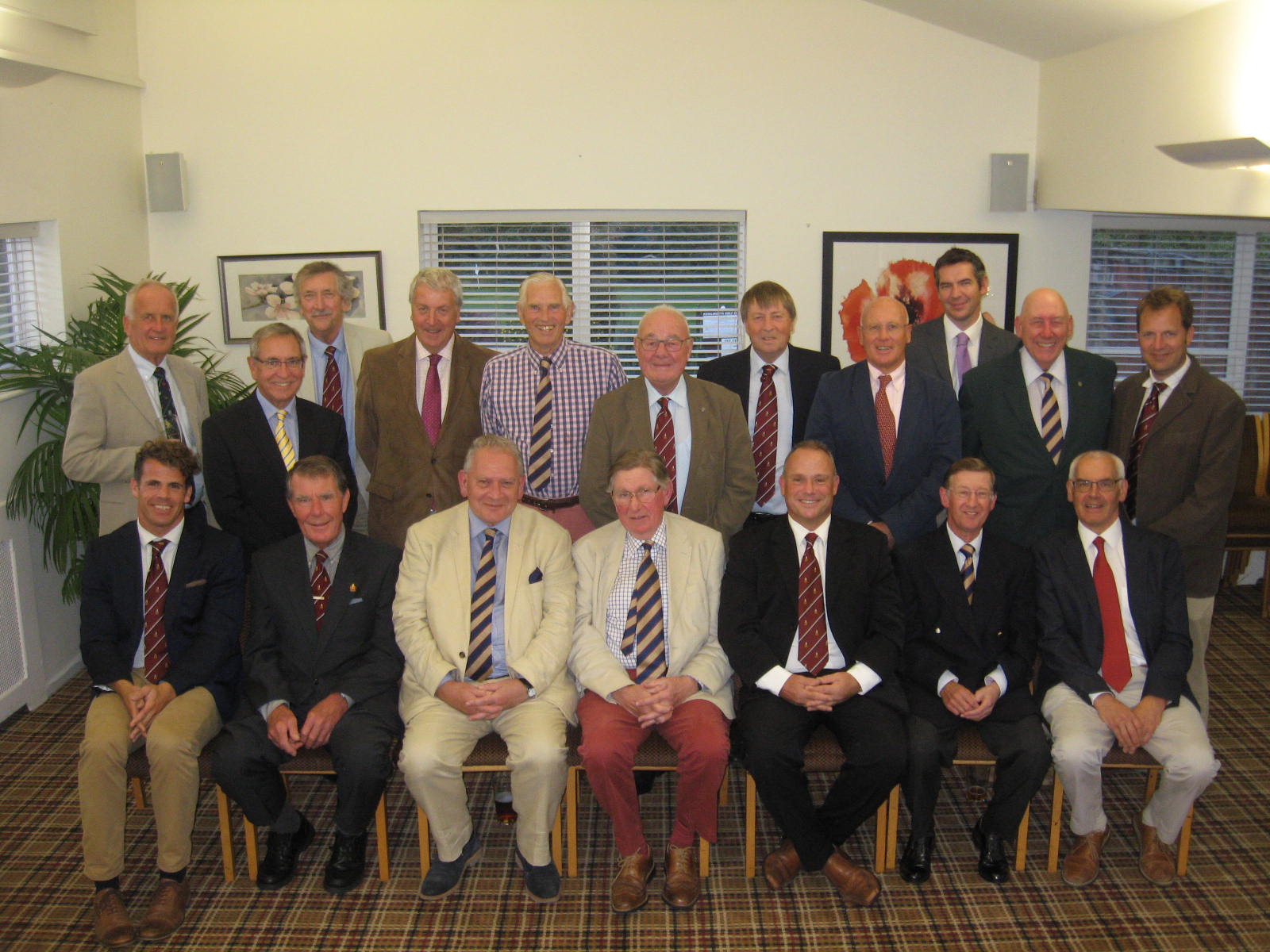 Back: Adrian Robinson, Chris Hart, Nigel Robinson, John Elson, Peter Gedge, John Sheffield, Tim Shenton-Taylor, Mike Barnwell, Iain Simmons, Clive Boast and Piers Neville.
Front: Oliver Bates, David Phillips, Tim Harry, Peter Baird (Capt), Julian Marcus (Hon Sec), Chris Kaye & Richard Simmons.

The course at Kenilworth GC was once again in magnificent condition and the Club provided superb hospitality and catering.
OW Tankards
Edinburgh foursomes golf over 18 holes (stableford)
Winners: Piers Neville and Oliver Bates on 35 pts
Runners up: Tim Harry and Iain Simmons on 34 pts
Third: Mike Barnwell and Chris Kaye on 33 pts.
OW Salver
An individual stableford played off 7/8 handicap
Winner: Iain Simmons on 33 pts
Runner up: Jon Gregory (back 9) on 30 pts
Third: Oliver Bates on 30 pts.
Golfer of the Year 2017
A combination of individual points made in both individual rounds at Tadmarton and Kenilworth Golf Days.
Winner: Iain Simmons on 63 pts
Runner up: Tim Harry on 58 pts
Third: Richard Simmons on 57 pts
Fourth: Julian Marcus on 56 pts.
Many thanks to the OW golfers who kindly sponsored the prizes and to Captain Peter Baird, after four years' fabulous service.