The Trials and Tribulations of 1906
Once again, we have just acquired, in the school Archives, a postcard.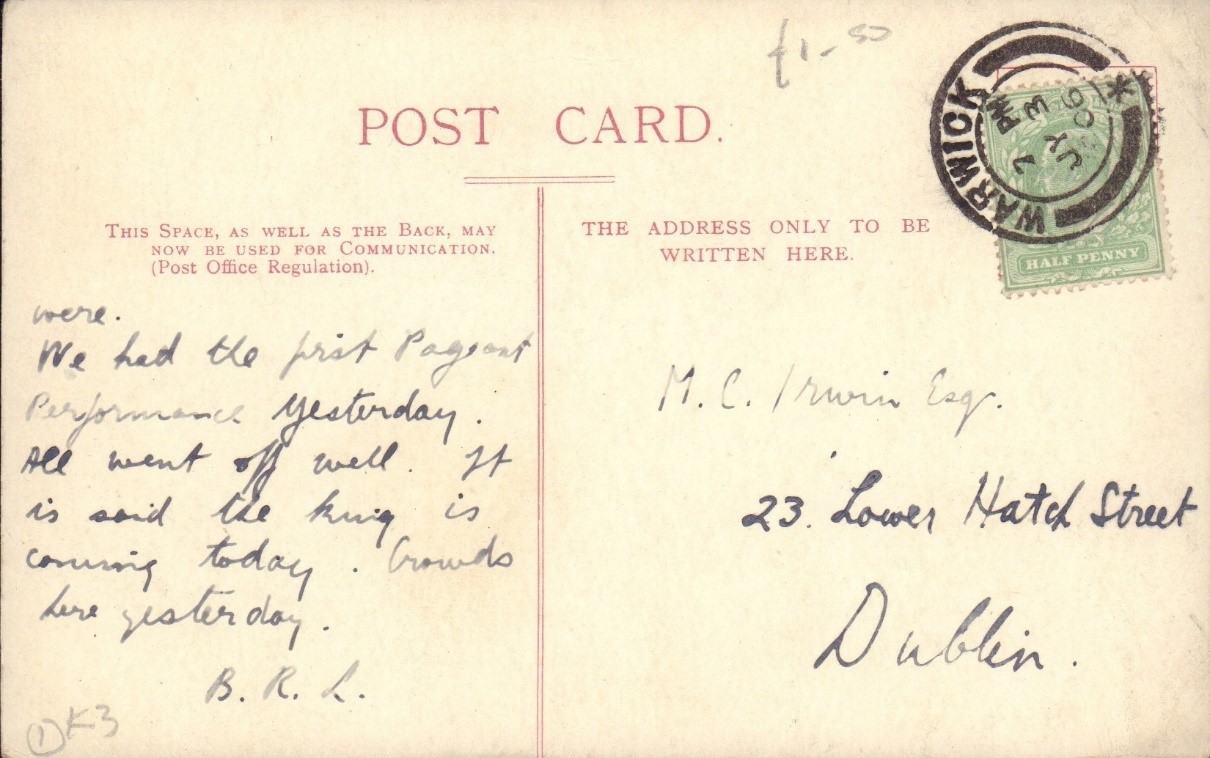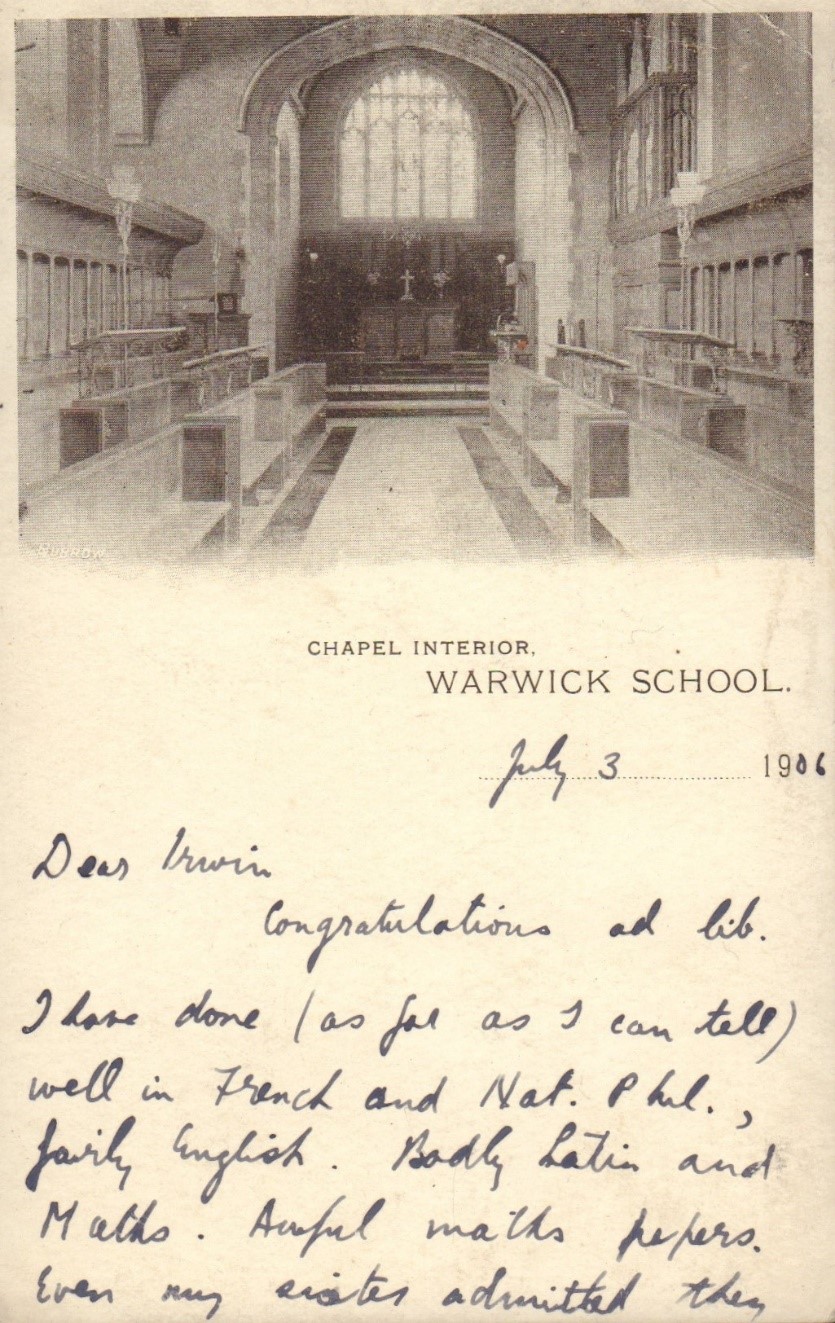 The image is that of the chapel interior of Warwick School (showing, incidentally, the Cecil Meiggs memorial window, but not the outer panels) and it is dated July 3, 1906.


The full text is as follows:
Dear Irwin. Congratulations ad lib. I have done (as far as I can tell) well in French and Nat. Phil., fairly English. Badly Latin and Maths. Awful maths papers. Even my sister admitted they were. We had the first Pageant performance yesterday. All went off well. It is said the King is coming today. Crowds here yesterday. B. R. L.

Bertram Raymond Long
From the Admissions Register, "B. R. L." can only be Bertram Raymond Long, a boarder born on 11th February 1890, and who had joined the school in May 1905 from his home in Ireland. An Internet search reveals that Bertram was born in Rathdrum, Co. Wicklow, Ireland, and married Emily Frances Dowse in 1920, also in Rathdrum. In 1905 his father's address was given as Bank of Ireland, Dundalk.
On leaving the school, Bertram was initially a member of the Old Warwickian Club, and he is listed as having attended the school from 1905 to 1906, and as a graduate with a B. A., in their 1921 list of members. At the time he was living at 174, Corporation Street, Birmingham. He seems to have left the OW Club, but his employment status by 1939 is given as H. M. Inspector of Factories, and the family lived in Sutton Coldfield. He died in 1962 in Suffolk, and his wife in 1945 in Uxbridge, Middlesex.
Back in 1906, however, 16-year-old Bertram was a cause of celebration, as described in the last few pages of Volume 2 of The Master's Book. On May 28th the acting headmaster, Robert Davies, awarded the whole school a half-holiday "in honour of the success of B. R. Long in obtaining the Gaskale Scholarship for Mathematics and Science at Victoria University." Victoria was a forerunner of Manchester University, and the scholarship was worth £35 per year for two years. Bertram also got a Hulme Hale Scholarship of £30 per year for three years. This is an astonishing achievement for a 16-year-old. There is no record in The Master's Book of what public examinations were taken in the summer of 1906, but a few years earlier senior boys sat the Oxford and Cambridge Joint Board Higher Certificate examinations. These can be regarded as a precursor of A-levels.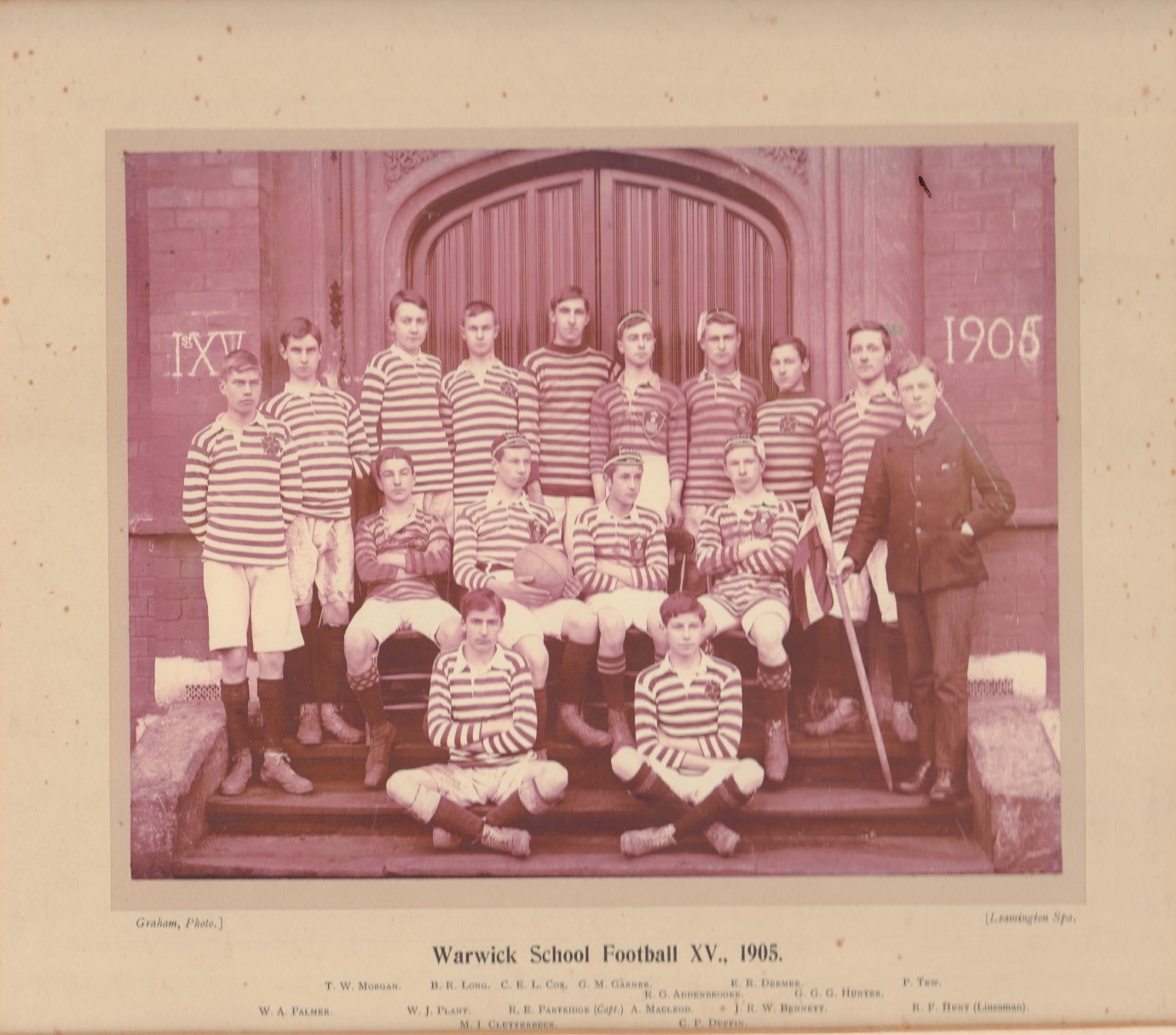 Bertram's one-year stay at Warwick School merits several mentions in Portcullis. In October 1905 he was appointed to be a Boarding House Captain, as well as receiving the Fifth Form Science Prize, having passed Lower Certificate in Latin, French, history, chemistry and physics, and having been awarded 1st Class in arithmetic and additional mathematics the previous July. He also joined the Debating Society.

In September 1905 he joined the 1st XV (aged 15) as a forward. His performance there merited the rather scathing comment: "Does not use enough of his weight". Group photographs of the 1st XV rugby teams, the 1st XI cricket teams and the prefects from the 1880s onwards are invaluable in putting faces to names – but only for the high-achieving minority, unfortunately. But Bertram Long is there, in the 1905 1st XV photograph, second from the left in the back row, staring rather crossly at the camera – and wearing very dirty shorts!
Melville Cathcart Irwin
The addressee of the postcard is M. C. Irwin Esq, 23 Lower Hatch Street, Dublin. This may refer to Melville Cathcart Irwin, born in 1888 in Tipperary. If this was him, he would also have been completing his Certificate examinations, aged 18, in the summer of 1906.
The Warwick Pageant of 1906
Bertram next mentions the Pageant. The Warwick Pageant of 1906 was an astonishing achievement for the town. It was performed in the grounds of Warwick Castle from July 2nd to 7th, and involved nearly 2,000 performers, including the entire pupil populations of Warwick School and King's High School. 5,000 people per night watched the three-hour performance.
It is interesting that Bertram, in his postcard, mentions that the King is expected on the second night. The newspapers subsequently reported that "there is a persistent rumour that the King was present." King Edward VII was, needless to say, a frequent visitor to Warwick Castle; his nine-year affair with Daisy, Countess of Warwick, is well-known.
What is even more astonishing is that parts of the Pageant were filmed, and the surviving film ends with all the performers, including, we presume, Bertram Long, filing past the camera. The film is available on YouTube: https://www.youtube.com/watch?v=9_SQi370Ghk

Bankruptcy
What Bertram does not mention is the parlous state of Warwick School in the summer of 1906. It is, perhaps, rather astonishing that a boy of the obvious high ability as Bertram Long should be sent to a school which was so obviously failing. The headmaster who accepted Bertram into the school was Rev W. T. Keeling, who had presided since January 1903, when he was 31 years of age, after the tempestuous reign – and sacking - of Rev Robert Percival Brown. Rev Keeling hardly fared better, in fact - In February 1906, the governors had requested "that the Clerk draw the attention of the Head Master to the fact that the period of 3 years during which it was understood that the school should be carried on by him in the hope of a successful result had already expired, and inform him that at the close of the current year should further loss be incurred it will be necessary for the governors to consider their position". Keeling shed staff in order to try to cope, but to no avail. One of them, W. T. Richardson, the Head of the Junior House, did not go quietly at all: he published the entire correspondence between himself and Keeling, trying to drum up massive parental support in his own favour, but he still had to go – his departure eventually softened by a grudging admission from the governors that, although it was the headmaster's perfect right to dismiss anyone, it was actually done purely for financial reasons. This does not seem to have been explained very well to the poor man at the time. Keeling promptly resigned at Easter 1906, in order to take up another headmastership in Lincolnshire, leaving a severely depopulated school to be run by the deputy headmaster, Robert Davies.
The accounts for 1906 show a huge deficit - ₤1,267 19s 7d. Just how many pupils and staff were left in that summer term of 1906 is partially revealed in a 1907 Portcullis - probably four staff and 50 boys. Robert Davies tried to carry on as normal before he, and all his colleagues, lost their jobs at the end of term - H. S. Pyne took over in September 1906 after a merger with the King's Middle School, and brought in his own staff. This savage act of Pyne's caused howls of protest from the OWs, and they soon organised a testimonial presentation of two pairs of silver candlesticks and a cheque for £56 17s to Mr Davies. It is not known whether he received any form of pension, but at the dinner in his honour in April 1907 (headmasters R. Percival Brown and J. P. Way contributed to the testimonial, but W. T. Keeling and H. S. Pyne did not – the latter "sent a kind message of good wishes... over the telephone"), a good deal was revealed about the previous twenty years at the school, and, in particular, the cataclysmic events of 1906, as described by OW Secretary W. V. P. Hexter:
A year ago, deserted by half its boys, and left practically without an official head, the school found a loyal and ever self-sacrificing leader in Mr Davies. There were few who knew what a term was the Summer Term of 1906 – a struggle against adversity from beginning to end – a term of sleepless nights and anxious hours. But right up to the last that remnant of 50 kept up the old traditions manfully and played the game, thanks to Mr Davies. At the Warwick Pageant few sights could have been more touching than that of Mr Davies and his boys marching into that arena, with happy faces, but alas! heavy hearts.
Finally, it is worth mentioning that an important building project was being carried out at exactly the time Bertram Long was at Warwick School – a new Science Block was being constructed at a cost of £2,500 (of which just over £1,000 came from the County Council). The governors had adopted a new scheme for the recognition of the school as a Secondary Day School and therefore sanctioned the building of the necessary science buildings, as well as raising the maximum boarding fee to £60 per year. That Science Block was converted to the teaching of history and geography in the 1950s and is now the Music Block.
Gervald Frykman
November 2020.