Towards the Millennium
Political events over which he had no control forced mathematician and Olympic hockey player J. A. Strover (headmaster 1977-88) to consider a number of radical changes:
the Assisted Places Scheme replaced the Local Education Authority's arrangement of paying for free places
corporal punishment was totally abolished in the school, as was Saturday morning school
marketing was developed as a concept and Open Days were introduced
the number of school reports increased and staff started to be appraised
O-levels were replaced by GCSEs in 1988, and an A-level pass rate of 90% was achieved
Craft, Design and Technology became an academic subject
the school's first dedicated computer room opened in 1981 with half a dozen Commodore PETs, soon to be replaced in 1986 by a full-size room with 17 BBC micros. Computing became an academic subject.
instead of being shut down, the boarding house was refurbished. The number of boarding pupils from Hong Kong started to grow.
Physicist Dr P. J. Cheshire (headmaster 1988-2002) improved the facilities of almost every department in the school: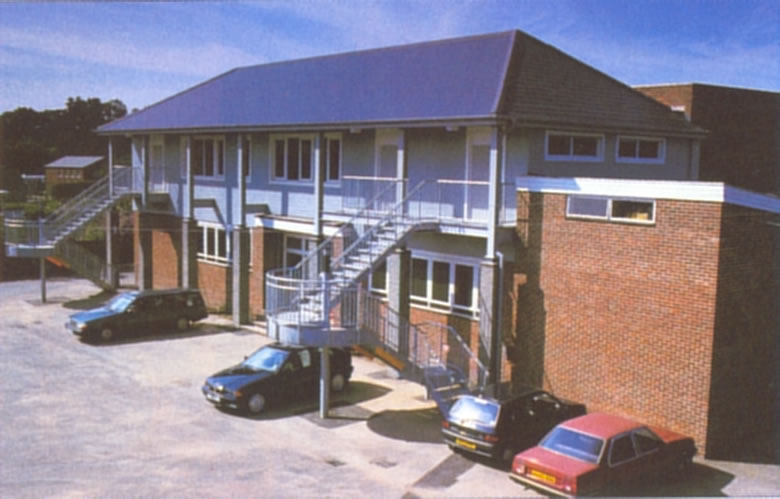 a drama studio was built at the back of the Guy Nelson Hall
the 1949 Orlits building was replaced by a purpose-built geography and history block
the Music Department moved into Keeling's gutted 1905 science laboratories
the 1911 outdoor swimming pool was filled in and replaced by a new Sports Hall
the Assisted Places Scheme ended
the 1890 gymnasium was converted into a Sixth Form Centre
the library and IT Department moved to a new building named after OW John Masefield
the old library became an extension dining room and functions area (the Pyne Room)
a brand new theatre was built on the site of, and named after, Bridge House
all staff were issued with lap-top computers
the entire Junior School was refurbished and extended into a quadrangle
the school's first Archivist, Gervald Frykman, was appointed.