Warwick School's first Asian pupils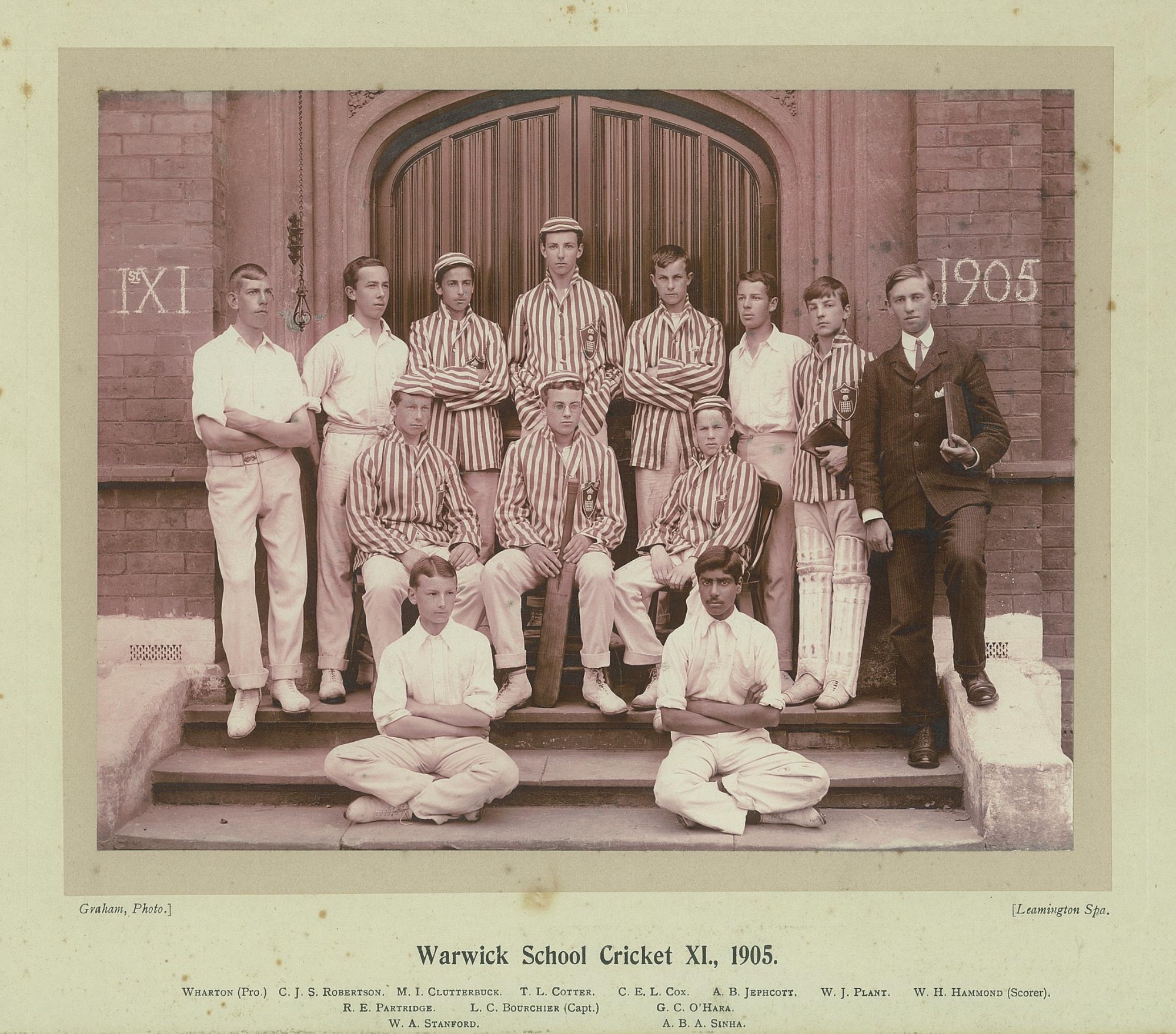 Quite by chance, and while searching old school photographs for images of First World War casualties, I came across the 1st XI photograph for 1905. All such photographs are now digitised, by the way, and are available, on request, for searching. A rather unhappy-looking Asian boy is sitting on the steps outside the old main front door of the school, and is identified as A. B. A. Sinha.
Searching through the Admissions Book for this period, in May 1905 we find that three Sinha brothers were admitted to the school as boarders. The address given is that of a guardian in Southport, so we don't even know where they came from, who their parents were or, indeed, where they went on leaving the school. The handwriting in the Register is appalling for this particular period, but the following is an attempt at correct spelling:
Sinha Augustus Bernadine Agast, d.o.b. 9 Aug 1889
Sinha Algernon Aloysius Navad, d.o.b. 14 Dec 1890
Sinha Lionel Jaspal, d.o.b. 21 Jan 1892.
We know from Portcullis magazine that the summer term of 1905 extended for almost the whole of May, June and July, and so there was plenty of opportunity for at least the eldest brother to play cricket. In fact, despite only joining the school in May, A. B. A. Sinha i (as he was termed) was immediately selected for the 1st XI, despite being only 15 years of age.
We know from Portcullis magazine, and also the school's whole-school Mark Book, into which forms the brothers were placed. The Mark Book describes their academic progress, and it is here that the picture is not so rosy. Sinha ii (the middle brother, aged 14) was placed in IIIa, and did so well that within a term he was promoted to Form IV. He came top of this form at Easter 1906 – and that's where records stop, for at this point the school "lost" its headmaster, and was inexorably sliding into bankruptcy and closure. Extraordinarily, Sinha i (aged 15) and Sinha iii (aged 13) were put in the same form, IIIb, where the elder brother stayed near the bottom of the form for much of the time, and his younger brother near the top. In fact, like Sinha ii, Sinha iii came top of form IIIb at Easter 1906 – and Sinha i (aged 16 by this time) had climbed to 5th place. This may well, of course, be the result of improved understanding of the English language.
Perhaps the youngest of the brothers let success go to his head. We read in the Master's Book, Vol 2: "Sinha iii is gated to the school grounds till Saturday night, June 2. RD. May 28 1906." There is no record of what he did to deserve this punishment, and Robert Davies was the man who tried to keep the school going in that very difficult headmaster-less summer term of 1906.
So – how was the cricket? In the summer term of 1905, Sinha i played eight matches (there are virtually ball-by-ball commentaries in Portcullis), scored 40 runs, and his highest score was 16 n.o. In "Cricket Characters" of July 1905, he is described as a "Fair bat: too much inclined to step in front of his wicket and must get rid of the flourish which at present spoils all his strokes. Has done some very good things at point, but is not quite a reliable field." Despite this, Sinha i was awarded his colours, and appeared in the 1906 1st XI photograph the following summer, un-named but very distinctive, with piercing eyes, and capped, in the back row. That troubling summer, according to "Cricket Characters", Sinha i "Has not come up to expectations in batting. He has developed a tendency to play with a cross bat. A good field at point". By this time Sinha ii was also playing at times in the 1st XI, and his performance was described as: "Useful fielder. Should be a good run-getter in a year or two."
And this is where we lose sight completely of the three Sinha brothers. In the summer of 1906 Warwick School closed, all the teaching staff were made redundant, and most of the pupils, including the Sinhas, were withdrawn by their parents. Their pioneering efforts at improving the racial diversity of the school no doubt encouraged 17-year-old Hussein Tewfic Akef to join in January 1907, one term after the school had re-opened. He was quickly brought into both the 1st XI and 1st XV, and, in a later note by M. M. Clark in the Admissions Register, "Went to Oxford University". The rest is history.
G. N. Frykman, June 2019