Warwick School Arms and Motto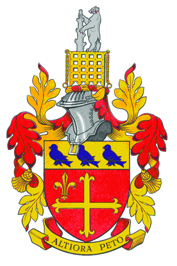 It was the headmaster from 1885 – 1896, Rev John Pearce Way, who not only commissioned the first written history of the school, but who also attempted to change its name from The King's School, Warwick to Warwick School, to introduce a school song, a school motto and also a school coat of arms.

Changing the name of the school was blatantly illegal (although Way probably didn't realise it at the time) and this actually took decades to accomplish. He had more success with the school motto, Altiora Peto, introduced in 1893. It means "I seek higher things".

Way's attempt to draw up a school coat of arms was not a success, and neither was that of one of his successors, Horace Seymour Pyne (headmaster from 1906 – 1928), who went as far as to include his own version – also illegal – in the stained glass window of the chapel, where it can be seen to this day.

The use of the Portcullis in school badges (and in the name of the school magazine) derives from its use by King Henry VIII, who re-founded the school in 1545. The Tudor Rose was also, therefore, used at times as a school emblem in the Victorian era.

It fell to George Riding (headmaster from 1928 – 1933) to go through the proper channels and arrange for a coat of arms, which he designed, to be awarded to Warwick School in 1931. It is officially:
Gules a Cross Flory in the first quarter a Fleur-de-lys Or on a chief of the second three Martlets Azure. Crest: On a wreath of the colours Upon a Portcullis Chained Or a Bear erect Argent Muzzled Gules supporting a Ragged Staff also Argent.
The three martlets are heraldic swallows, depicted without feet because of a mediaeval belief that they could not perch on the ground. Like the large golden cross, they are emblems used by King Edward the Confessor, reputed to be one of the original founders of the school. The fleur-de-lys and portcullis are emblems of King Henry VIII, and the Bear and Ragged Staff have been the crest of the family of the Earls of Warwick since at least the 14th century. It is notable that only with the arms of Warwick School and the Earl of Warwick is the bear allowed to be depicted without a chain. The County of Warwickshire uses the Bear and Ragged Staff in its coat of arms, also awarded in 1931, but the bear is chained.
G N Frykman
March 2008