2009, 1940s and 1950s Reunion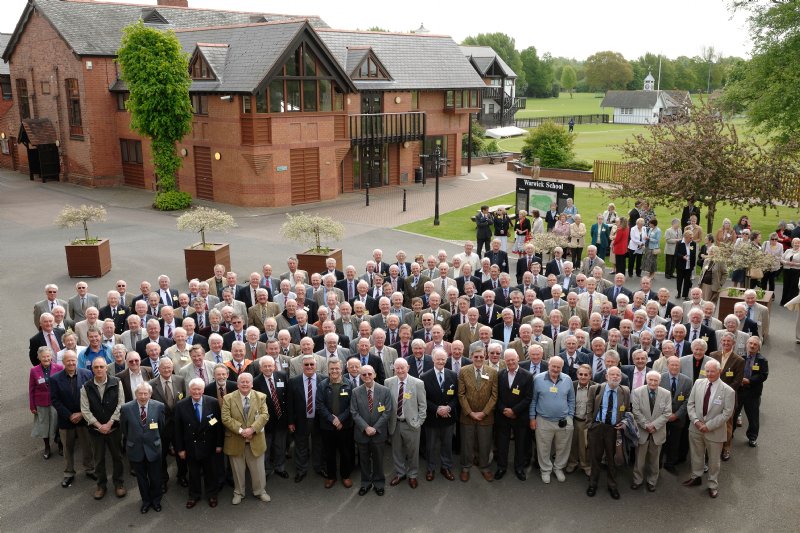 Saturday 9 May will be, for many, a very special day to remember. 200 OWs from the 1940s and 1950s returned to school to spend time with old friends – many of whom they hadn't seen for fifty or sixty years.

OWs travelled from all corners of Britain and from France, Portugal, Panama, Australia and the USA to attend the reunion. Sam Nelson, son of former school governor Guy Nelson, was warmly welcomed as a guest to the reunion. Highlights of the day included the Chapel Service, 1940s and '50s film show from school archivist Gervald Frykman and afternoon tours of the school with prefects. There was plenty of time to relax and enjoy each other's company. As Paul Ramage, chair of the day said, it was, above all, a day for friendship and fellowship. In the evening over 80 OWs and guests continued to enjoy the reunion with a drinks reception and fine dinner at Alderson House in Warwick. Special thanks go to Peter Bailey for organising the dinner.
The gathering was a day to be treasured. We include here a selection of quotes from some of the many thank you letters and E-mails which we have received.
"I thought the reunion on Saturday was a huge success and should like to thank you and your staff for the enormous amount of effort which you put in, both behind the scenes and on the day itself, to make everything run so smoothly. The programme was perfect for the occasion right down to the choice of hymns for the service, all of which were amongst the favourites during my time at Warwick. Also, it was remarkable how, with the help of prefects, you were able to marshal so many undisciplined people and get them to where they needed to be at the right time!
It was a great pleasure to renew acquaintances with so many former pupils most of whom I hadn't seen for more than 50 years. Equally, it was reassuring to see how the school itself is flourishing in what must be very challenging times. The new facilities are really impressive and must put the school amongst the very best when it comes to attracting both staff and students. Long may this continue or, in the words of the school song (which I can't find anywhere!) floreat domus!
Again, thank you so much for putting on such a great event and I hope you will feel sufficiently encouraged to do it again before too long." Peter Pauwels (WS 1947-56).
"Well done all who helped make this a very special day." Peter Jarvis (WS 1952-58).
"The day simply overflowed with happy meetings and reunions – not to mention memories recalled." Roger Usherwood (WS Staff 1957-86).
"Being one of the oldest present, for me it was an extremely special occasion. To meet a few of my old friends, staff and prefects and to see how the school has progressed over the years was really pleasing. The whole day is one that will be remembered with great pleasure and gratitude." John Mann (WS 1940-45).
"School dinners have improved beyond all recognition. Brian assures me they didn't serve wine in his day!" Sue, wife of Brian Aldridge (WS 1945-52).
"It was particularly moving to find that the school has made so much progress and at the same time retained its traditions; that it's proud and modest in the right places; that it has due regard for beauty, natural and man-made; and that aspiration is tempered by wit and good humour." Robin Taylor (WS 1949-56).
"It was great to see some of our classmates after 63 years." Ronnie Raymond-Cox (WS 1944-46).
"To see so many old friends was such a delight. And the school! What a wonderful place for boys to grow and learn." Pat Twigger (WS 1949-58).

Click here to see a further selection of images from the day.