OWA President's Dinner 2023
Leamington Tennis Court Club
Saturday 13 May 2023
Jim Button (WS 1978-85) invites all OWs and their wives, partners and friends to join him at the prestigious and historic Leamington Tennis Court Club on Saturday 13 May for the 2023 OWA President's Dinner.
Tucked away in the heart of the town, the Leamington Tennis Court Club is the oldest tennis club in the world. The club has a thriving membership of over 400 from across the world, including a number of OWs who relish playing this high-strategy indoor racket sport which is essentially unchanged since the Middle Ages. Lawn tennis, the modern derivative of this ancient game, was devised and first played in Leamington in 1872.
Past members of the Club include four Victoria Cross holders, Ambassadors, the Earl of Cardigan who led the charge of the Light Brigade, a renowned member who went to sea aged nine and was captured by the French aged 11, other members who breached the Official Secrets Act, were accused of stealing the Irish Crown Jewels and were involved in the aborted glider escape from Colditz!
The President's Dinner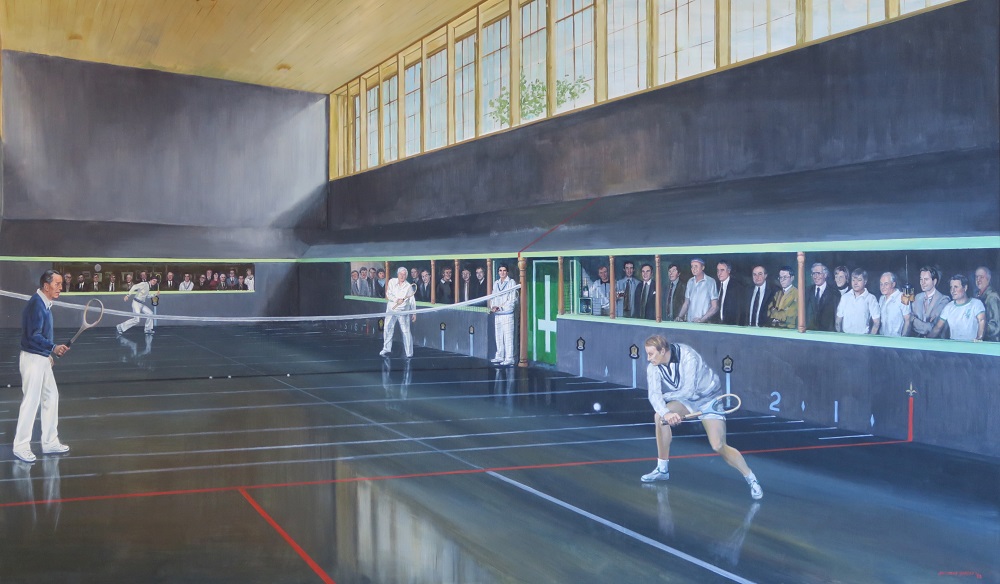 The 2023 President's Dinner offers a unique opportunity to enjoy friendship and camaraderie in an extraordinary and historic setting. Enjoy pre-dinner drinks in the lounge and discover more about both the game and the fascinating history of the Club. Then take your seat on the tennis court for a fabulous four-course dinner.
Tickets
£78 per person to include pre-dinner drinks and dinner. Tickets can be booked individually, in pairs or small groups, or for tables of 8 to 10. Wives, partners and friends most welcome.
Booking deadline
17 April 2023
Dress
Black tie.
Wine and additional drinks
The Club's wine list offers an excellent choice of award-winning wines to enjoy with your meal. Card payment only.
Timings
19:00 Welcome drinks with the opportunity to explore this prestigious Club.
19:25 An introduction to Leamington Tennis Court Club.
19:35 Call for dinner.
20:00 Four course dinner with speeches.
22:00 Continue to enjoy the company of friends on court or retire to the Lounge Bar.
23:45 Bar closes
00:00 Carriages
Location and Parking
The Leamington Tennis Court Club is located at 50 Bedford Street, Leamington Spa, CV32 5DT. There is plenty of parking nearby. Nearest car parks: Bedford Street and St Peters Car Park (CV32 5EL, access via Augusta Place).