2014, Commemoration Festival and OW Anniversary Lunch
Saturday 5 July 2014
After months of preparation the day of the Commemoration Festival dawned with great excitement and an ominous weather forecast. Old Warwickians travelled from all parts of the globe for this historic celebration.
Some 400 OWs, staff and guests, from every decade since the 1930s, were warmly welcomed by Head Master Gus Lock and OWA President Sir David Foskett in the Guy Nelson Hall. Many OWs had neither been back to School nor seen friends since leaving.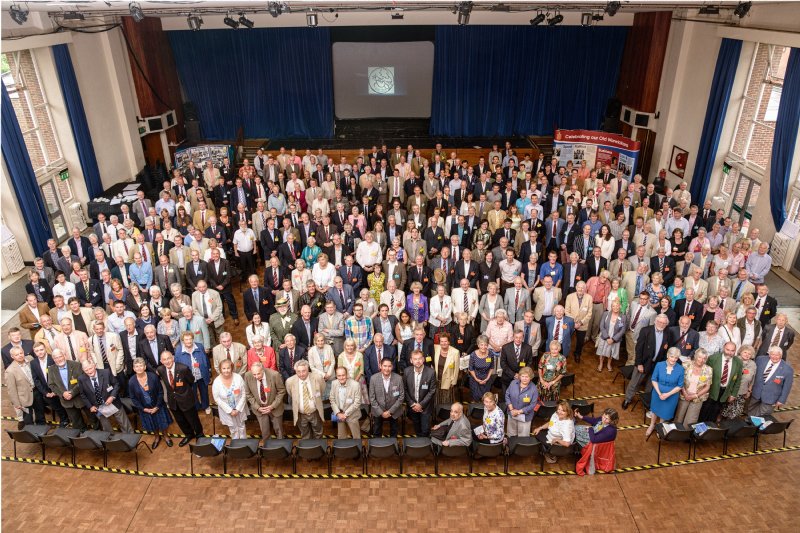 With too many OWs to fit in Chapel, two back to back Chapel Services were held. The Bishop of Coventry, the Rt Revd Dr Christopher Cocksworth, kindly gave the address in each and we remembered in silence OWs no longer with us. Two rousing hymns and the School songs were sung with much gusto and many watery eyes.
Lunch was held in a beautifully decorated marquee on the edge of the 1st XI cricket pitch. A team of volunteer 'flower ladies' had spent hours preparing stunning table decorations and the School catering team (with chefs from Warwick School, King's High and Warwick Prep) put on a sumptuous three course dinner.
Huge thanks go to David Foskett, Martin Green and Nigel Robinson for their unerring support before and during the lunch.
As the lunch ended the Commemoration Festival began. Hundreds of boys and their families gathered to enjoy a relaxing afternoon of music and dance. A traditional funfair, market stalls, classic cars and a tethered balloon were enjoyed by young and old alike. Throughout the campus performances of dance, theatre and Shakespeare 'popped up' all afternoon while School bands, choirs and the orchestra performed on the main Festival stage. The School cast of Joseph were especially delighted to sing with special guest Lee Mead. The rain held off and the day was spent amid much laughter, chatting and reminiscing.
A day to remember. Click here to see a selection of images from the day.
"Well done to everyone involved with Saturday's Festival, it was magnificent. My wife and I had a thoroughly enjoyable and memorable time. For someone who left the school almost 59 years ago, the physical extent of the school and its activities were staggering, but the atmosphere and essential character are still there, as exemplified by the chapel service. I almost wish I was returning to the school as a pupil! My wife and I would like to put our names down for the bi-millenial celebrations in 2914."
Brian Croome (WS 1949-55).
"Another roaring success." Mike Huntley (WS 1962-69). "We shall always love the Old School and the decision to sing both the Latin and English versions of the School Song was especially appreciated. School Songs greatly promote a sense of belonging and a good community spirit, both of which were clearly in evidence on Saturday."
David Wells (WS 1944-49).
"In almost 50 years of being involved in OW events, I have never seen so many OWs - and from such an age range from the early '30s to late '80s - gathered together in one place."
Nigel Robinson (WS 1955-66).

"The chapel service was marvelous – a real lump in the throat event."
Reeve Martin (WS 1963-72).

"The pupils I spoke to were delightful, well behaved and polite to an old codger. They were all enthusiastic about the school, something that was also apparent from the gusto of those performing in the choirs and orchestras."
Brian Croome (WS 1949-55).