2012, Diamond Jubilee Lunch
Saturday 28 April 2012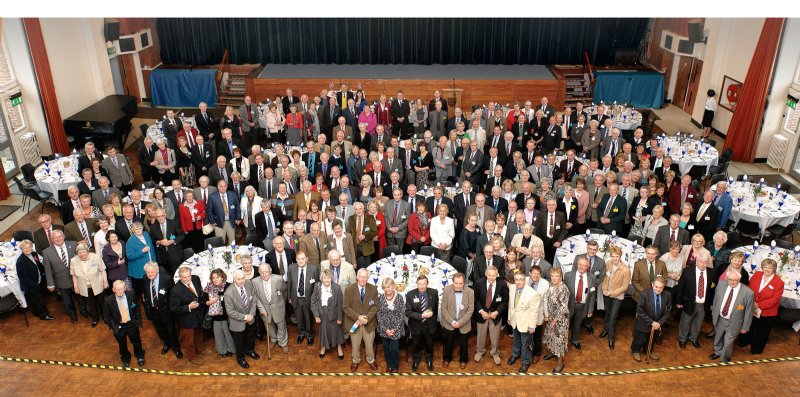 A celebratory lunch for all those who were at Warwick School in 1952 and 1953, to coincide with Her Majesty the Queen's Diamond Jubilee.
Over 230 Old Warwickians and guests enjoyed a superb occasion on Saturday 28 April 2012. For many, the day was the first time they had seen friends, former classmates and the school, for sixty years. Some made the special journey from overseas; from Germany, the USA and South Africa.
OWs were delighted to be joined by former staff Ralph Thornton, Margaret Keighley (née Tingle) and Jean Maitland (née Fifield). Special guest Ros Partridge, daughter of former Headmaster A.H.B. Bishop (WS 1936-62) was both delighted and moved to be back at Warwick School. Deputy Head Master Gus Lock gave a very warm welcome and overview of Warwick School today. Deliberations over whether one had or hadn't been given a Coronation spoon and an impromptu singing of the old school song were some of the many highlights of the day.
"Congratulations on organising such a happy event. We are so glad we went. The sherry was most welcome, the welcome by the Deputy Head was sincere, comprehensive and much appreciated by all, the meal was first class, the wine was good quality and, to cap it all, our pupil guide was informative, extremely patient, respectfully humorous and an all round credit to the school." Robert Sherriff (WS 1950-55).
"One of THE moments of the day was to meet up with my Form Mistress in 2B Preparatory Dept in 1947, Margaret Keighley née Tingle."
David Millard (WS 1946-55).
"The most vivid memory I shall be left with was the singing of the school song, and the "rafters did ring"! "The school that shall live forever" certainly seems to be doing pretty well. How thrilled my father – and indeed my mother – would have been".
Ros Partridge, née Bishop.
Click here to see a selection of photos from the day.